AUSTRALIA'S cattle trade underpins many rural, regional and remote communities, and continuous improvement to the trade reflects the priority industry gives to the welfare of the animals being transported.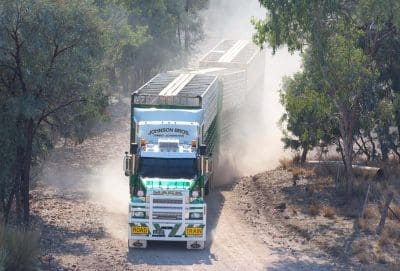 Domestically and for live export, Australia has the highest animal health and welfare standards in the world.
Producers are bound to comply with the Animal Welfare Standards and Guidelines for the land transport of livestock, and relevant state and territory legislation. The vast majority of cattle producers adhere to these guidelines.
As animal, health and welfare are vital to the cattle industry it is important that producers know when, and when not to, load livestock for transport. Current drought conditions across large parts of eastern Australia only add to the need for vigilance over appropriate livestock transport decisions.
Against this background, Cattle Council of Australia and Beef Central will host an industry webinar this Friday, 15 June, designed to inform and remind all stakeholders about their responsibilities during transport.
MLA and Livecorp have developed fit to load guides domestically and for live export, respectively, and CCA has recently combined these guides in a user-friendly way. This webinar is part of Cattle Council's push to engage with industry on-the-ground, through topical subjects like this one.
The Australian Animal Welfare Standards for the Land Transport of Livestock define specific requirements in relation to livestock transport in Australia. The Standards are enforceable and it is an offence to load and transport an animal in a way that causes, or is likely to cause, it unnecessary harm.
Questions often arise about certain animals, and classes of animals, and whether they are fit to load.
This webinar will be a valuable source of information for anyone involved along the beef supply chain, including producers, agents and saleyards personnel, transport operators, lotfeeders, vets and processors, to help them meet their responsibilities under the standards.
Experts participating in the webinar will include:
Veterinarian Dr Rob Barwell, Animal Health Australia
Livestock Biosecurity Network's Rachel O'Brien (On-the-ground perspective)
John Lethbridge, Lethbridge Livestock Transport (Transporters' and producers' perspective)
Ross McCarthy, Dubbo Regional Livestock Market (Saleyard/feedlot perspective)
Cattle Council of Australia board-member Peter Hall.
The webinar session will allow ample time for questions from producers and other stakeholders taking part. Details about posting of questions will be explained during the introduction.
Beef Central's Jon Condon will moderate the session.
Fit to load webinar:
Date: Friday, June 15
Time: 12.30 pm AEST (QLD, NSW, VIC, TAS time), 10.30 am (WA), and Noon (SA, NT).
Webinar location: Via your computer in the comfort of your home or office; or if on the go, using your mobile device.
Registration: Click this link to register to participate in the webinar; or copy and paste this link into your web browser: https://attendee.gotowebinar.com/register/5442092566424765954
Registrants will receive an email providing log-in details for the event (if you don't receive an automated email response within a few minutes, check your junk email folder), as well as a reminder the day before, and an hour before it is held.
It's best to join 5 minutes early on the day of the webinar. You can interact with speakers by typing questions in the Q&A panel provided, or by raising your electronic hand.
The session will be recorded and a weblink will be sent afterwards to all those who register. So if you can't attend on the day, you will still be able to view the recorded webinar later.