IT has been 12 months since the Australian Competition and Consumer Commission completed its Cattle and Beef Market Study and released a report with 15 recommendations for the red meat industry to address market competition issues.
So what progress has the red meat industry made in satisfying the concerns raised in the ACCC's report?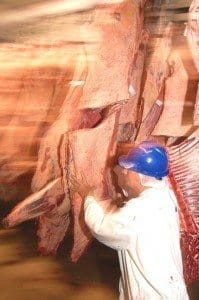 The ACCC wrote to a range of red meat industry stakeholders in late January 2018 stating it is now conducting a review of industry progress toward implementing the recommendations from its report, and will publish a short update summarising where progress has or has not been made. That summary is expected to be made public by April 30.
Senior red meat industry stakeholders have told Beef Central that the commission head, Rod Sims, had recently expressed 'frustration and impatience' at the slow rate of progress.
In its letter, the ACCC said that while it believed some progress had been made on certain recommendations, it felt the level of voluntary reform had in general been 'disappointing'.
ACCC stated when releasing its report 12 months ago that if the industry did not voluntarily address the concerns cited in its report, it would consider compulsory options.
In its letter to industry stakeholders in January, the ACCC said it would consider whether to strengthen its recommendations where progress has been limited.
Industry 'takes recommendations seriously'
The Red Meat Advisory Council has responded to the ACCC with a letter explaining that the red meat industry has taken its recommendations 'very seriously' and has been working proactively to action the issues raised in ACCC's 2017 cattle and beef market study.
In a letter sent to the ACCC, RMAC independent chair Don Mackay said the industry had made progress on 12 of the 15 recommendations.
Of the three not yet actioned, RMAC says one is unworkable and has been identified by the ACCC itself as "complicated". This relates the recommendation calling for a saleyard buyer register to be developed.
RMAC says the recommendation is not supported by industry, which has urged the ACCC to strongly consider its removal.
On two recommendations – one that price grids should be made publicly available, and another that livestock agent licensing should be consistent across all states – RMAC says it is awaiting advice from the Government and/or the ACCC before progress can be made.
RMAC said it wrote to the Council of Australian Governments Agricultural Ministers Forum (AGMIN) in advance of their last meeting in July 2017 outlining its concerns but received no response, and has also written to the ACCC on several occasions in the past 12 months and has received no response.
The council suggests that to move forward, the ACCC needs 'agribusiness capability' with the expertise required to engage with grassroots businesses and fully grasp market dynamics.
It says the ACCC should also subject findings from consultation to fact checking, and use a clear evidence-base to determine policy setting – "not just arbitrary threats of additional regulation via the media."
RMAC also believes the Agriculture Consultative Committee should be front and centre to the work of the unit. It says red meat industry stakeholders want to see an evidence-based competition policy framework.
Background:
In 2016-17 the Australian Competition and Consumer Commission's Agriculture Unit conducted a market study of the cattle and beef sector. The study examined competition, transparency and efficiency in cattle and beef supply chains. Click here to read Beef Central's original story on the recommendations, and click here to read about industry reaction.
In its final report published in March 2017, the ACCC made some recommendations on certain long-standing and industry accepted practices. It found that significant gains could be achieved through improvements to information flows and transparency, with the market study providing an opportunity for meaningful improvements to be made to the cattle and beef supply chain.
A number of recommendations were made in the March 2017 report with the aim of bringing about those improvements. The full ACCC report including its recommendations can be viewed here.
The ACCC Agriculture Unit is now conducting a review of industry progress toward implementing these recommendations. A short update report on progress is expected by April 30 (some industry sources have reported the deadline as March 31, which ACCC confirms is incorrect).