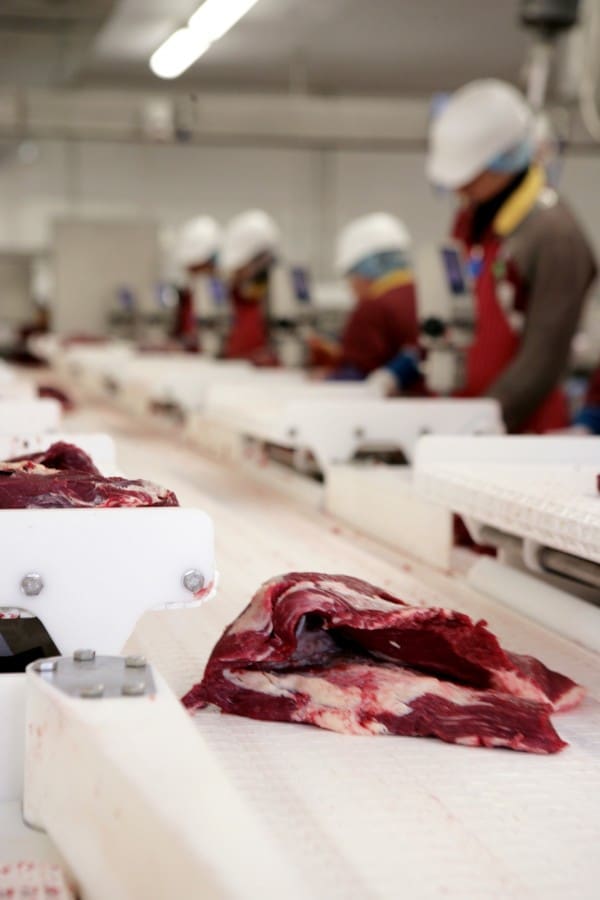 JUST as the US, the UK, Japan and Brazil have had a stake in Australian red meat processing over the past 140 years, China is now emerging as a serious player in downstream processing and marketing of Australian beef.
The past 12 months has seen four significant Chinese investments in the Australian red meat supply chain.
That's come either in the form of bricks and mortar investment, or under marketing joint ventures taking Australian processing companies in new directions, like that agreed to this week by Churchill Abattoir (click here to view this morning's separate story).
Behind the scenes this year, processing industry representative bodies and others have fielded literally hundreds of inquiries from potential Chinese investors seeking information about prospective meat processing investment targets in Australia. This website, itself, has fielded such inquiries from readers overseas.
Here's just a few of the reasons:
China has emerged from nowhere over the past 18 months to take 150,000 tonnes of Australian beef last financial year
As the Chinese economy continues to grow, and citizens have greater disposable income, they are increasingly inclined to include more red meat in their diets
China's own domestic beef herd has declined drastically in size
The recently-announced Free Trade Agreement promises to lower trade barriers and smooth-out barriers to entry.
Something similar occurred when South Korea went through beef market liberalisation back in the mid 1990s. There was a flurry of investment inspections and interest shown in Australian processing assets at the time, but in that event, nothing happened.
Perhaps what's most surprising is how little of the recent 'frenzy' in Chinese investment inquiry in Australia has in fact translated into deals.
A trend which appears to be emerging, say trusted processing contacts, is a swing away from interest in outright ownership, to joint ventures and partnerships. Chinese investors today appear more inclined to try to venture with Australian partners with expertise in procurement and processing operations, while still tying-up critical supply assurance, and using their own beef marketing capability.
In discussions surrounding the Churchill Abattoir joint venture with China's Taihua Foods group announced this morning, managing director Barry Moule's comments mirrored many of these recent trends. He says his plant, alone, had hosted visits by ten separate Chinese interest groups over the past 12 months.
"They spend an inordinate amount of time checking potential trade partners out," he said.
"It's very much a trust thing.  The Chinese have to get to know you, and understand you, before they will work with you."
"In the case of our new JV partner, Taihua, they never wanted to buy us out. They knew and recognised the strength of our current business, and the model I initially put up to them – based on a second shift, upgrade to export status and marketing – is pretty much the model we've ended up with," Mr Moule said.
"They are happy to have a foothold in Australia, gaining some control over imported meat supply without owning the business outright, while tapping into local expertise in management."
Mr Moule said in the case of the Churchill JV deal, he, in fact, made initial contact with Taihua, rather than the other way around.
"It wasn't as if we just sat back and waited for a Chinese interest to come to knock on our door. We purposely went out to find the right partner in China. It was quite clear to me that if we didn't extend into export at Churchill, we wouldn't be competitive going forward, because that is where all the growth is going to come from."
"With China's growing affluence and vast market size, we see it as an up-cycle for the next ten years, and we took the strategic move to align with the right Chinese investor," he said.
While it is impossible to account for any 'below the line' investments that might be taking place across the broader beef industry, Beef Central has identified, and written about, four significant Australian processing 'above the line' deals involving Chinese investment in the past 12 months. They include:
In December last year, China's New Hope Investment Fund bought Queensland's Kilcoy Pastoral Co export abattoir, becoming the first to 'break the ice'. That purchase was transacted from another foreign owner, Singapore's Harmony Investments.
In May this year, Beef Central revealed that veteran Victorian processor Ted Brorsen had sold his Tabro Meat business to HY Australia Holdings Pty Ltd, a company owned by three Chinese directors.
In August, WA processor V&V Walsh announced a 'cooperation agreement' that the company said could deliver beef and lamb sales worth $1 billion over time, processing an additional 30,000 beef and 50,000 lambs each year. To date the Walsh plant is yet to gain approval to service the China market, a process which has taken some competitors years to achieve.
 This morning's marketing JV involving Churchill Abattoir and Taihua will see $35 million injected into plant upgrades to export status, the introduction of a second killfloor shift, and potentially, a new boning room.
The underlying motive for most, if not all the recent Chinese investment has been assuring supply, in a global meat market where most exporters including Australia and the US are facing declines in production, while international demand is strongly up.
Given the breathtaking profitability that has been seen in the Australian beef processing industry over the last 12 months, it perhaps comes as little surprise that such investment deals have been done in the past 12 months. With trim at $6.50 a kilo into the US, the A$ at US83c, and buyers queueing up to buy carton meat, it's making processors balance sheets look that much more attractive to any potential buyer – offshore or otherwise.
Commenting during the Kilcoy sale process earlier this year, Kilcoy director John Nicholls said overseas interest in Australian processing and meat assets was increasing.
"There is significant interest worldwide in Australian assets and that has been the case for a few years," he said. "The interest is accelerating because food demand is growing rapidly and supply is remaining relatively constant, or declining."
Mr Nicholls said while Australia's costs of production were higher than competitors, its capacity to produce secure, safe and high-quality food was prized by investors.
History in Chinese processing investment
History shows there's nothing new in Chinese investment in Australian red meat processing, however.
State-owned China International Trust and Investment Corporation (CITIC) in 1993 bought the Metro Meat export processing assets for $103 million. It lasted just five years, racking-up huge losses in a business it appeared to struggler with, before selling out around 1998. At the time Metro was Australia's largest exporter of lamb and mutton and the fourth largest beef exporter in the country.
Click here to view Beef Central's article this morning on Churchill Abattoir's new marketing joint venture with China's Taihua Foods group.