WITH drought now well entrenched or rapidly approaching across large parts of eastern Australian cattle country, is the beef industry again entering the realm of herd liquidation?
Independent industry analyst Simon Quilty has done some analysis on the recent seasonal impact on herd composition and its likely impact on 2018 beef exports.
He builds a case that female herd reduction is already underway in Queensland – and likely to continue. Second and third largest beef producing states, NSW and Victoria may not have yet reached liquidation phase, but may be not far off.
"Increased kills forced by drought will lead to higher beef production and greater exports in 2018, but given the strength in global markets, this meat will be absorbed without too much difficulty," he suggests.
"There will be no 'fire sale' of meat due to drought this year," he said.
Mr Quilty said in past years when drought conditions have impacted the industry, the role of the US market has increased due to the greater production of cow meat destined for grinding beef.
"This year, I believe, will be different due to the presence of China and the strength of global demand that the cuts that would have been downgraded into the grinding meat pack in previous droughts will remain intact, as cuts, and find homes in China and key secondary markets throughout the world – mainly in Asia," he said.
Supporting his assertion that Queensland is already in a herd liquidation phase are Decembers ABS kill figures (latest data available, with a considerable lag factor) showing a female kill at 42.2pc of total Queensland adult slaughterings. That figure is well above the 10 year average of 38.2pc.
With revisions made due to drought pressure, Mr Quilty has estimated Australian adult slaughterings in 2018 at 7.8 million head – some 400,000 head higher than Meat & Livestock Australia's latest 2018 projections (click here to view Beef Central's earlier report).
A rate of adult cattle slaughter at his forecast level would deliver beef exports in calendar 2018 at 1.165 million tonnes (shipped weight) – some 150,000t higher than MLA's January projection.
Within that he estimates Australia's beef exports to the US market reaching 265,826t, about 32,000t higher than last year.
"In previous drought years our percentage of exports to the US has been closer to 30pc or higher, due to the increased CL values and lower quality meat that becomes grinding meat. But with the emergence of China and increased global beef demand, the US I believe is likely to remain at 23pc of Australia's global shipments this year. In other words, there will be 'no fire sale of meat' due to drought."
"Japan, I expect, will remain our dominant market with strong demand, while the US will still be our key second market – but the rate of export growth will be subdued. In Korea, I'd expect Australia to continue to lose market share to the US, and China and other Asian destinations will continue to expand, particularly if more Australian meat plants gain approval for export.
Seasonal summary: NSW and VIC drying out fast
The most significant factor in Australia's pasture/kill landscape at present is the increased rate or pasture deterioration that has occurred in recent months. The above pasture maps are a snapshot of current conditions across the three eastern states, broken down into more detail below. The most dramatic changes have been NSW and Victoria in recent months, while QLD has been dry for a much longer period.
The following graph highlights the changing fortunes of the Australian cattle industry. The start of 2017 resulted in a rebuilding phase for the first eight months, but since September this has slowed down and the female slaughter by December had fallen in line with the 10 year average. This would still be regarded as a mild rebuilding stage, albeit at a slower pace.

The pasture maps above reflect January pastures in the three eastern states, but due to the timing of the release of data and January ABS kills not been released, the upcoming January data may tell a different story.
The liquidation phase that evident in 2014 (green line) that saw the Australian cattle herd size fall by 1.69 million head (-5.8pc) form 2014 to 2015, produced an average female kill proportion of 50.6pc throughout the year. Last December's female kill rate was 46.7pc.
"Based on this (somewhat dated) December data, it would be fair to say there is no liquidation of cattle Australia-wide at the moment, but liquidation is happening regionally, in QLD," Mr Quilty said.
"The recent increased dry conditions in VIC, NSW and QLD has seen increased kills in all three states and hence Australia-wide. When looking at this year's first six weeks of slaughter, it is 8pc higher than last year for the same period – but interestingly it is almost identical to the ten year average Australian kill.

QLD slaughtering and pasture summary – Has drought got worse?
The QLD drought has gotten worse in the last three months and I believe the cattle herd is now unofficially in a liquidation phase. December's female kill was at 42.2pc which is well above the ten year average of 38.2pc and well above December 2013 of 40pc, which was the start of a severe drought.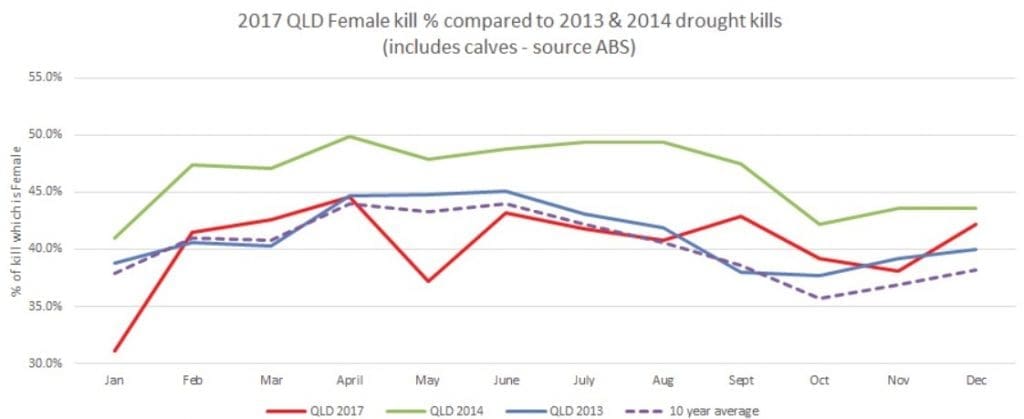 There has been little rain and slaughterings for QLD for the first six weeks of this year are up 12pc on both last year and the ten-year average.
"As stated above, if the large kill in females is maintained this will see QLD move into a full scale liquidation stage that could resemble 2014, which was the last severe QLD drought which saw female kills at 46.5pc and the size of the QLD herd fall 12pc or 1.5 million head over the following 12 months," Mr Quilty said.
"It is too early to call how large this liquidation could be but it should be noted that the herd size today is much smaller than 2014, so a smaller turnoff could be expected in 2018 compared to 2014."

The January 2018 QLD pasture map looks ugly – this is drought mode and is similar to the pasture map of April 2014 when the QLD female kill hit 50pc of total slaughter. The key difference between then and now is that Australia's herd size had 2 million more head of cattle back in 2013/14.
"The key message is just how quickly pasture conditions can change for the worse, as seen in April and May of 2014, and what a dramatic impact that can have on the female kill and the liquidation process.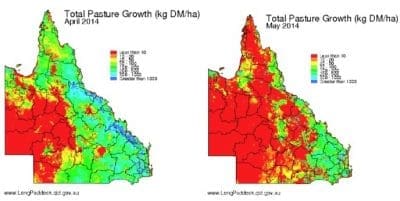 NSW slaughtering and pasture summary
"Last month I was of the opinion that NSW was neutral in terms of drought and rebuilding but the January pasture report would say that NSW could be heading into a drought sooner than later, and ABS January kill figures will be crucial in understanding this," Mr Quilty said.
"When looking at the NLRS kill data it shows NSW kills 5pc above last year's kills for the first 6 weeks – I do not think NSW is in liquidation mode as the December female kill was below the ten-year average, but given the severe January NSW pasture map (below) I would not be surprised if the female kill jumps in January and continues to rise, particularly if rainfall remains low."
It should be noted that last May, NSW had an unusually high female kill which was a direct result of some severe dry conditions during April, May and June. This might be partly explained by the influence of Cyclone Debbie in March last year that saw cattle held back but with drier conditions, these came on to the market in May.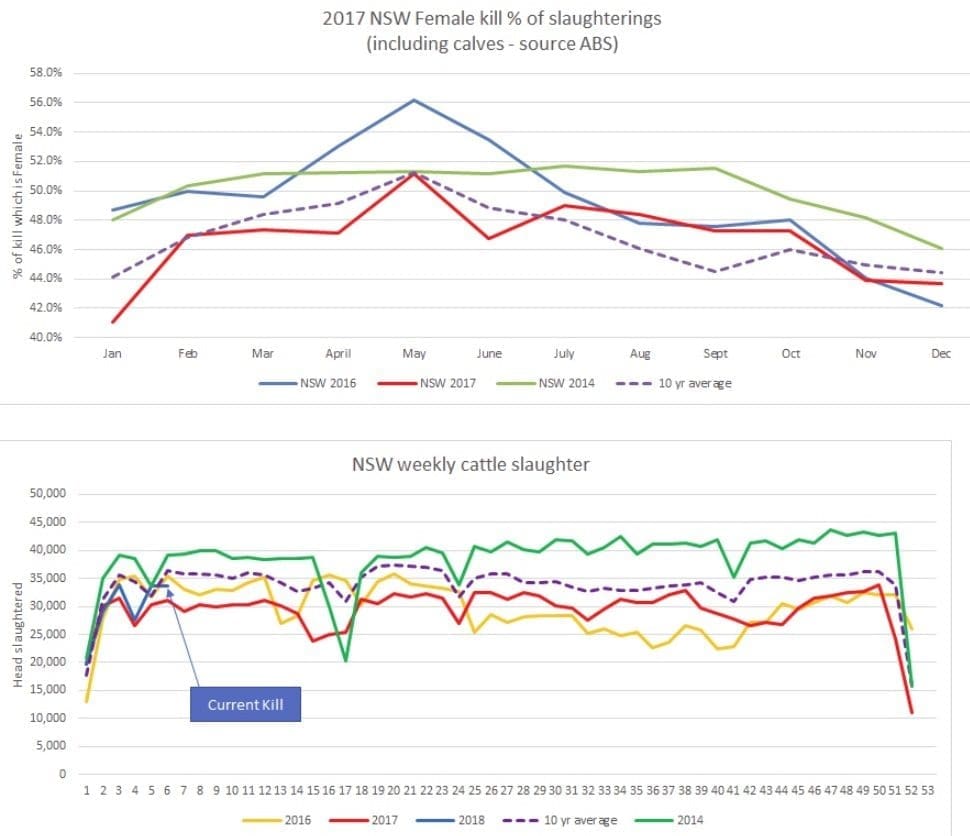 VIC slaughter and pasture summary
Pasture conditions in western Victoria have deteriorated badly in January and the increase in female kill in December 2017 above the ten-year average is proof that Victoria is drying out fast and that a liquidation phase may not be far away, Mr Quilty said. "It would be fair to say that rebuilding has stopped and that the herd size is stagnant for the moment but might tip towards liquidation in the next 3-4 months."
The figures for female kill in Victoria can be misleading, however, given the large Victorian dairy herd and therefore the high percentage of female culling that goes with that – this distortion needs to be kept in mind when evaluating the data.
Victoria's December female kill jumped significantly to 58pc to be in line with the ten year average, however it will not take much in terms of percentage to push Victoria into a liquidation phase with 60pc and higher being a critical turning-point for Q1, and with NLRS figures running 18pc higher than last year for the first 6 weeks, this may not be far away.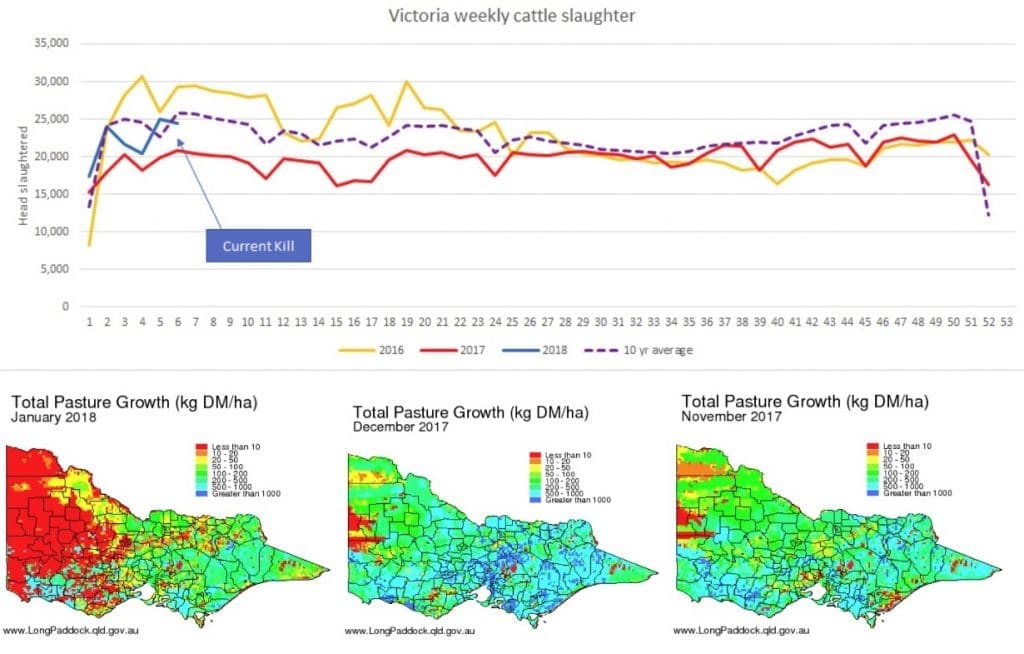 Australian beef shipments for 2018
Australia's total shipments in February 2018 are likely to be up 37pc compared to January shipments. The jump is due to increased kill, meaning Australia's kills this year for adult cattle are likely to be 400,000 head higher than MLA forecasts, which would mean a 7.8 million head slaughter – this could equate to an extra 150,000t of beef shipped from Australia globally this year.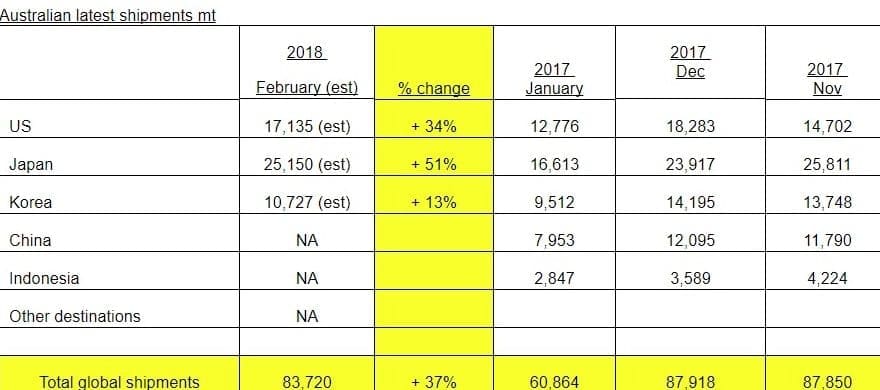 The following are Mr Quilty's forecasts for exports from Australia globally and to the US for 2018.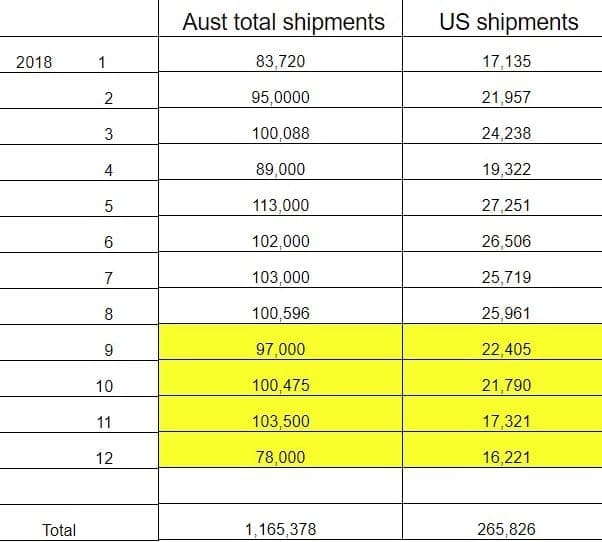 Outlined below are Mr Quilty's estimates on where shipments will go this year and some brief reasoning:
Japan will remain our dominant destination with an increase in volume as the Japan economy continues to be in excellent shape and grows.
Australia will continue to lose market share in Korea to the US as US exports increase and US prices become very competitive.
China is likely to grow at a much faster pace this year due to strong demand and competitive pricing from Australia – additional meatworks approvals will be important to achieve this tonnage.
Indonesia is a battleground with Indian Buffalo meat and recent in roads in limiting buffalo volumes by the Indonesian Government will be a help, but one thing is certain about Indonesia as a market – there is no certainty – meaning expect ongoing changes in this market.
The US market volume will increase marginally but is likely to remain at 23pc or thereabouts as the share of Australia's total exports.
Other destinations are likely to grow significantly namely due to Asian based countries in the mix where demand for beef is growing.