WINDS of change are sweeping through the domestic retail beef competition space, driven by the abundance of substantially cheaper livestock and meat available in the supply chain this year.
As readers are acutely aware, livestock prices for both slaughter and feeder cattle have declined dramatically since the start of 2023, due to turnoff as a result of rapidly drying seasonal conditions, combined with flat international beef demand due to economic and cost-of-living headwinds. Only adding to that challenge has been the limitations in Australian processing capacity imposed by the lack of labour.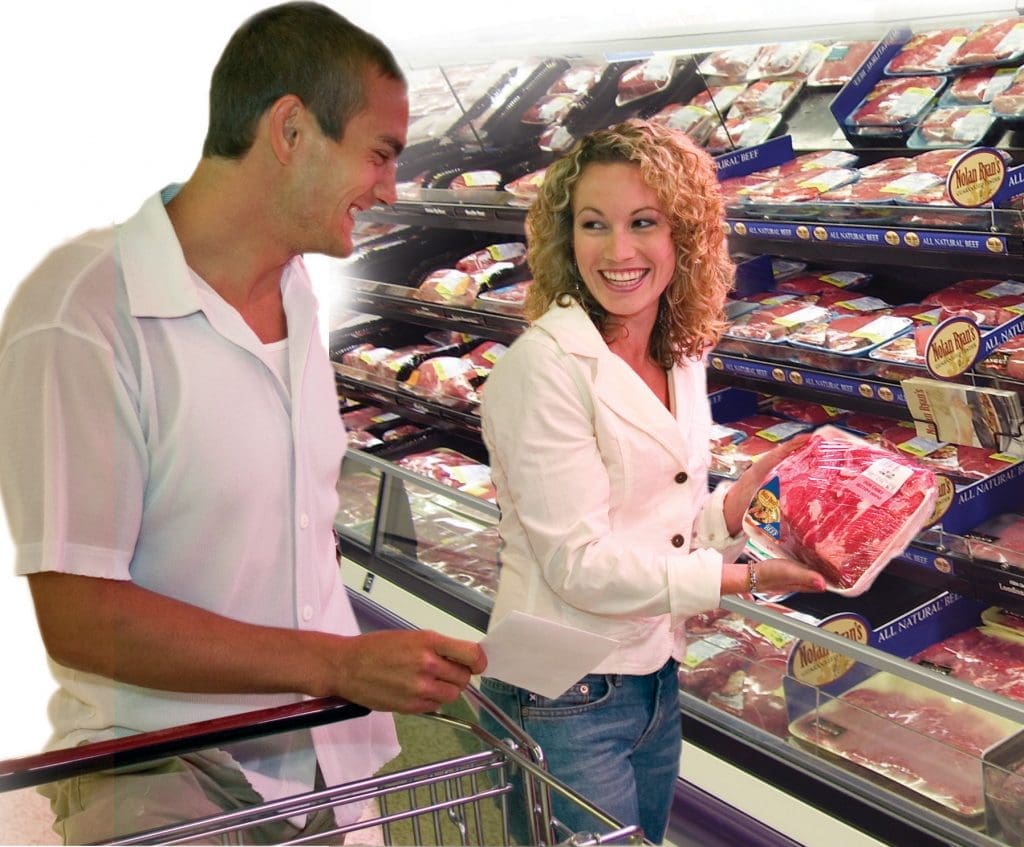 All this has created a large inventory of beef in cold storage worldwide, with the exception of the US, and cold stores in Australia are under considerable pressure.
It's meant there have been some absolute bargains available in the domestic meat market, with whole MSA-graded certified Angus grass rumps retailing in Brisbane last weekend for $14.50/kg, and 100-day grained rumps a few weeks earlier as low as $10.50/kg, to help clear stocks.
At the other end of the production pipeline, feeder cattle that were making well over 500c/kg liveweight late last year are today struggling to make 300c.
Trading conditions
In contrast with the major national supermarkets which have largely left prices unchanged (apart from a handful of items sold as specials), independent butchers have been much quicker to react to the current trading conditions.
There's plenty of evidence to suggest that pricing in good quality independent butchers is currently as much as 20-30 percent below the equivalent on some cuts (MSA yearling, for example, but also including 100-day grainfed) compared with product being stocked on Woolworths' or Coles' shelves.
In an earlier discussion, an MLA marketing spokesman said domestic consumers were "probably more price-sensitive currently than they have been in a long, long time."
"Any sort of price promotion for red meat, they are going to jump on," he said. "They are seeking-out lower prices and promotions more than they have before – whether that comes from an alternate supermarket or an independent butcher."
Supermarket prices
Latest industry data suggests average retail prices for beef sales through Coles and Woolworths have declined about five percent since this time last year, with much of that occurring in the past 12 weeks. That's due to three factors:
Increased number of weeks on promotion (short-term specials), and (based on observation alone) more beef items appearing among protein specials than what was seen a year ago, when specials were dominated by chicken and pork
Customers trading down out of more expensive cuts to cheaper items and mince, and
Some anecdotal evidence that base price on some cheaper supermarket cuts have come down, marginally.
The cynics among us would suggest a 5pc decline at retail is a drop in the bucket compared with the movement in both livestock prices, and wholesale meat prices in 2023.
Apart from some specials on certain cuts, the nation's major supermarket retailers have pretty much stuck to their retail pricing levels set during the depths of the inflated cattle price cycle of 2021-22.
As of yesterday morning, Woolworths was offering everyday scotch fillet at $41.50/kg, rump steak at $32/kg and three-star beef mince reduced to $12/kg.
Coles yesterday announced 500 'Down, Down' reductions on 500 items across its stores for a period of three months, but red meat items on the list were thin, to say the least. They included just 1kg packs of three-star beef mince down from $12 to $11 (500g packs still equivalent of $13/kg), and 400g thin-cut scotch fillet down from $19 to $16 (equivalent of $40/kg). Everyday scotch fillet at Coles was yesterday still priced at $41.67/kg. Most of the 500 items in Coles 'Downs down' campaign are dry goods.
A recent Coles survey of more than 4000 customers found 90pc of Australians claim to have made choices and changes to reduce their grocery bills, particularly young singles, and young and mature couples, who are cutting back on meats and treats, and buying more frozen food. Around 87pc of people surveyed are also actively budgeting by buying more specials, while more than 50pc are cooking more at home, Coles said.
Billion dollar profits
Beef Central has fielded a host of comments from readers pointing out that cattle prices have fallen 40-50pc over the past 12 months, while supermarkets, with a handful of exceptions listed above, are still retailing beef at prices at, or close to their earlier record highs.
That criticism was only heightened last week after Woolworths delivered a hefty $1.62 billion net profit for its 2022-23 year, and Coles, $1.1 billion.
Woolworths' food retail pre-tax earnings increased by 18.3pc during the second half, ending June 30, shareholders were told. Under a 'More to do' discussion point in full-year reporting on Woolworths' food division, shareholders heard that the company's red meat division, Greenstock, was aiming to "sustainably improve availability and reduce costs in meat."
"While overall customer demand has been remarkably stable, we are increasingly seeing our customers become more careful in their spending patterns," CEO Brad Banducci told shareholders.
A Woolworths senior executive told a recent meat industry gathering in Brisbane that the company had not seen a drift from beef into cheaper proteins like pork or chicken, but what it had seen was a reduced average spend on beef – either less frequent or a shift to cheaper cuts/ground beef.
We put some questions to Woolworths about the current domestic beef market trading environment, and hope to hear back with some responses on Monday.
An industry observer made the point that there had been increased costs throughout the supply chain – transport, energy, rent and labour among them – which may have diluted any opportunity for the major retailers to significantly lower beef prices. However that does not explain why independents have clearly been able to do so.
Among the recent trends picked up by Beef Central are:
A swing back in customer support for more nimble independent retailers who have responded to lower wholesale meat prices more quickly than the two major national supermarket chains, and
A resurgence in 'warehouse retail' style outlets selling beef in bulk form to customers at highly attractive prices. That's been partly driven by the large stocks of red meat building up in cold storage, due to flat international demand (see yesterday's Rabobank global meat report). We'll circle back to have a look at the booming warehouse retail model in a separate report next week.
Between them, Woolworths and Coles now control about 70pc of Australian domestic retail beef sales. Price-conscious national chains like Costco, Aldi and IGA have picked up some share, while independents' share has declined over the long term.
That's due in part to some older butchery closures, but among those customer-savvy independent retailers that remain in business, turnover and sales are strong, and growing – and that trend is being seen right now.
'Nimbleness'
AMIC national retail council member and Queensland chairman, Brisbane butcher Michael James, says the COVID period had helped re-acquaint some consumers with their local butcher.
"We all saw the images of supermarket chilled cabinets that were ransacked, and unfilled for days. That never happened with more flexible independents, who were able to arrange alternate supplies, and remained well stocked with meat throughout."
"What's being demonstrated again now is how nimble the independent butcher is. Wholesale beef prices are lower, and butchers are able to pass on those savings to their customers, in real time," Mr James said.
"We can move things (price) quite quickly in our stores, offering our customers those savings today and tomorrow – not in a few months time," he said.
With the surplus export-type meat currently in the system, many domestic customers were now getting quality restaurant standard steaks at attractive prices, from many of the nation's 'really successful brands'.
"Butchers are just more nimble in times like this," Mr James said.
He agreed that there were significant savings to be had on some like-for-like cuts in independent butchers currently, versus the national supermarkets.
But is the average consumer currently aware of that? Beef Central asked.
"This is a perfect storm for MLA to get out there and create some greater awareness about the price advantage being seen in independent butchers," Mr James said.
"In my shop (Carina North Quality Meats, in Brisbane's inner southeast) we're seeing the best opportunity for sales growth since COVID," he said. "Consumers are responding."
Growth in butchery beef trade
Sydney retailer Stephen Kelly owns a network of eight butcheries (soon to be nine) across Sydney under the Sutcliffe Meats flag – all located in large shopping centres.
His company has also opened its first 'warehouse retail' style outlet recently, selling both bulk whole primals and sliced meat (more on that trend next week).
"When we saw wholesale prices starting to fall, we've been active in passing those on to consumers," Mr Kelly told Beef Cental.
"The supply chains behind the bigger national supermarkets are fairly rigid, and they do not have to opportunity to be as flexible and responsive as independent meat retailers," he said.
"It's not only the dramatic decline in the cattle price, but domestic wholesalers, in general, came under pressure with meat stocks, because, as we all know, when the export markets are frail, more product gets pushed into the domestic channel."
"All of a sudden, domestic wholesalers have a lot of product to dispose of."
Mr Kelly said over the past four to five months – and particularly the last three – there had been a significant decline in wholesale beef pricing.
That was being channelled through Sutcliffe Meats' retail outlets as well as its new wholesale/retail bulk outlet – but the conventional shops inevitably had higher fixed operating costs.
"But we, and other independents we are aware of, have been very active in passing some of those price reductions on to customers. It's at that time in the economic cycle where customers have become more cost-sensitive, due to economic conditions and cost of living increases."
"So my answer to the question of whether independent butchers have stolen a march on the major supermarkets would be yes, because independents are more flexible and reactive to market conditions."
Mr Kelly suggested retail prices in good quality independents might be 20-30pc below supermarkets now, on popular lines.
"Take a popular item like scotch fillet – some quality retail butchers are selling steaks at $25-$30/kg, while the majors are $40/kg on like-for-like product," he said.
As a result, there had been a response in sales volume through independents – even during a period of tough economic conditions.
"That's because consumers are increasingly price-conscious," Mr Kelly said.
Big ships to turn
"In contrast, it takes a good while for the large national retailers' ships to turn. But in time, I suspect they will ultimately start passing more raw material savings on to their customers as well."
"At the moment, they don't have the flexibility to move as fast as the independents – we saw the same thing during COVID when supply chains broke down."
So is the average consumer aware that there's better value available through their local butcher?
"Our experience is that customers are becoming very aware of prices," Mr Kelly said.
"It only takes a visit or a phone call to the local butcher to find out what their prices are, and the same for the major supermarkets. It's a sign of the times, as people become a little more wary."
"If you assume the major supermarkets grainfed supply chain is 60-70 days long in the feedlot alone, then add another 30 days to that, it suggests that within three to four months there will be some price flow back through the supermarkets, as well."
Trend back to red meat
Mr Kelly said the good news in his own Sutcliffe Meats outlets was that it they had witnessed a consumer preference shift out of white meats into red, since beef prices had fallen. At then same time, chicken prices had risen.
"Chicken breasts, once the cheapest protein meal option, at retail now sell for somewhere between $14-$18/kg. You can buy scotch fillet at some butcheries now for $17-$18/kg, and rump steak for $10/kg, so that big gap no longer exists. It has produced a strong consumer push back into red meat – something I haven't seen since I've been in meat retailing."
Different parts of the cycle
While beef producers were clearly not happy with the drop in cattle prices relative to current retail prices in Coles and Woolworths, Mr Kelly made the point that not that long back there was an astronomical rise in cattle prices, at the same time that retail prices lagged well behind the curve.
"At that time, somebody in the supply chain was losing money, whether it be the abattoir, the wholesaler or the retailer," he said. "It's very easy to lose sight of the other side of the supply and demand cycle."
"But in my view, we are seeing a fundamental change at the moment that is not going to change for 12 months or more. At some point, the major retailers will lower their prices, but equally, they're wary of having to put them up again, another six months after that."
More on the booming trend in warehouse retailing for red mat next week
Click this link to view Episode 3 and Beef's Central's recent report on the beef producer's changing share of retail dollar