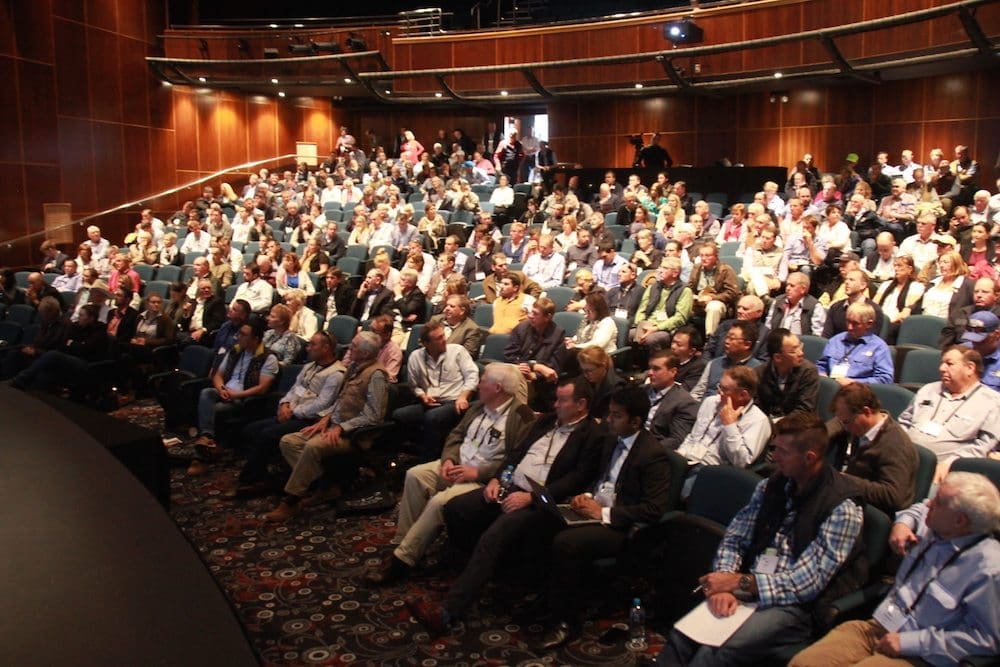 The Australian Wagyu Association's popular annual conference is the latest cancellation victim of coronavirus.
The AWA issued a statement this morning confirming that the WagyuEdge 2020 conference and tour scheduled for 29 April to 2 May on the Gold Coast has been called off, in light of the rapidly evolving developments associated with responsible management and regulations around COVID-19.
The association's board and conference organising committee are actively planning towards holding the WagyuEdge conference in 2021, with speakers and sponsors contacted thus far fully supporting the re-staging of the event next year.
The Elite Wagyu Sale that was to be held as part of the conference will now proceed as an online-only event. The sale has been live for the past four years, with online bidding also offered, and has grown year-on-year to set some extraordinary seedstock industry price records in the past two years.
This year's Elite Wagyu online-only sale will be conducted via AuctionsPlus on 30 April at 3.30pm AEST.
The list of significant national, international and regional beef industry events postponed or cancelled due to COVID-19 continues to grow:
World Butchers' Challenge
The 2020 World Butchers' Challenge due to take place in Sacramento, California in early September has now been pushed back to August 2021, at the same location. Australia's team of six butchers selected to compete in this year's Challenge were already hard at work in preparation for the competitive event, but will now back-up next August. A total of 16 national butchery teams from across the world were nominated for the event. Click here to view an earlier article about the World Butcher's Challenge.
Feedlot & seedstock business management meetings
A series of meetings in Brisbane and Toowoomba next week focused on business performance targeted specifically feedlot and seedstock groups, have been cancelled. Convenors Bush Agribusiness advise that the meetings will now be held via webinar, on 23 March. For details and to register, contact Ian Mclean on ian@bushagri.com.au  0401 118 191.
MINTRAC training conference
The national red meat training body, MINTRAC has cancelled its 2020 National Training Conference scheduled for Adelaide on 6-7 May.
"MINTRAC has taken necessary precautions to ensure business continuity during this difficult time and are in a strong position to maintain our business as usual activities. Where possible, we are converting face to face consultation, stakeholder and project meetings to virtual or remote meetings," the organisation advised stakeholders this week.
MINTRAC's second Meat Inspection and Quality Assurance Conference is at this stage still scheduled for October 2020 to be held on the Gold Coast. More details on that event will be promoted once it has a clearer understanding of what the future holds and how long COVID-19 will continue to impact the industry.
Lambex pushed back 12 months
Australia's premier sheep and lamb conference, LambEx, has been postponed for 12 months due to the growing COVID-19 pandemic.
Organisers had planned to hold the 2020 conference for the first time in Victoria since 2012, on 1-3 July, at the Melbourne Showgrounds, but new dates for the next Lambex have been set at 30 June-2 July 2021. Click here for details
Below is an earlier list we compiled of industry events cancelled or postponed  since restrictions on public gatherings were announced by the Federal Government last Friday, to control the spread of COVID-19:
The Nuffield International Contemporary Scholars Conference (CSC), which kicked off at the Tangalooma Resort on Moreton Island off Brisbane on Friday, will officially conclude today (Wednesday) at 12 noon, 2.5 days earlier than originally planned.
The Thursday farm tours, and the final day of the CSC scheduled for Friday have been cancelled.
Nuffield Australia program operations manager, Nicola Raymond, said most of the New Zealanders left on Saturday night to return home before the New Zealand directive to self-isolate for 14 days came into effect and a few of the British had also left early.
Meat & Livestock Australia's proposed 2020 genetics forum, which was to have taken place in Adelaide on 25-26 March, has been postponed due to coronavirus.
"Unfortunately, due to the spread of COVID-19 and travel restrictions on speakers, MLA has decided to postpone the Livestock Genetics Forum until later this year, with the date yet to be confirmed," program manager for genetics Hamish Chandler told stakeholders this week.
The Australian Farm Institute's Conservation Agriculture in 2030 Conference will will no longer take place on 22–23 June in Sydney.
Alternative options under consideration include holding a virtual conference (broadcast online via interactive webinars) mid-year, or postponing a physical conference until later in the year (date to be confirmed as the situation unfolds).
In the meantime, AFI is arranging refunds for registration fees already paid.
The Tocal Field Days due to be held on May 1-2 near Paterson in the NSW Hunter Valley have been cancelled. It is the second time the field days have not been held since they began in 1985, with the 2015 event called off due to serious flood damage to the main access road. The next field days will be on April 30, May 1 and 2 in 2021.
FarmFest field days at Toowoomba in southern Queensland, originally set down for June 2-4, have been rescheduled to Tuesday, October 13 – Thursday, October 15, 2020.
South Australia's largest annual field days, the South East Field Days at Lucindale, due to be held later this week on 20-21 March have been cancelled.
The Royal Agricultural Society chief executive Brock Gilmour said the cancellation was a huge disappointment for the show community, particularly exhibitors and visitors from rural and regional NSW who love attending the show to catch up with friends every year.
"We are implementing a number of measures to deal with ticket and entry fee refunds and will be in contact with ticket holders and exhibitors regarding this process within the next five working days," he said.
The organisers of the 2020 Royal Melbourne Show set down for 19-29 September say it will still go ahead, at this stage.
EARLIER ARTICLE (published Monday, March 16, 2020): 
NUMEROUS rural events and conferences scheduled for March and April have been postponed since Friday amid increasing efforts to limit the spread of COVID-19 cases.
Here's a list of upcoming agricultural conferences and events that have been affected by the ongoing coronavirus outbreak, and those where decisions to proceed or postpone are still being considered (this list will be added to an updated as required in coming days and weeks):
The Northern Territory Cattlemen's Association has postponed its annual conference which was scheduled to be held in Alice Springs on March 26 and 27. Registrations from the 2020 event will be carried over to next year's conference in 2021 (see earlier article here)
The Royal Agricultural Society announced the cancellation of Sydney's annual Royal Easter Show. It's the second time in 101 years that the event has been cancelled due to disease risk, having been put off in 1919 due to the Spanish Flu epidemic that killed 20 million worldwide.
The Intercollegiate Meat Judging Association has decided to postpone its Northern Conference, which was scheduled to be held in Rockhampton next month, due to the public health risks and travel restrictions caused by coronavirus.
Hosted by CQUniversity and Teys Australia in Rockhampton, the event provides meat science training and career development networking to university students from across Australia, as well as young beef industry professionals. However, with up to 100 people expected to be in close contact at the event and visiting numerous work sites in the Rockhampton region, the committee has decided the community's health and safety must take precedence.
The 2020 Casino Beef Week was planned for Casino in May but will now be postponed until later in the year, possibly early September, but that will depend on coronavirus developments and Australian Government advice, the Casino Beef Week Committee said this morning.
MLA and LiveCorp have this morning confirmed they will postpone the 2020 LEP EXPO which was to be held in Jakarta on 7-8 April.
"Indonesia is one of Australia's most important trading partners and we are committed to working together with its beef industry to support the food security of local communities," an MLA/LiveCorp statement said. "The LEP EXPO presents a key opportunity to increase collaboration and share insights towards a more sustainable and safer trade. However, restrictions on large gatherings and travel are being put in place by industry and government to stem the spread of COVID-19.  This is to protect the health of communities globally – a priority for all of us."
New dates in September and October 2020 are being considered and will be advised, once confirmed.
The Livestock and Rural Transporters Association of Queensland has delayed its annual conference, which was to be held in Roma on March 19-20. The LRTAQ said that at this point it anticipates running the conference later this year and will keep members up to date when a new date is known.
A Farmers2Founders Ideas Program for ag technology innovators planned for Toowoomba on Tuesday and Wednesday this week has also been cancelled. The event was designed to bring a dozen or more developers behind farm and post farm-gate innovations together for a development program.
The Australian Institute of Packaging has postponed its upcoming 2020 annual conference until later this year. The conference was due to be held on 1 and 2 April in Melbourne. Further information will be provided on the winners of the 2020 Packaging Innovation & Design Awards, originally designed to be announced at the conference.
Specialist rural property agency Colliers has cancelled its 2020 Colliers Agribusiness Research and Forecast Report launch event, planned for multiple states on 7 and 8 April.
The Australian Export Grains Innovation Centre (AEGIC) has postponed its Australian Wheat for South East Asia Noodle Workshop in Yangon, Myanmar until further notice. In collaboration with Austrade, AEGIC had planned to hold an Australian Malting Barley for India Conference in New Delhi. This has also been postponed.  Events planned in China, Japan and South Korea in June remain on AEGIC's schedule.
The Australian Grains Industry Conference has postponed its AGIC Asia 2020 events. These were scheduled to take place in Ho Chi Minh City, Vietnam on 3 March and Shanghai, China on 5 March.
The biennial Poultry Information Exchange and Australasian Milling Conference 2020 is still planned to take place on the Gold Coast 17-19 May.
The Global Pulse Confederation (GPC) 2020 convention scheduled to take place April 15-18, 2020, in Dubai in the United Arab Emerites has been cancelled.
"The health and well-being of our members, sponsors, exhibitors, staff and other participants far outweighs any potential financial consequences of cancelling this convention," the GPC executive committee said. "Our commitment to the global pulse industry extends beyond our convention, as we look to protect the families and communities represented by the participants from 40 plus countries who regularly attend the convention."
Paid convention attendees, exhibitors and sponsors will all receive a credit for the next scheduled conference, and convention sponsors will be contacted individually as a follow-up to this announcement to discuss additional details. Contact: office@globalpulses.com
The Climate and Carbon in Agriculture 2020 Conference that was scheduled to be held on 31 March – 1 April at the Adelaide Convention Centre in South Australia has been postponed.
The event organiser, Climate Research Strategy for Primary Industries (CRSPI), has determined that the potential for the COVID-19 virus to impact the conference warrants the event being postponed.
Those who have registered will receive a full refund and will be notified once an alternative date has been identified.
Options for holding the Conference in October or November 2020 are being investigated and CRSPI encourages anyone keen to attend to register their interest so that they can be informed of details closer to the event.
Events still under consideration
A number of other upcoming industry events are still considering their position, in light of coronavirus.
This year's biennial World Meat Congress planned for Cancun, Mexico, is a little later in the calendar, and may yet escape the travel impacts associated with coronavirus.
The event is scheduled for 11 and 12 June. Organisers are yet to make an announcement about whether the event will go ahead, be postponed or cancelled.
The Nuffield International Contemporary Scholars Conference, which kicked off at the Tangalooma Resort on Moreton Island off Brisbane on Friday, is still planning to continue this week, albeit with diminished numbers as a number of overseas delegates have had to leave for home early.
Nuffield Australia program operations manager, Nicola Raymond, said most of the New Zealanders left on Saturday night to return home before the New Zealand directive to self-isolate for 14 days came into effect.
The Canadians are going on Wednesday night when the conference moves from the island to Brisbane and a few of the British have already gone as well.
But, she said other delegates, including the Irish, Zimbabweans and Australians, were planning to stay until the end of the conference on Friday.
Ms Raymond said the program would likely change under the evolving conditions.
A planned visit to the Queensland Parliament House on Wednesday night is likely to be cancelled.
"We need to consider contingencies for developments like that," she said.
Use the reader comment panel below to add further event cancellations or postponements you may be aware of