RECORDS fell like ten-pins during the 2019 Elite Wagyu National Sale held during the closing stages of the breed's annual conference in Adelaide on Friday afternoon.
Fullblood females peaked at a new national all-breeds female record price of $280,000, and went past $100,000 three times during the sale, while embryos sold to a new national record of $10,200/each.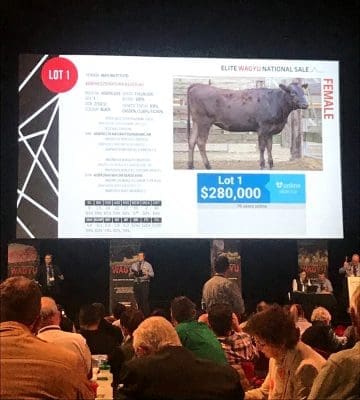 What the sale graphically demonstrated was the dramatic rise in value seen in elite-performing Wagyu females, relative to bulls, with the greater adoption of IVF and other artificial breeding tools across the industry greatly enhancing female potential. The result also showed the dramatic improvements Australian Wagyu breeders are making under Breedplan.
Three females in the sale exceeded the previous Wagyu female record of $95,000 set at the corresponding sale in 2017. In a benchmark of just how far elite Wagyu female prices have come in recent times, the record female price before that was only $26,000, set for a heifer sold by Takeda Wagyu, Barham, NSW to Andrew Cabassi, Esperance, WA, way back in 1998.
Auctioneer Harvey Weyman-Jones from GDL plucked bids from the crowd during Friday's auction (and via AuctionsPlus online bidding) like trout from a well-stocked stream.
By the time this report was filed (some passed-in lots are still being negotiated under AuctionsPlus terms), 15 of 19 females offered had been sold, for an unbelievable average of $69,000. Within the bull offering, 13 of 23 lots have sold so far, averaging $26,577.
The sale represented a truly international exchange of genetics, with vendors and buyers active from across Australia as well as South Africa, the United States, Wales, Canada and New Zealand.
Also evident was a clear buyer preference for animals possessing the ability to produce abundant marbling, while also delivering curve-bending carcase weight performance.
Starting the sale off at the highest possible note was lot one, an October 2017 calved Fullblood Wagyu heifer offered by Scott de Bruin's Mayura Wagyu, Millicent, South Australia.
Surpassing the previous all-breeds beef cattle record of $190,000 held by an Angus heifer, she was knocked down for a record $280,000 to Brian Stamps, a rapidly emerging Wagyu breeder from Oklahoma in the US, bidding via AuctionsPlus.
The unjoined heifer, Mayura N1229 (AI), carried national herd-leading EBVs including top 1pc for marbling, eye muscle area, SRI and FTI.
"This heifer provides the ultimate opportunity to purchase an animal for class-leading offspring," the sale catalogue said.
She was by industry-leading sire, Itoshigenami Jr, who now has more than 800 carcases and consistently grades Ausmeat marbling score 9+, with herd-leading eye muscle and carcase weight at a young age. His continued excellent performance is reflected in the accuracy of his EBVs.
The new record price-setter's dam was sired by the renowned DM100, and has produced four carcases with an average marbling score of 8.75, carcase weight of 457kg and EMA of 102sq cm.
The new record-setter also easily eclipsed the Australian record price for a dairy heifer of $251,000, paid for an elite Holstein heifer sold in January 2017 to a US artificial breeding business. See earlier story here.
Also eclipsing the previous all-breeds female record was Trent Bridge K0034, a September 2014-born cow, sold in calf, offered by Wal and Jenny Perry's Trent Bridge Wagyu Stud, Armidale, NSW and bought by GeneFlow, a recently-launched IVF company based out of Tocumwal in southern NSW. GeneFlow was also the under-bidder on the new $280,000 record-priced heifer, sold a few lots before.
The Trent Bridge cow has the highest marbling score (+2.4) of all registered Wagyu females recorded on BreedPlan. She was sired by the home-bred Itoshigenami (US) son TBRFF0126 Trent Bridge F F0126. She was sold PTIC to TBRFN203, and the progeny of this mating will be in the top 1pc for the Wagyu F1 Index and top 5pc FTI for the breed.
Under-bidder for the $200,000 cow as Gateway Tropical Farms, operated by South African Carl Erasmus, based in Gloucester, NSW.
Also exceeding the old Wagyu female breed record when sold for $100,000 on Friday was Simon Coates's Sumo Cattle Co, Brookfield, for PTIC cow Sumo Cattle Co Nami K010. She had outstanding EBVs for marbling at +2.0 (top 1pc of the breed) and carcase weight +26kg. She ranked on all three indices (self-replacing Index, Fullblood terminal index and F1 terminal index) in the top 1pc of the breed.
She was sired by Coates Itoshigenami G113, one of the highest-ranked bulls in Australia. She was sold in-calf to champion sire Sumo Michifuku F126. The joining between K010 and F126 is estimated to produce an elite top 1pc ranked progeny with outstanding predicted EBVs for marbling (+1.8) and carcase weight (+22kg).
Buyer, Gateway Tropical Farms, became the sale's biggest buyer, outlaying $590,000 on 23 lots, including females, embryos and semen.
Included in its purchases was $85,000 outlaid on another Sumo Cattle Co heifer, sired by Sumo Michifuku F126.
In the bull offering, the $55,000 top price was paid for Tyddewi N4451 (ET) a September 2017 calf offered by Welshman Rob Cumine, who also operates an Australian Wagyu enterprise Grass Cattle Ltd, Tyddewi Wagyu, in western Victoria. Buyer was Darren Anderson.
The sale calf carries a rare combination of elite Mayura and Westholme genetics. His sire Mayura Itoshigenami Jr is now a breed legend and among the best Wagyu sires outside of Japan. Mr Cumine bought a selection of Itoshigenami Jr semen at this sale two years ago, and his sale bull offered this year was a product of that mating. His dam is a Westholme cow that was offered for sale at 2014 Elite Auction. She is a high Tajima content cow with deep pedigree going back to the foundation cow Yoshifuji 8.
Mr Cumine takes some of his Australian genetics back to the UK for use in his Wagyu herd in Wales, while also continuing to breed and sell cattle in Australia.
Next highest among the bulls sold on Friday at $50,000 was We Pack FP00011, offered by Tim Elliott, Sunshine Coast Hinterland.
Embryo records
New all-breeds records were also set in the embro section of Friday's sale, where four embryos offered by Canada's Ken Kurosawatsu, Wagyu Sekai, made $10,200 each (total price $40,800). The embryos, representing a mating of World K's Kanadagene 100 – a rare bloodline in Australia – out of a daughter of TF148 Itoshigenami, are located in Canada, but eligible for export worldwide. Buyer was Cameron and Ian Hewitt, from Taroom.
Not far behind was a set of four embryos offered by Hendrick Markram's Miku Wagyu Stud, South Africa, representing a mating of the Macquarie bull BDWFY0495 with PMGFL00030, a daughter of Mayura Itoshigenami Jnr, one of the top bulls in Australia, which made $10,000 each ($40,000 in total).  Mr Markram paid a then-record $95,000 for an in-utero Wagyu heifer at this same sale two years ago, and returned this year as a vendor, both outright and in partnership with others.
Semen tops at $6730… per straw
Semen lots sold to a top of $6730 (per straw), for an offering of ten straws by Macquarie Wagyu M0546, a son of the respected BDWFY0408 out of BDWFC1589, who is sired by Michifuku with Haruki 2 and Yukiharinami on the female side. Buyer was the previously mentioned Brian Stamps from the US, bidding online.
Negotiations are continuing on some high-priced lots which failed to meet their reserve at auction on Friday. In one case, two interests have now gone past the reserve, and are involved in a private post-auction bidding war.
The Elite Wagyu Genetics Sale has gone ahead in leaps and bounds in the past three years, rising in gross value from $1.26 million last year to $1.738 million in 2019.
Entries in the catalogue have gone from 40 lots in 2017 to 80 lots last year, and 100 this year.
The bar was raised for minimum entry qualifications on Breedplan data this year, from top 10pc of the breed in at least one major trait applied in previous years, to top 5pc this year. Many of the lots featured were in fact top 1pc of the breed in at least one key trait.
"This elite Wagyu sale is just getting stronger and stronger each year," GDL's Harvey Weyman-Jones said. "Breeders are now consigning some really exceptional quality cattle, and buyers are responding accordingly," he said.
Click here to view Beef Central's aggregated list of beef breed record prices for bulls and females, including the new all-breeds record setter.