THE past 12 months has produced a string of new breed record prices for bulls and registered females sold at auction in Australia.

In order to keep abreast of these breed milestones, Beef Central moderates this comprehensive list© of national breed record prices for bulls and females as a handy reader reference tool.
What's evident in the list is that while some breeds have recorded new highs in the past year, other breeds' record prices were set 30 or more years ago.
Be the first to know important beef industry news – sign up here for Beef Central's free daily emails
Buyer confidence instilled by strong commercial cattle markets is clearly a factor in recent bull price record-setting. In addition to those records set in the past three or four years as cattle prices lifted dramatically, there is also a record-setting 'cluster' around the 2005-2007 period, when cattle prices also rose sharply. Other breeds registered their current standing records as far back as 1980.
While most attention focusses on bull values, we've also compiled a separate list for registered females sold at auction. It's apparent, and somewhat logical, that quite a number of the female breed records were set at herd dispersals, with studmasters evidently reluctant to part with their truly elite breeding females unless dispersing their herds. Also noteworthy is that fact that fort three prominent breeds – Wagyu, Poll; Hereford and Speckle Park – female records are equal to, or higher than the bull equivalents. That's because of the heightened value and impact of elite female genetics in artificial breeding programs.
To submit amendments or add new entries to this list as records are re-set, please contact Beef Central via email at admin@beefcentral.com or phone 0412 331745.
The lists below are ranked according to record price. Records are based on auction results (either physical or online) only – not private treaty, where circumstances are much more difficult to verify.
Registered bull record prices at auction:
Brahman:
$325,000 for NCC Justified sold by NCC Brahmans, Inverrio, Duaringa, Qld, to Rodger and Lorena Jefferis' Elrose Brahman Stud, Cloncurry, Qld, at NCC Brahmans on-property sale, October 2017. The previous all-breeds record was $300,000 for Lancefield Burton Manso sold by Lancefield Brahmans, Dululu QLD to Happy Valley Brahman Stud, Mackay QLD – Tartrus Lancefield Sale 2006, Gracemere QLD.
While this list is restricted to registered bulls, it's worth noting that $96,000 was paid at the 2016 Big Country Brahman sale in Charters Towers for a Grey Brahman unregistered herd bull,  Kenilworth 4899, bred by Kelvin Maloney, Kenilworth, Mt Coolon, and bought by Brian and Cindy Hughes, Lanes Creek, Georgetown. The price was an all-breeds Australian record, and most likely a world record for a herd bull.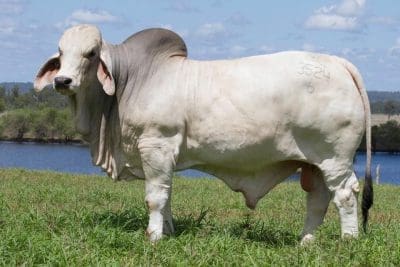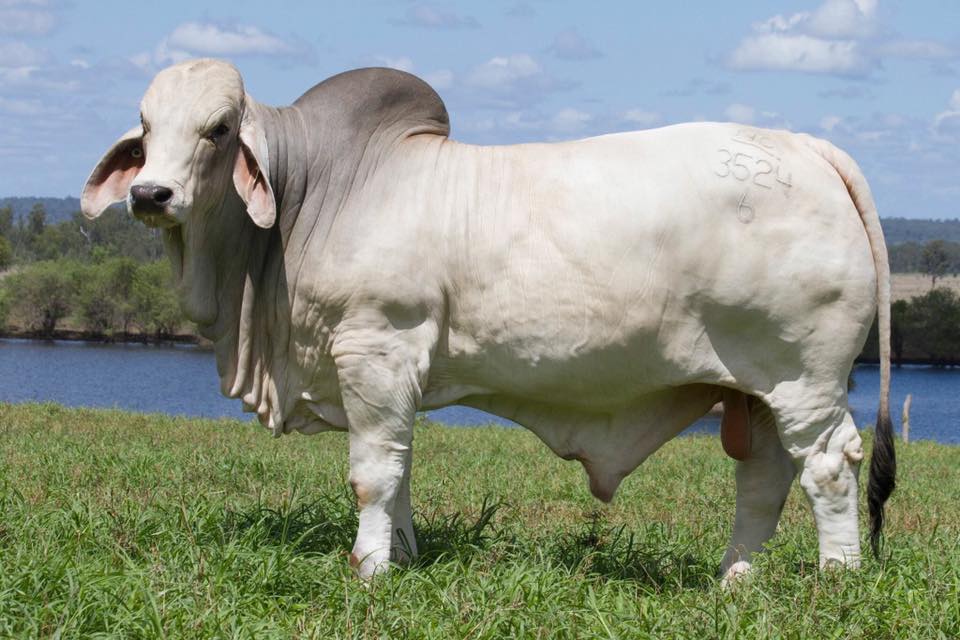 Angus:
$280,000 for Millah Murrah Paratrooper R38, sold by Ross Thompson's Millah Murrah Angus Stud, NSW to Rodger Pryce, Brooklana Angus Stud, Dorrigo, NSW, at the 2021 Millah Murrah Sale, September 2021. The sale also set a new all-breeds Australian record for sale average price, at $34,220. Theresult easily broke the previous Angus bull record of $225,000 set in July 2021 by Texas Iceman R725, sold by the Mayne family, Texas Angus, Warialda NSW.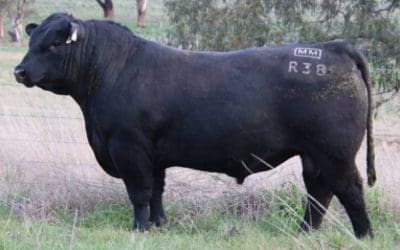 Charolais:
$265,000 for Moongool Revolution sold by Price family, Moongool, Yuleba Qld to David and Lynette Whitechurch, Fourway Stud, Inverell NSW, at Moongool's annual sale, September 2022.  While this list is limited to bulls sold at auction, special mention should be made of Rick Pisaturo's Mandalong Chock, sold privately in 1986 for a reported $165,000 to Scott Cluning.

Santa Gertrudis:
$250,000 for Yarrawonga S316 sold by Bassingthwaighte family, Yarrawonga Cattle Co Wallumbilla QLD to Rob and Lorraine Sinnamon, Riverina Santa Gertrudis, RL Pastoral Co & NIOA Pastoral, Allora QLD. This broke the previous record of  $175,000 for Glenn Oaks Sterling S314 sold by Scott and Wendy Ferguson, Glen Oaks, Nobby, to Neil and Rosalie Watson, Watasanta, Tamworth, and Luke and Carly Baker, Annabranch, Wandoan at the Santa Central bull sale, September 2022. The result broke the previous record of $160,000 set just two weeks earlier for Riverina Roland Sanchez R88 sold by  to Clinton Wheatley, WA and NIOA Pastoral Co QLD at the inaugural RL Pastoral Co and NIOA Pastoral Santa sale.
Wagyu:
$240,000 for Sahara Park Yasufuku R153, a 16-month-old son of high marbling performer World K Yasufuku Jr, offered by Dean and Sam Pollard of Sahara Park, Rockhampton QLD, and purchased by Que Hornery from Bar H Grazing, Moranbah, Central Queensland, at the AWA Elite Wagyu Sale, May 2022.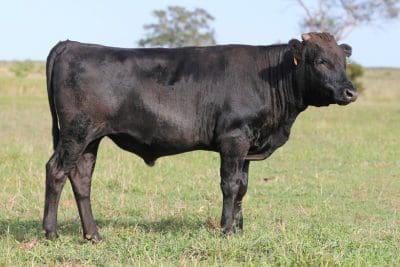 Droughtmaster:
$230,000 for Glenlands J Dampier sold by Childs family, Glenlands, Bouldercombe QLD to Percol Plains, McKinlay QLD at the Glenlands Sale September 2022. The sale eclipsed the previous record of $220,000 set a few weeks earlier for Oasis Long John, sold by Oasis Droughtmasters, Marlborough QLD to Rondel Droughtmasters, Winton QLD at the National Droughtmaster Sale, Gracemere September 2022. Before that, the previous record of $180,000 was paid for Glenlands Prince at the 2012 Inaugural Glenlands on-property sale, Rockhampton QLD.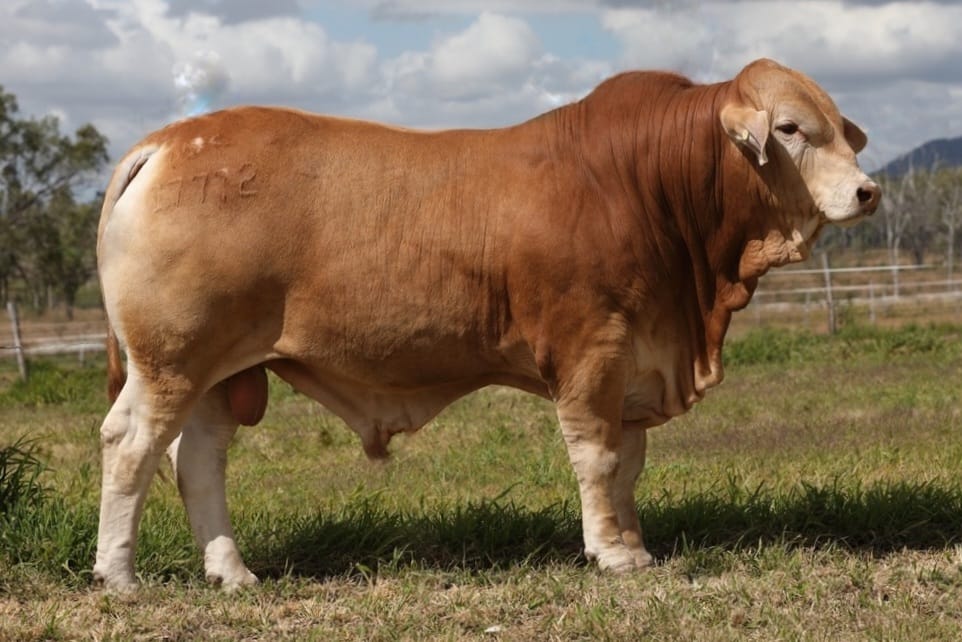 Hereford/Poll Hereford:
$160,000 for Injemira Redford J006 Q287 sold by Injemira Herefords, Book Book, NSW to ABS Global – Australia Beef, Ardno Herefords & Vielum Pastoral Co, Mudgee at the Injemira autumn bull sale, February 2021. Previous record was $121,000 for Inverary Dominator D56, sold by Don Anderson and family at the Inverary Collection Sale on-property in 1986.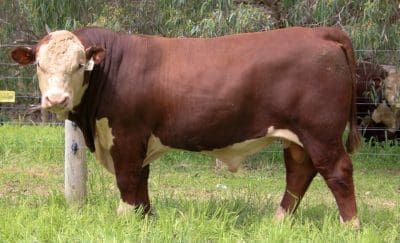 Simmental:
$160,000 for Woonallee Los Angeles, sold by Tom & Lizzy Baker, Woonallee Simmentals, Millicent SA to Brett Nobbs, Nobbs Cattle Co, Duaringa, Qld – Woonallee Elite Production Sale February 2017, Furner SA.

Brangus:
$150,000 for Telpara Hills Mach Five 920R4 sold by the Pearce family, Telpara Hills Stud, Atherton QLD to the Caldwell family, Milwillah Angus Stud, Young NSW at the Telpara Hills annual sale September 2022.
Murray Grey:
$110,000 for Maneroo Fulton 2nd, sold by Maneroo Murray Grey Stud, Bunbertha, VIC, to a syndicate involving GM Lorentz, Cranbrook Stud, Sutton Forrest and D. Staff, Baerami House Stud, Muswellbrook, NSW at the Maneroo Stud dispersal on November 5, 1980, following the death of stud principal John Cornish. As outlined in this historic sale report from the Maneroo dispersal unearthed by Geoff Phillips as part of our research into this sale (Click here to access) a number of records were set, including all breeds Australian record price for a bull at $110,000 (see image of Maneroo Fulton 2 below); an all breeds national record price for females of $30,000; and an average price for 29 stud bulls of $8581. That figure would not look out of place even in today's super-heated bull market.
Based on an average annual rate of inflation in Australia since 1980 of 3.15pc, Maneroo Fulton made the equivalent of $346,251.89c in today's money.

Speckle Park:
$100,000 for Six Star Justice R10, sold by Six Star Speckle Park Stud, Wagga Wagga to Tony and Liz Sutcliffe, Toebelle Stud Maitland, at Six Star's Autumn Alliance annual sale in May 2022. The price was claimed as a world record for the breed. As recently as 2016, the Speckle Park bull record was still only $30,000, marking considerable progress since then.
Shorthorn:
$85,000 for Futurity Rapid Gain R321 sold by Jason Catts, Futurity Shorthorns, Kenebri NSW to Tatalia Shorthorns Moama NSW, Futurity annual Bull Sale August 2022
Ultrablack:
$70,000 for Palgrove Revolution sold by Palgrove Ultrablacks, Dalveen QLD to Eric Slack-Smith, Richmond QLD at the Palgrove annual bull sale, September 9 2022. The result broke the previous record of $35,000 for Palgrove Quantum, sold by Palgrove to Robert and Anna Hick, Julia Creek QLD, at Palgrove's sale in September 2021.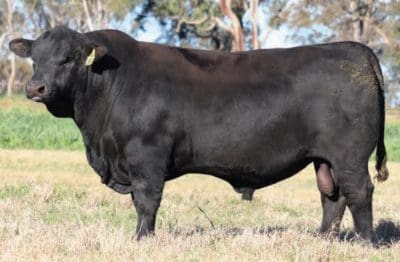 Black Simmental:
$52,500 paid for Woonallee Messiah M170  sold by Baker Group, Woonallee, Millicent, SA to Lewis Farms, Alberta, Canada at Woonallee's annual sale February 2018.
Charbray:
$52,500 for Wattlebrae Ringer, sold by Wattlebrae Charbrays, Chinchilla QLD to Nobbs Family, Cordelia P Charbrays, Moura QLD at the Charbray National Sale, Gracemere QLD September 2022.
Blonde d'Aquitaine
$50,000 for Rupari Joiner d'Poll, bred by Greg and Linden Roberts Rupari Polled Blondes, Yarrawonga, Vic, and bought by Bob Andrews, Wangaratta and genetics dealer Agri-Gene, via a silent Helmsman auction on Facebook in March 2015. The price is believed to be a world record for a Blonde d'Aquitaine bull.
Braford:
$50,000, set twice at the same sale for Carinya Yenda, sold by John & Jacquie Amor, Carinya Stud, Dulacca QLD to Russell and Donna Kenny, Harriett Valley, Gayndah; and Double C P124 Playboy  sold by the a Chad families, Donrinda and Double C Studs, Dubbo, NSW to Daniel and Arlie Treloar, Rockhampton – both sold at the National Braford Sale, Gracemere QLD in September 2021.
Senepol:
$45,000 for Five Star 210745, sold by Geoff Maynard, Maynard Cattle Co, Jambin QLD to Chris Simpson, CAP Genomics, Harlin at the Five Star Senepol Sale September 2022, Gracemere QLD.

Limousin:
$42,000 for Mandayen Kingmaker R65 sold by Mandayen Limousin Stud SA to Mt Pleasant Limousins, Forbes NSW – at the Mandayen Bull Sale held at Keith SA in February 2022.
Belmont Red:
$32,000 for Seifert Belmonts SEI200107 (PP), sold by Seifert Belmonts, Emu Creek QLD to Lachlan and Trudy Mace, Stanage Bay QLD at the Seifert Belmont Red Sale, QLD in August 2021.
Registered female record prices at auction:
Wagyu:
$400,000 (highest price ever paid in Australia for a seedstock animal of either sex) for registered Fullblood Wagyu 13-month-old unjoined heifer Sunnyside S0014 from Peter and Sandra Krause and family's Sunnyside Wagyu, Inverell, bought by Yulong Investments from Nagambie VIC at the AWA Elite Wagyu Sale held in Melbourne in May 2022.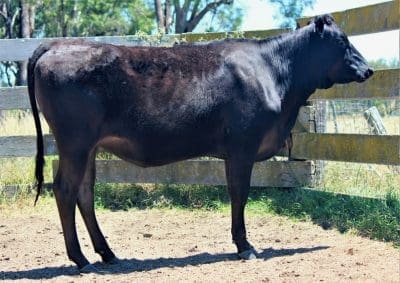 Angus:
$190,000 for Millah Murrah Prue M4 (ET) sold by Ross Thompson, Millah Murrah Angus, Bathurst, NSW to Brooklana Angus stud, Brooklana, NSW, at the Millah Murrah female sale, October 2017. A second heifer in the same sale, MM Prue H112, also eclipsed the previous $45,000 Angus female record set at the Vermont Angus dispersal in 2010, selling for $54,000. The same sale may have set an all-breeds record for registered females, when 250 cows and heifers sold in a complete clearance averaging $13,790.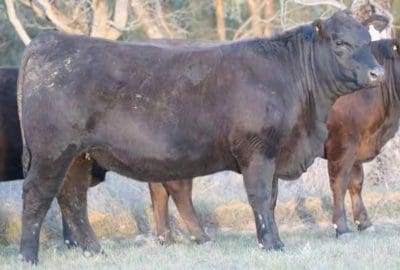 Poll Hereford:
$160,000 for Baldrudgery Lisa sold by Bruce, Beth and Vera Hodges, Baldrudgery, Baldry, NSW to Denis, Lois and Julie Brancourt, at the Sydney Royal Easter Show sale in 1990. The result was claimed to be a world record for a registered female at the time. A second Baldrudgery heifer by the same sire (Beartooth Quester), sold at the sale made $140,000 when sold to Bob, Brenda, Trudy and Tony Newham. There was a frenzy of interest among Australian Poll Hereford breeders in new US genetics at the time, following the historic first importation of live cattle from the US the previous year, after a 30-year Australian market closure. That first consignment of new genetics, imported via the new Cocos Island quarantine station, included bulls and heifers from the Hereford, Poll Hereford, Brahman and Santa Gertrudis breeds, plus others. Note reader comments below.
Click here to access a full page advertisement from the  February 1991 Poll Hereford journal celebrating the record sales.
Speckle Park:
$100,000 (Australian and world record for the breed) for Batallion heartbreaker R16, sold by Grant and Kylie Kniepp, Dundee NSW to Ivory Downs Speckle Park Stud at the Scone Invitational Speckle Park Sale, April 2022.
Shorthorn:
$72,000 for The Grove Legends Dale A755 sold by The Grove Shorthorns, Condamine QLD to Woolcott Shorthorns, Meandarra QLD – The Grove Shorthorns Sale 2006, Condamine QLD
Charolais:
$70,000 for Palgrove Maxine, 43(P), sold by Prue & David Bondfield's  Palgrove Stud, Dalveen QLD to Greg Clyde-Smith, Atherton QLD – Palgrove Female Sale 2008.
Brahman:
$63,000 for Cambil Dienka 5826 (IVF) (H) sold by Lawson Camm, Cambil Brahmans, Proserpine to the Brownson family, Brownson Brahmans, Charters Towers at the inaugural Great Northern Brahman Sale at Proserpine, North QLD in October 2020. The previous record of $61,000 was set in 2005.
Brangus:
$60,000 for Telpara Hills Miss Van Damme 15M3 (P) (ET) sold by the Pearce family from Telpara Hills Stud, Atherton QLD to Troy Mitchell, Coffs Harbour, NSW (telephone bidding from Chile) – Rockhampton Brangus Sale October 2017.
Murray Grey:
A Murray Grey registered female record of $57,000 has been claimed for Kelvin Grove Daphne 26th, apparently around 1884, during the breed's heyday. That sale has not yet been verified to our satisfaction. Readers who can provide sale clippings or other evidence please contact admin@beefcentral.com
Simmental:
$48,000 for Tusmore Nicole, sold by Jim Mahoney, Tusmore, SA to John McQuay – Tusmore herd dispersal 1990, SA. Although it does not qualify based on this list's 'at auction' proviso, a record for Black Simmental females at $22,000 was set by WA breeder Mike Introvigne for the paddock sale of  Bonnydale Glendive K199 with calf at foot, bought by Valley Creek Simmentals, Bowral, NSW. Top priced registed female among Fleckvieh cattle was $10,600 paid for Tennysonvale Kellie (P) bred by Tennysonvale Simmentals & Fleckvieh's, and bought by Nobbs Cattle Co at Tennyson's sale in 2016.
Droughtmaster:
$42,500 for Glenlands Kineesha, sold by B & V Childs, Glenlands, Bouldercombe QLD to David Torrisi, Vitwood Stud, Hervey Bay QLD – Glenlands Sale 2007, Gracemere QLD.
Limousin:
$35,000 for Tanhill Grenadine, sold by AJ & JY Whistler, Tanhill, Milawa VIC to Billabong Limousin Stud, Wagga Wagga NSW – Tanhill Limousin Sale 1988, Wodonga VIC.
Santa Gertrudis:
$34,000 for King Ranch Jewell, sold by King Ranch, Macquarie Downs Leyburn QLD to John Bolster, The Lakes Stud, Woodenberg NSW – King Ranch Dispersal Sale 1990, Macquarie Downs QLD.
Senepol:
$16,000 for AACo SE2M13, sold by Australian Agricultural Co, QLD to Ian Manly, Antigua Stud, Lower Wonga QLD – AA Co Senepol herd dispersal 2006
Belmont Red:
$10,250 for a 30-month-old PTIC heifer offered by Seifert Belmont Reds, Jandowae QLD, in calf to the Australian record-priced Belmont bull, Seifert Princeton, bought at the 2019 Seifert Belmont Red Sale.
Braford:
$6000 for Little Valley Miss Wren, 2808, sold by Bennett family, Little Valley Braford Stud to Dwyer family, Barykino Braford Stud – New Dimensions Sale 2015, Bell QLD.
While the list above is exclusive to beef breeds, worth noting was the Australian record for dairy breeds of $251,000 for an elite Holstein heifer sold in January 2017. The heifer, sold by Victorian Declan Patten and a US partner, was bought by a US artificial breeding business, Sexing Technologies. The heifer carried the highest Genomic Total Performance Index (GTPI) figure of any dairy animal ever sold in the world to that point. See earlier story here.
To submit amendments or add new entries to this list as records are re-set, please contact Beef Central via email at admin@beefcentral.com or phone 0412 331745.
© Copyright Beef Central, Nascon media. All rights reserved.