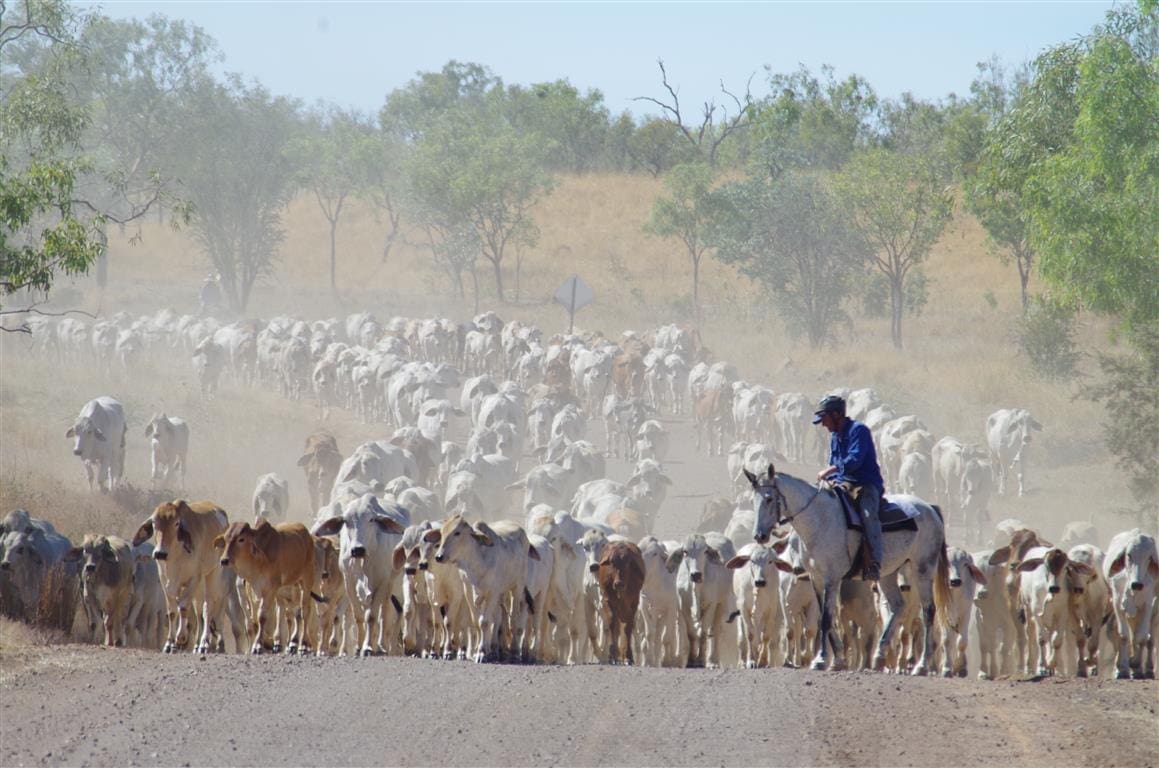 WESTERN-Australian based Heytesbury Group continues to advance its stake in listed cattle operator the Australian Agricultural Co, last week extending its investment by another $9.1 million.
After a series of purchases of AA Co stock last year (see earlier Beef Central report), Heytesbury now controls more than seven percent of the company, making it the second largest* investor after UK billionaire Joe Lewis's Tavistock Investments.
Following last week's increase, Heytesbury now holds more than 42.5 million AA Co shares, currently worth more than $63 million.
Heytesbury Group is the parent company operating Heytesbury Cattle Co, one of Northern Australia's larger pastoral operators controlling around 150,000 head of cattle on six properties in Queensland and WA. Its key assets include the iconic Victoria River Downs in the Western part of the NT. The company is headed by managing director Paul Holmes a Court, son of Heytesbury founder the late Robert Holmes a Court, and brother of Peter, who coincidentally led the public listing of AA Co back in 2003.
Heytesbury has deep operational experience in cattle operations in northern Australia extending back almost 40 years – often on properties neighbouring, or close to those held by AA Co.
Mr Holmes a Court agreed to speak to Beef Central about the company's recent investment moves.
"I can see why there might be some industry curiosity around it," he said, referring to the recent cycle of investment.
"To start with, we know the northern Australian cattle business well, and have huge confidence in the sector, and what the future holds," he said.
AA Co has been arguably the worst performing company across the entire northern beef sector over the past decade.
"AA Co, obviously one of Australia's great, historic pastoral companies, owns some outstanding assets in the north. We know them well – some of them Heytesbury used to own (Eva Downs and Anthony Lagoon, for example), and others we neighbour, such as Montjinnie, Camfield and Delemere, all bordering VRD."
"We think we know how to run a successful cattle business in northern Australia."
"When I look at AA Co I see a great company with great assets, and a relatively young management team, led well by Hugh Killen, doing some good things. Yet somehow, sadly, AA Co has been arguably the worst performing company across the entire northern beef sector over the past decade."
Shares below ten years ago, in real terms
In real terms, AA Co's share price was below where it was ten years ago, and the company had paid no dividends over that time, despite the dramatic change of fortunes in the broader beef industry.
"Every other northern cattle business, company or asset has doubled in value or more over that time, and in recent years have been delivering record dividends," Mr Holmes a Court said.
"However it might be sliced or diced, the whole sector has probably doubled in value and is paying record returns – while at the same time AA Co, which holds some of the best pastoral assets in northern Australia, has found a way to be worth less (in real terms) than it was a decade ago, and delivers no dividends at all."
Following AA Co annual general meetings in recent years, observers have often remarked on how patient – even forgiving – shareholders have been over the company's performance, lack of dividends and specific actions such as the ill-fated development of the $100 million abattoir near Darwin
Beef Central asked Mr Holmes a Court whether Heytesbury would seek a seat on the AA Co board, as a result of its growing investment in the company.
"I don't know if 7pc would be enough to warrant a board seat, but it's not something we are presently thinking about," he said.
"But there is certainly huge value inside that company," Mr Holmes a Court said.
"The chairman, Don McGauchie, has been there for over a decade, and he and the board  have somehow found a way of trapping that value, and under-performing the entire sector."
"The net assets of AA Co are well over one billion dollars already, yet the market capitalisation is more like $900 million."
So why has Heytesbury elected to progressively build its stake in AA Co over the past seven months, instead of investing those funds (currently more than 63 million) in buying its own additional assets?
"I think there is better value in this option," Mr Holmes a Court said, after pondering the question.
"Potentially, there is more upside. Making this share purchase is similar to buying a percentage of all of AA Co's prized stations, and they are really, very good. Everybody knows that if you wanted to buy those stations directly, you would have to pay a big premium."
Asked whether there was any 'synergy' value seen in aligning Heytesbury (principally live export focussed) with AA Co (which has become increasingly less reliant on live export, instead focussing more on domestic beef processing, and higher quality segments like Wagyu), he said this was not part of his company's thinking.
"Heytesbury itself remains a huge believer in the live export sector, and remain very comfortable being in that space. In fact a big portion of AA Co's business in the north is very similar to ours, and in a similar market space, even though they tend to do things differently."
He said he saw no prospect for business synergies or alliances between Heytesbury and AA Co, as a result of the recent investments.
"We are just focussed on our own model, within our business. There is no relationship at an operational level, apart from being good neighbours."
Unlocking value is key
So does Heytesbury continue to purchase AA Co shares from here on? Beef Central asked.
"We're undecided at this point," Mr Holmes a Court said. "We're open-minded to it. Let's see where the company (AA Co) goes, and what it can do to unlock some of the value that's in there."
"Unlocking that value is key. We certainly haven't bought AA Co shares because we think they are going to 'perform' in future as they have in the past. No-one would do that, because it would be the worst investment you could make in the northern cattle industry."
"We're forming the view that AA Co can't continue to perform as it has – something has to change."
Asked whether Heytesbury's move had anything to do with some 'opportunistic' moves predicating any decisions that could be made by major shareholder, Joe Lewis, Mr Holmes a Court said Heytesbury had never spoken to Mr Lewis, and had no idea what his future plans might include.
However he observed that the AA Co nine-member board appeared to be 'heavily influenced' by Mr Lewis and his representatives.  "I mean, given their backgrounds and the performance of the Company, why else would they be there?"
"Heytesbury's investment in AA Co is primarily about unlocking value in the company," Mr Holmes a Court said.
He said he supported AA Co's recent management focus to become a 'leaner, simpler' business, but equally, believes there is a lot of scope to do more of that, in order to 'let the assets perform' as they should.
"In our business, we see the value as being in the properties, in the herd, and in the teams of people that are on the stations, running the business. The value is generated, and success is either achieved, or not, in those assets.
"If you are a business that has all its money tied-up in cattle producing assets, your success (or otherwise) is tied up in how well you run those cattle-producing assets. It's important to look through the company and see where the value really is, and get that to perform."
AA Co shares closed on Friday at $1.47. The stock has traded in a narrow band around $1.50 since mid-December, reaching a recent high of $1.70 briefly back in November. Shares have been only thinly-traded over the past three months, typically around 300,000 per day or less.
* Based on Substantial Shareholders listed in AA Co's most recent annual report.