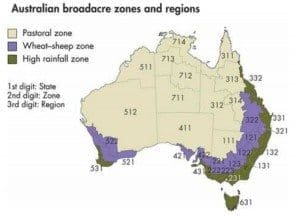 Grassfed cattle industry groups have reiterated their commitment to a new model for national industry representation developed in February.
Representatives of Cattle Council of Australia, the Australian Beef Association, the Northern Pastoral Group, Australian Meat Producers Group, the Concerned Cattlemen's, Northern Territory Cattlemen's Association and the National Farmer's Federation met in Brisbane last Saturday to discuss the implementation of the new model, which was presented to Federal agriculture minister Barnaby Joyce in February.
The model developed in February divides Australia into 15 cattle producing regions, with each region to be represented by a directly elected grassfed producer on the new board of 15. Levy paying grassfed producers in each region will be able to stand for election, vote on the candidates standing for election in their region and contribute to policy development.
The model was developed on the assumption that it would receive at least some operational funding from the compulsory grassfed cattle levy. However, federal minister Barnaby Joyce has all but ruled out the likelihood of the Federal Government agreeing to make the legislative changes required for that to happen.
Despite that setback the various grassfed industry groups agreed on Saturday that "no change was not an option" and agreed to push ahead with the creation of a strong new representative body.
The meeting agreed to appoint an autonomous and indepependent implementation committee of 15 people to explore possibilities for what the new cattle board will look like and how it will be funded.
The committee will be tasked with developing a constitution and funding proposal for the new structure, which will be put to a vote of all grassfed levy payers.
In a media release issued earlier today Cattle Council of Australia chair Howard Smith, who chaired Saturday's meeting, said the groups agreed on the need for a strong and united new structure.
"This group of grass-fed cattle industry representatives is strongly united on the new structure and is committed to working together to developing a successful and effective leadership organisation," he said.
"It was a very positive meeting which identified the need to fund an independent implementation committee".
"All immediate efforts and resources will now be focused on getting the committee up and running," said Mr Smith.