REGISTRATION charges for about half of Australia's heavy vehicle fleet would increase significantly under a proposal developed by Austroads to lower emissions.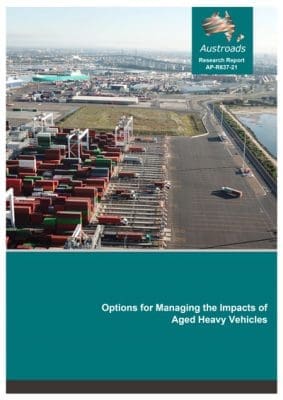 A
research report developed by Austroads
, the peak organisation of state and territory road transport agencies, includes a proposal for massive increases in registration charges for older trucks.
The proposal has triggered an angry response from the Australian Trucking Association, which says it will lead to increased charges for 400,000 heavy vehicles.
Of those, 147,000 heavy vehicles would be hit with "outrageous" registration increases of 220 per cent.
ATA CEO Andrew McKellar has called on Australian Governments to reject the proposal.
"The Austroads report says that those operating an older truck could be forced to pay up to $20,000 in registration charges per truck per year – that's a brutal 220 per cent increase from the current registration fee of $6,225 for a prime mover and semi-trailer," Mr McKellar said.
"Amidst the challenges of COVID-19 and the bushfires, the trucking industry has been on the frontline, working hard to get Australians back on their feet and communities supplied.
"In total, the proposal would affect more than half of Australia's heavy vehicle fleet. "
Austroads says its report analyses the impacts of an aging heavy vehicle fleet and explores measures that have been used to manage the same challenge internationally.
The report says trucks in Australia and New Zealand are older than in many other countries, due to low barriers to entry, exacerbated by having no secondary disposal market, and few restrictions on how and where they operate.
Richard Delplace, Austroads Transport Network Operations Program Manager, says the oldest heavy vehicles impact the community in several ways, including air pollution, noise, and health but, until now, this issue has been hard to define and manage.
"Defining aged heavy vehicles by their emissions standard provides the clearest definition and will likely result in the greatest positive impact of any targeted actions," Richard said.
In this project, an aged heavy vehicle was defined as being above 4.5 tonnes GVM, used in freight transport and manufactured before 2008. Three sub-classes of categorisation are based on the vehicle's compliance with exhaust emission standards in the Australian Design Rules.
Mark Gjerek, lead consultant on this research, says the nature and structure of the national fleet and freight sector means that the aged truck problem is difficult to overcome with equitable and effective measures.
"Across the world, governments have taken action to reduce the impacts of aged trucks in their jurisdictions. International best practice suggests that different kinds of measures should be combined to achieve the greatest effect," Mark said.
"Our study presents examples of actions that could directly influence the aged truck fleet. These can be broadly classified into four types of action: road access restrictions, financial penalties, financial incentives, and retrofit/repower programs."
"Freight and heavy vehicle regulation and planning are currently being reviewed on several fronts. This is the perfect time to consider this issue to ensure it is included in future planning for a safer, healthier and cheaper freight network," Richard said.
However the Australian Trucking Association says the proposal will only push hardworking small and family trucking businesses out of business and into financial hardship because they simply could not afford to keep their trucks on the road.
Mr McKellar said there were better ways of encouraging trucking operators to upgrade to newer, safer trucks.
"Last year, the ATA strongly argued for measures to help trucking businesses buy new equipment, which ultimately resulted in the Instant Asset Write Off and temporary full expensing," he said.
"As a result of these measures, trucking businesses are lining up to buy new trucks.
"Instead of punishing businesses, we need to see more action from government to remove barriers to new vehicles, such as amending the truck dimension and weight rules and providing a temporary zero emission truck purchase incentive," he said.