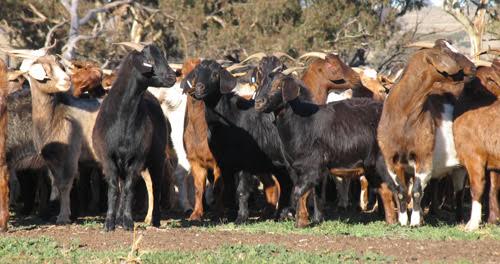 THE goat market has seen a significant slide in recent months, with prices dropping more than 15 percent and processors working through a back log.
According to Meat & Livestock Australia, prices have dropped from 920c/kg carcase weight in June to 770c at the start of September. Beef Central understands grids have dropped again in the past fortnight, with discussions about further drops taking place.
Goat meat production has been on the increase in recent years and the first quarter of this year saw Australia record its largest production volume in four years. Some large cattle companies have made recent investments into goats.
Thomas Food International national smallstock manager Paul Leonard said the increase in supply was putting downward pressure on pricing. TFI goat grids are currently sitting at 700c.
"Over the last six or 12 months the slaughter numbers have gone up significantly year-on-year," he said.
"There is a lot of product out there and there is definitely downward pressure and expectation at the retail end for goats to come back from where they are now. That story is still playing out and it is hard to know where goats will settle."
The drop in goat prices has followed sheep and lamb, which have both been decreasing since September last year. According to MLA, lamb started September 2022 at 689c/kg carcase weight and sheep at 448c –both are significantly down from this time last year at 845c and 621c respectively.
"With smallstock, everything has had a similar percentage correction, the goat market has just been the last to react and it has come from a higher price," Mr Leonard said.
"Lamb and mutton have seen an incremental easing of prices over the past three or four months, goats really only started dropping a month ago and have dropped quite quickly – it has basically just been catching up. I think you will find goats will keep dropping for another month, while the other commodities have probably found their level."
Increase in processing capacity
Australia's goat meat processing capacity is undergoing a significant expansion; with TFI reopening a mothballed plant Bourke, expecting to process 3,000 head a day by Christmas; and Western Meat Exporters in Charleville recently completing an expansion to add an extra 7,000 per week.
Mr Leonard said the Bourke plant was in its early stages of opening and was not taking a large share of the company's kill. He said TFI was handling a small back log by increasing throughput at its Lobethal plant in South Australia.
"We are doing 7,000 to 8,000 per week at Lobethal to take up some slack and we are about two-and-a-half weeks behind," he said.
"But we are wary of trying to get on top of the numbers too quickly, because we are on an easing market – it is like catching a falling knife."
Where will the goat market land?
As goat processing capacity increases, Mr Leonard said the industry could come under more pressure to be more competitive on prices.
"Goat is purely a commodity, it is different to lamb or cattle where there are different levels of consumers and higher and lower value cuts, goat is normally just cubed and slow cooked," he said.
"If someone is prepared to sell a container of goat cheaper than everyone else, than we have come down to that level at some point to keep our market share.
"At times there is premiums in certain parts of the world, like Asia or Canada, but there is not a big story to tell goat consumers, it is very price driven on purchasing or selling."
You are not selling racks of lamb to a top end restaurant or a cruise shipping company
Demand from the United States has been credited for the sustained high goat prices over the past five years, with goat being a popular product among the Hispanic population.
Mr Leonard the traditional goat consumer was not a high-end consumer willing to pay a premium.
"You are not selling racks of lamb to a top end restaurant or a cruise shipping company, goat is normally just cubed and put into a curry or stew as a cheap source of protein," he said.
"Given who the end consumer is from a financial perspective, I was surprised they have stuck with goat while it has been so expensive. My guess is that they like it so much that they have substituted it for another discretionary spend."