Funeral arrangements have been finalised for respected young Northern Territory cattleman Dougal Brett, who died following a helicopter accident on Sunday on his property Waterloo.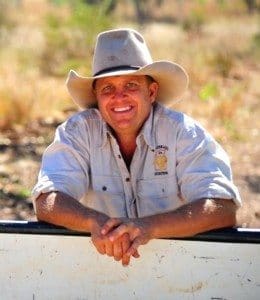 Family members have announced that a memorial service will be held at the Kununurra Race Course on Wednesday 24 June, from 2pm (Western Standard Time).
The 40-year-old husband and father of three from Waterloo Station west of Katherine died in a Careflight plane enroute to the Royal Darwin Hospital on Sunday afternoon after the R44 helicopter he was flying crashed into a river bed near Timber Creek about 11:30am.
Mr Brett and his wife Emily co-owned the 2000sq km, 20,000 head Waterloo Station with his parents Colin and Alison and brother Hamish, a veterinarian. Click here to access Beef Central's original report, published on Monday.
The Brett family has requested that no flowers be presented at next week's service.
Friends and colleagues wishing to attend, who wish to arrange flights and accommodation can contact Jodie Morey at italk Travel in Kununurra, who will be coordinating flights and accommodation.
If demand requires it, Air North is talking about running additional shuttle services between Darwin and Kununurra.
Contact Jodie Morey on (08) 9168 1888
Email: talktous@kununurra.italk.travel