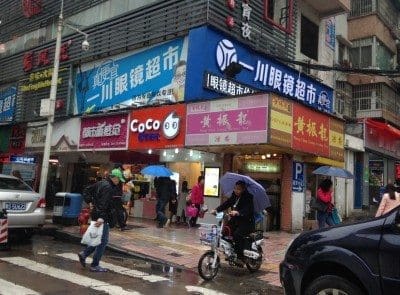 Guangzhou in Southern China, formerly known as Canton, is China's third largest city, home to about 13 million people.
Located on the Pearl River delta, it is the closest major city on the Chinese mainland to Hong Kong.
Beef Central visited the city last week for the launch of the new Frontier International Agri charter ship the Greyman Express, and spent some time while we were there looking around supermarkets and wet markets to gain an impression of the place beef occupies in the local diet.
Like most of China, the meat of choice in Guangzhou is pork. It dominates space in chilled meat cabinets at supermarkets and fresh meat stalls at wet markets, such as this in picture: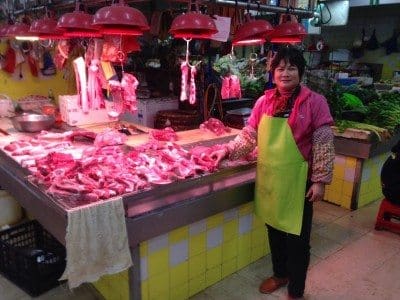 Meat & Livestock Australia's General Manager, International Markets Michael Finucan, who is based in Beijing, said each region has different trends for protein consumption but pork is easily the most dominant across China with consumption of 31.8kg per head per year compared to 4.9kg per person for beef. Beef consumption is higher in first and second tier cities where average incomes are higher.
Guangzhou's coastal location was also reflected in the vibrant array of seafood available in wet markets, with rows of tanks containing live fish and crustaceans.
There was also no shortage of more unique Asian delicacies on offer such as live bullfrogs and young eels:
Beef is a higher priced discretionary product, sold in the wet markets we saw mainly as frozen, vacuum-packed product, most commonly in the form of single portion, heavily marbled Wagyu steaks priced at 260 RMB/kg (A$52/kg) (or about 90 RMB (A$18) for one steak), and secondary cuts such as bone-in ribs with a 200 gram pack marked at 65 RMB (A$13).
This wet market stall was selling fresh beef under signs marking the product as Australian beef: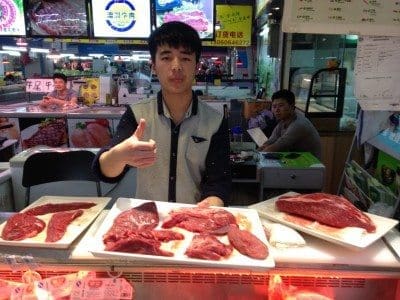 As far as we could tell – penetrating the Chinese-English language barrier wasn't a great success – the price of the beef pictured here translated to about A$18/kg.
Most of the beef in supermarkets was marked as locally produced Chinese beef. One prominent local brand was that of the Kerchin Cattle industry, which has about 50,000 hectares of pastureland land and feedlots in Inner Mongolia. The company says it processes about 100,000 cattle through its own German designed meat processing plant annually, producing about 20,000 tonnes of chilled and frozen product each year.
In addition to imported Australian beef there was also frozen beef branded as Canadian (frozen marbled sirloin price at 78 RMB/250g ($A15.60/250g) and supermarket packs from New Zealand:
This restaurant menu in downtown Guangzhou was selling Australian steak for about A$60: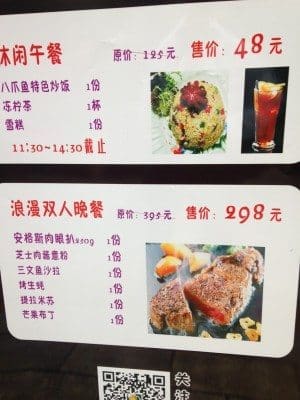 There is also an ever present possibility in China of mis-branding.
As a last word, we couldn't help but think that this advertisement for a café was getting a little confused in its branding with this unique combination of a Kiwi logo with the words Wagga Wagga!: