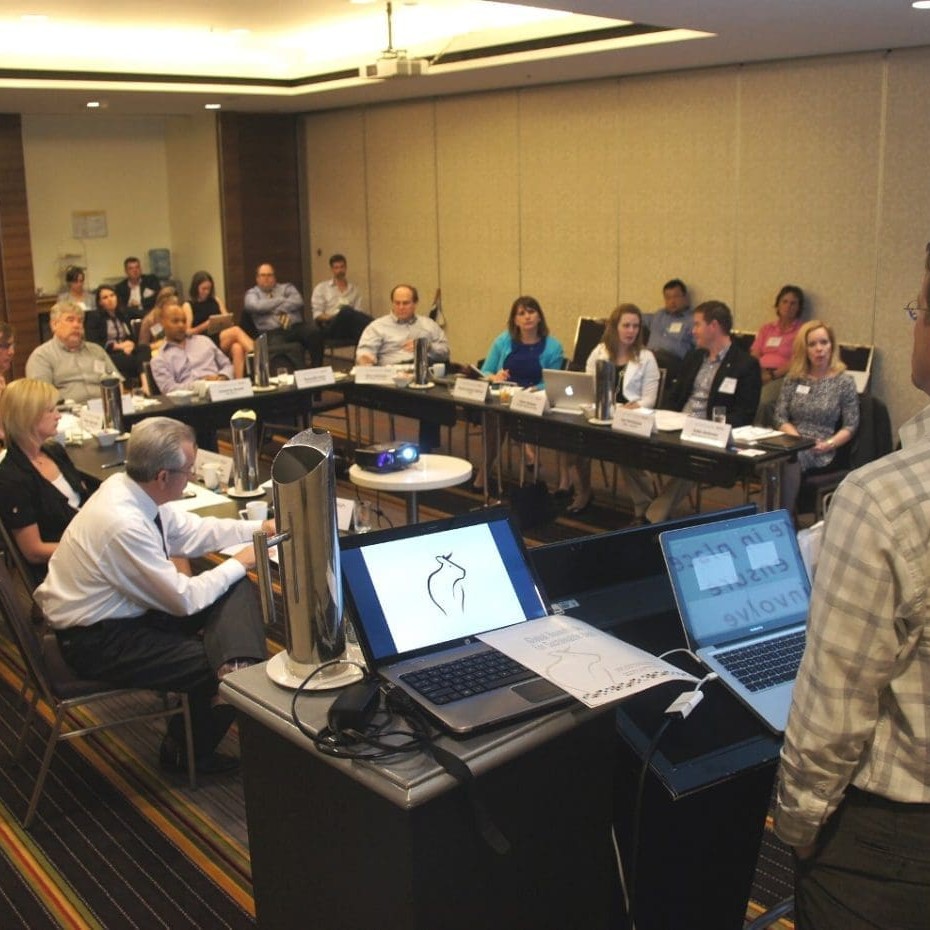 THE establishment of a clear definition of the meaning of sustainability as it applies to the beef industry will provide an important milestone in the progress for the Global Roundtable for Sustainable Beef, which met in Brisbane this week.
Beef Central was invited to attend the meeting to see the process in action, and get a better understanding of what the GRSB's agenda is all about.
As is often the case, a lot has already been said and written about the roundtable's objectives, some showing little evidence of understanding of the group's real purpose, but based more on suspicion.
For those who may have missed earlier coverage of the emergence of the Global Roundtable, it is an international multi-stakeholder initiative with the mission to advance continuous improvement in sustainability of the global beef value chain through leadership, science, multi-stakeholder engagement and collaboration.
The key words missing from that mission statement are 'certification' and 'standards.'
GRSB chairman Cameron Bruett went to considerable lengths yesterday to stress that the GRSB was not about applying any form of certification or standards to the beef industry.
He said such terms were a one-size fits all approach, which was unachievable in the global beef industry, because of its geographic and production system diversity.
Unlike other similar global sustainability roundtables covering commodities like soybeans, palm oil or cotton, the beef industry's global footprint was 'right across the map,' he said.
"Most other commodities are grown in similar climates and face similar challenges, no matter where they are in the world. In contrast, beef is everywhere – cattle are grown in extremely diverse environments and under wide ranging conditions."
"We recognised that the roundtable approach taken by beef would have to be very different to most other commodities where the process has been applied. We needed to take a very broad global view of how we looked at beef sustainability, and simply use our work to empower, local, regional and national stakeholders with the tools they need to drive change in their own systems," Mr Bruett said.
"We are not here to decree to the Australian beef producer how he should manage his operation. What we are here to do is to help define this concept of sustainability, to empower people on the local level, and to apply that definition to their production system in a way that makes sense to them, on a day-to-day basis."
That made perfect sense, because the people on the ground facing the challenges every day – those people with the passion and commitment to be in the industry in the first place – were going to be the ones to effect the change – not people sitting around a roundtable.
"The GRSB will simply be here in a support role," Mr Bruett said.
Much of the group's work really only started in early 2013, with the release of a set of strategic objectives and priorities – just one of which was to seek to define the term, 'sustainability' as it applies to global beef.
That process has occupied most of group's attention over the last 15 months.
The group's draft principles and criteria were released in mid-March for global public comment. The first GRSB conference will be held in November, probably in Brazil, at which the group will vote on the final definition of sustainability.
In broad terms, the proposed definition is "A socially responsible, environmentally sound and economically-viable product that prioritises 'planet', 'people', 'animals' and 'progress' (progress being continuous improvement).
The principles released last month came under five broad categories: natural resources, people and the community, animal health and welfare, food (encompassing food safety, quality, integrity and security), and efficiency and innovation.
The final category was important, Mr Bruett said, because there was a trend across the globe where people were trying to drive technology out of agriculture.
"If they are successful it's going to decimate any chance we have of meeting growing global demand in a responsible fashion. We are going to need technology, to improve the efficiency of operations. That's not to say that technology shouldn't be scrutinised – if the technology has detrimental impacts on animal welfare or other legitimate societal concerns, then it needs to be looked at. But we don't believe technology is evil: it's the application of technology that is most critical, and if applied correctly and responsibly, it can help us all meet the challenges of tomorrow."
GRSB membership currently includes individual producers and producer representative organisations from Australia, Canada, the US and South America; plus large multi-national retailers, beef processors, animal health and other product companies and special interest groups like the World Wildlife Fund.
"All of these groups in one way or another have been looking at sustainable beef already, but many of them were coming from a specific interest area," Mr Bruett said
"We're very proud of the Roundtable's robust membership. It is continuing to grow rapidly, and we will continue to promote and advocate for more and more members – be they individual producers or large multi-national organisations or corporations. We want everyone's input, robust debate and even disagreement, because that's the only way we think we can achieve an outcome that is satisfactory to everybody."
"We really want this to be a voluntary supply chain-wide solution, that makes sense on a market basis, for local economises, local communities, customers, and for producers."
"Rather than going down the regulatory, legislative path, we wanted to find a market-based solution, and only partner with governments and regulatory bodies further down the line."
Mr Bruett said the GRSB took a 'triple-bottom-line' approach to sustainability. Sustainable beef only resided in the centre of three overlapping circles, covering economic viability, social responsibility and environmental soundness.
"It's the most difficult way to do it, but it's the only way to do it," he said. "We're committed to it, and it's the haulmark of our approach."
He said sustainability was now a buzz-word, and many people were attempting to define it in a manner that made sense to their particular organisation, vantage point or area of concern.
"One of the tasks the GRSB identified a year ago was the need for a common definition of sustainability. Even within the group membership, there were various views of what meant when it comes to the beef industry.
"From the consumer's view, the idyllic image of agriculture is still common, although perhaps not particularly representative of the modern day. In the US, some consumers might ascribe terms like organic or grassfed to what sustainability means. They simply try to differentiate systems, saying that any one system displaying sustainability must mean others are unsustainable. We inherently disagree with that," he said.
Activist groups' approach to sustainability was different – promoting actions such as eating less meat, meatless Mondays, or decreasing production. They were generally making demands on farm operations, either by improving their environmental performance or the way their product was produced.
"We view those options as surrender, not solutions," he said.
"If we don't attempt to define sustainability in beef, there is a range of other people that will do it for us," Mr Brewett said. "People who are attempting to impose their moral values, opinions and views on beef production are present in Australia, just as they are in the rest of the world."
He said the overwhelming majority of the world's six billion consumers wanted choice. A small, radical minority wanted to reduce choice, and enforce their preferred option on the rest of the population.
Another interest group, retailers, wanted to make supply-chain claims and demand on their immediate suppliers, sometimes in response to these 'one percenters' based on board-room decisions, which could impact the entire chain. Once such decisions were made, they were often tough to roll-back.
At the same time retailers had to maintain their low-cost offerings to stay competitive in the marketplace, which meant, that even though they made such demands, they often did not do so with commensurate investment in the rest of the supply chain, in the form of incentive.
Producers and lotfeeders often got the brunt of the supply chain demands, from retailers and others. The producers had huge environmental responsibility and were viewed by the public as the custodians of the land, either in a positive or negative way. Often the producer was the best message vessel for the consumer, however.
"But it's very difficult for the activists to influence six billion consumers to change that perception, or the 750,000 cow calf producers in the US, or 80,000 feedlots. What they do is leverage those big entities (retailers, large food service operators) in the middle, because if they can get them to make demands and changes on the supply chain, then they impact the entire industry and achieve their goals and aspirations."
"But there are real sustainability challenges on farm, and not all of them are environmental. Many are social: it's the age of the producer, the declining global herd, the production of product that's out of spec and does not meet consumers' needs, it's increasing regulatory pressure from state, federal or global agencies, and financial barriers to entry."
Mr Bruett said GRSB's view was that all beef systems could be sustainable.
"This is not about picking organic or grassfed over grainfed," he said. "We believe any system can improve, and make progress in its environmental performance and societal impact, if it is necessary, and become more economically viable. It's not about the system: it's about achieving a process of continuous improvement."
"It's also about consumer choice. We are going to have consumers who desire specific attributes and traits that may, or may not, be associated with 'sustainability.' As an industry we need to be able to meet and provide for those options."
"Then we need to convey our sustainability message to the consumer, because at the end of the day, consumers want a license to feel good about the products they already love and enjoy."
Consumers everywhere had a love affair with beef, but they needed to feel good about it. They needed to know that the practices that went into producing that piece of meat on the plate were aligned with the values and morals that they held dear, Mr Bruett said.
"This is where GRSB comes in. We've chosen a very different approach, where everybody is eating from the same trough, trying to identify a common approach to meeting this challenge of feeding the world in 2050 with nine billion people," he said.
The beauty of the roundtable was that while there were often disparate views among the stakeholders represented, each member had just one vote, meaning majority ruled.
Tomorrow: GRSB's chairman Cameron Bruett and executive director, Ruaraidh Petre, respond to questions about the GRSB's purpose and approach to the sustainability challenge
Next week: Beef Central talks to McDonald's worldwide supply chain management senior director for strategic sourcing/sustainability, Gary Johnson, about the company's plans to start introducing beef with sustainability claims during 2016.