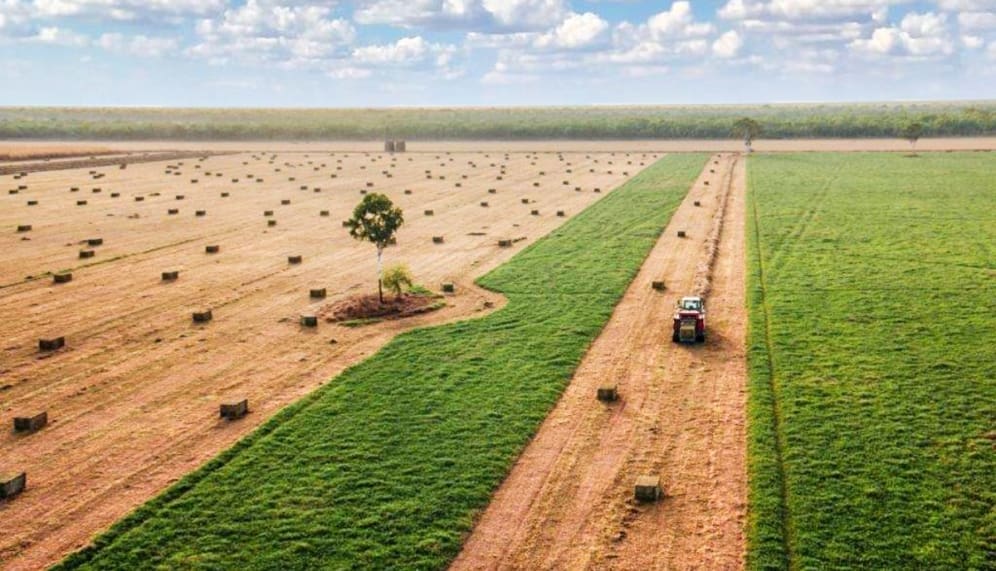 WHILE widespread rain across large parts of the country has made for a surplus of feed in recent years, the supply of hay is down for the second year in a row.
Fodder crops have been popular among restockers in New South Wales and Queensland and some suspect there is currently a record amount of silage in storage. But with consistent wet weather making it hard for bailing, the supply of good quality is down.
Demand for hay has reportedly been strong, with livestock on the move and floods creating a demand for roughage.
National hay marketer Feed Central managing director Tim Ford said this year's production of high-quality hay was slightly up on last year's – but the amount in storage was down.
"Supply is down on other years because we haven't had the best growing conditions for hay over the past two years. We can expect the supply of high-quality hay and straw reduce as we go into winter, but there is ample supply of lower quality hay," Mr Ford said.
"With the rain-interrupted harvest in a lot of Northern NSW and Qld last year, there wasn't too much straw cut for feed rations – and a lot of it was poor quality. Volumes of cereal hay, such as wheat, barley and oats, have been reduced compared to previous years, due to the wet spring.
"However, the supply of dry land and irrigated lucerne has been strong and the quality of the lucerne has been very good. And in recent times, some quality pasture hay, such as Rhodes grass, has been made – which is selling to local and western beef clients."
Floods and cattle movements increase demand
Mr Ford said demand for hay across the board had been strong due to several factors, including the floods in Northern NSW.
"We should never underestimate the generosity of country people," he said.
"I don't know tonnages, but a lot of product was donated to flood regions and that has an impact on the market when it is combined with other factors."
While the bulk orders for hay have been down compared to other drought years, Mr Ford said the orders were still coming in across the country.
"There is no specific sector or specific customer buying a lot of hay, but the market is ticking over nicely," he said.
"I think it's just because cattle are moving – saleyards, backgrounders and stud breeders have all been putting in orders. We have also been sending some to drier parts of the north.
"Not many operators have been putting in big orders for hay, but there is a lot of orders coming in."
Mr Ford said the company had been working on securing the supply of hay by encouraging growers to build more infrastructure.
"A lot of southern suppliers have built hay sheds in recent years, which is something we have been pushing for and has resulted in a more consistent supply and stable market," he said.
"I would estimate these sheds to be at approximately 60 percent capacity, where this time last year they were overflowing."
Quiet times for contractors
Qld-based hay bailing contractor Adam Cleeve said the past two years had been quiet, with most of his work disrupted by wet weather.
"It's been really hard to make the hay, you need at least a couple of weeks of dry weather to get it made – especially if you are doing any sort of cereal crop," Mr Cleeve said.
"It seems people haven't thought about making hay because the seasons have been so good and people have been able to operate without much of it. Even in the winter, we had so much rain that the frost didn't have much of an affect in many areas."
Mr Cleeve said one of his contracts was to cut and bail straw in the North Star area of NSW, which was part of the area where rain had damaged grain crops at harvest and subsequently damaged the straw.
"I was the only one that I knew of in the area who was actually bailing straw in the district, normally there's about 10 of us," he said.
"We didn't even end up bailing all of the straw because it started raining and didn't let up."
Mr Cleeve said he had not heard much about the prospects for growing hay this year. He said the winter was likely to have an impact on planting decisions.
"I think people will get a bit of a shock at how little hay there is, especially if there is a big frost this winter," he said.
"But there is also the rain and that is still having an impact on our work. We do some lucerne around Texas and we have had to abandon some of those paddocks."