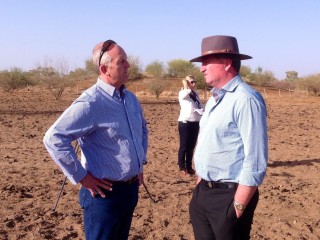 AgForce says it has been heartened by new federal agriculture minister Barnaby Joyce's stated commitment to act as quickly as possible to improve available in-drought assistance for affected producers following a tour north west Queensland last week.
AgForce president Ian Burnett and chief executive officer Charles Burke accompanied Mr Joyce on an inspection of droughted properties near Mt Isa and Georgetown last week, some of the worst affected regions in a State where more than 60 percent of the landscape is now officially drought declared.
Mr Burke said AgForce welcomed Mr Joyce's willingness to tour the north so early in his tenure as agriculture minister, during a time when all new ministers were still yet to get their staff in place.
"Barnaby realised that we weren't kidding when we said things were tough," Mr Burke told Beef Central this week.
"Even the best panoramic photograph doesn't show you what you can see when you're on the ground and in the dust where you can feel it and see it."
Mr Burke said AgForce raised the need for improved in-event drought support to help relieve the financial and emotional burden drought-affected producers were currently shouldering.
One of the main shortcomings of the existing Farm Finance drought package he said was that people who were most in need of support were finding it difficult to comply with eligibility criteria.
For example there is currently no trigger level identified for producers to receive transitional farm family payments through the package, meaning that producers cannot currently access income support.
"We want to see him act quickly and that was his commitment, that he would go and start working through the issues that we discussed with him," Mr Burke said.
"He acknowledges how quickly a response is required."
Mr Burke also welcomed the increased levels of state support for drought-hit farmers announced earlier this week by Queensland agriculture minister John McVeigh.
"This drought has evolved into a bigger, more sinister event and we have been talking to the State Government about making some more adjustments as we go,.
"We're heartened by Barnaby and the state minister's relationships and their commitment to working together and with us achieve good outcomes."