DIESEL prices have been increasing for most of this year, causing rises in fees charged by some large livestock transporters.
According to the Australian Institute of Petroleum, diesel prices at the bowser have climbed above 148 cents/litre this September, which is up 27c or 22 percent since January and 13c since the start of June.
Diesel prices are mostly derived from the global oil market, which the International Energy Agency says had a drop in supply over August, mainly due to Hurricane Ida in the United States.
While transport companies buy diesel at wholesale prices, Martins Stock Haulage national operations manager Adam Ross said it was still having an impact on cost to operate, and hence the rates the company was charging.
"For a lot of our larger customers we have a fuel levy so if the fuel comes up, it's built into our rate," Mr Ross said.
The company, which has its head office in the New South Wales town of Scone and mainly operates out of Oakey on Queensland's Darling Downs, owns about 90 prime movers.
Mr Ross said the transporter's diesel price had been on the increase for the past year, with last month remaining steady.
"This time last year the terminal gate price was about $1.09, so at the moment it's jumped up 30 to 40c," he said.
"30 percent of our entire running cost is fuel so the rise and fall in fuel has a huge impact on our business."
Mr Ross said the rise in diesel prices had coincided with shipping problems across the world, which was also making it hard to find spare parts and tyres.
"It's a logistical nightmare for a transport company," he said.
"To park a truck in the yard because we can't get a turbo or a spare tyre, you're looking at thousands of dollars a week in lost revenue."
Rising cost for this year's harvest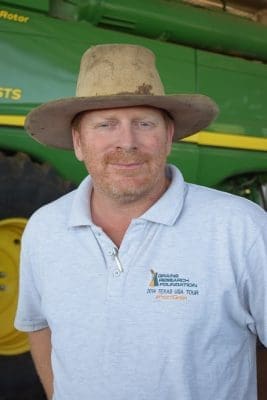 Queensland's grains industry is another one facing logistical problems and higher input costs, with the harvest already started in Central QLD and Darling Downs set to start in the next fortnight.
Agforce Grains president Brendan Taylor, who farms on a property at Warra on the Darling Downs, said rising diesel prices were adding to rising fertiliser costs.
"In our operation, we'll probably get through 5000 litres of diesel in the next month or even 6000," Mr Taylor said.
"There's a lot of crops to come off around southern Queensland and a lot of it's pretty good, so between planting, harvesting and shifting grain there'll be a big demand for diesel.
"There's plenty of barley crops around and they're looking exceptional so there's going to be some tremendous yields."