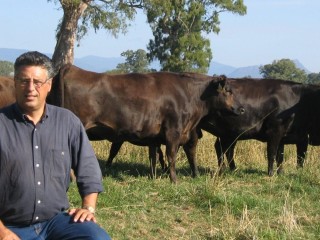 Victorian farmer and Wagyu producer David Blackmore has been named the 2012 Livestock Producer of the Year at the Australian Farmer of the Year Awards dinner last night in Melbourne.
South Australian gain grower Peter Kuhlmann from Ceduna was named 2012 Australian Farmer of the Year at the awards, hosted by Kondinin Group, ABC Rural and the Australian Rural Leadership Foundation.
Mr Blackmore, a fifth generation farmer, helped to bring Wagyu beef to Australia, when he secured exclusive rights to import embryos and semen into Australia in 1988.
He now farms 3000 Wagyu cattle with his family on 2300 hectares across two sites in Alexandra, producing 55 carcasses a month.
Following continual trial and error and several trips to Japan, David developed an Australian
Wagyu herd that could survive pasture feeding, raise their own calves and return to calve within 12 months, without using antibiotics or growth hormones.
"Carcass quality and increased carcass size including eye muscle area and consistent marbling has been achieved to enable us to compete with Wagyu produced and exported from Japan," David said.
Renowned Australian chef Neil Perry, who founded the first Rockpool restaurant in 1989, said he had used Wagyu beef produced by David for seven years in his restaurants.
"David understands the importance of getting the feeding regime right; it's not just the marbling that is important but the texture of the flesh and the distribution of marbling," he said.
"His product is heads and shoulders above any Wagyu I have ever tried. I think he is the best Wagyu producer in the world, outside Japan."
WFI western operations manager John Snowball said David demonstrated outstanding care for the animals he breeds and the land he breeds them on.
"David's innovation in genetics and land use and his role as an educator has paved the way forward for other cattle farmers," he said.
"He has developed close relationships with the Japanese Ministry of Agriculture and authorities, and has been influential in Australia's recognition as a premium Wagyu producer.
"We salute David's perseverance, dedication and commitment to excellence."
The Australian Farmer of the Year Awards are designed to promote a positive image of farmers, inspire and encourage career choices and investment interest in Australian agriculture.
The 2012 Livestock producer of the Year award sponsored by WFI.
For a full list of award winners click here to visit the Kondinin Group website.