The Darwin abattoir project dominated question-time during AA Co's annual general meeting this afternoon, following chairman Don McGauchie's earlier confirmation that the board had agreed to commit $91 million to the completion of the project.
Comments and questions from shareholders were divided fairly evenly between those which could be deemed to be 'supportive' of the investment, and those that were either critical or cautious.
Veteran western Queensland cattleman Noel Kennedy pulled no punches when he told the board that abattoirs in northern Australia did not have a great track record, rattling off a string of failures.
"I'd like to know what strategy the company has to make this Darwin abattoir profitable, when the track record of others has been so dismal. Labour, particularly in a remote area, transport/shipping and the seasonal nature of the north are all enormous challenges," Mr Kennedy said.
"You paint a pretty black picture," Mr McGauchie told him. "One would think we can't get any cattle killed in this country at all. But the reality is that there are abattoirs that do very well in this country, and right now, with the differential between world beef prices and Australian cattle prices, it's not a bad business to be in."
"That changes of course, with profitability at other times in the farming part of the chain, and I've seen that in both cattle and sheep abattoirs across the country."
Mr McGauchie also challenged Mr Kennedy's notion that Darwin was 'remote', saying the reason AA Co had gone to Darwin was because it was a city with a rapidly growing population.
"We've looked closely at the labour issues, and we're confident we can provide adequate labour out of Darwin for the plant," he said. He later dismissed any notion that AA Co would use 'fly-in, fly-out' labour out of India.
Nor was there any intention to run the plant on a 'seasonal' basis, instead it would operate right throughout the year, with only normal maintenance closures.
"We'll build it to be a year-round facility – supplied from our own strategically placed properties, which we plan to reinforce to guarantee supply at certain times of year, and cattle from other northern producers," Mr McGauchie said.
Being on the railway line, it was possible for the plant to draw cattle from as far south as the Alice Springs district, which had completely different seasonal circumstances.
Quizzed about market destinations for the finished product, he said 'the world' would be AA Co's target market. For starters, AA Co saw itself becoming the major supplier of meat into the Darwin market itself.
The company had also had 'remarkable interest' from a number of 'very large' organisations who were interested in off-take meat for the US market. Beef Central is aware that AA Co hosted a high-level procurement delegation from the Burger King chain in the US recently to its Darwin site. Burger King is second only in size to McDonalds in the quick service restaurant segment.
As mentioned in today's separate AGM article, the Darwin output would also rely heavily on the Asian region, where very strong population and affluence growth was taking place.
"While we will primarily be targeting cows and bulls that are at the end of their working lives as slaughter animals, we will seek to have the abattoir set up in a way that allows us to kill for whatever markets might be out there, including Halal capacity and chilled/frozen," Mr McGauchie said.
AA Co's former general manager for genetics, Don Wyld, who has regularly asked tough questions of the board at AGMs since his retirement, also asked about the Darwin abattoir's prospects.
He said he had read that Teys's Beenleigh abattoir was returning 1.2pc on investment, now risen to 2.8pc, since the new workplace agreement with staff.
"They are very, very experienced operators. Is that the sort of return on investment we can expect from Darwin?" My Wyld asked.
Mr McGauchie said the reality was that the AA Co board was looking at a 'very much higher' return on investment than that. He would not be drawn on nominating a figure.
"There were plenty of people interested in investing in the Darwin project, but they did not bring what we were looking for to the project," he said.
Quoting US analyst Steve Kay's recent column in Beef Central (click here to view), Mr Wyld said "the reality is that beef plants anywhere in the world are more expensive than ever to build and operate. Food safety costs are enormous, and every other cost from wages to energy and packaging keeps increasing. New plants all lose money for two years before possibly breaking even in the third. I wonder of the AA Co board has any idea how much money it could lose in Darwin."
Mr McGauchie said the board intended not to lose any money in Darwin, and make the project a success.
"We have analysed this thing enormously. We've had a lot of expert advice from outside the business. We know Australia is a very expensive place to do almost anything, and Darwin is a particularly expensive place to do things. But our cattle are in the north, and that's where they have to be processed. It's a really expensive process to truck cattle from northern Australia to the east coast for processing, and we are in no doubt that we can make this work."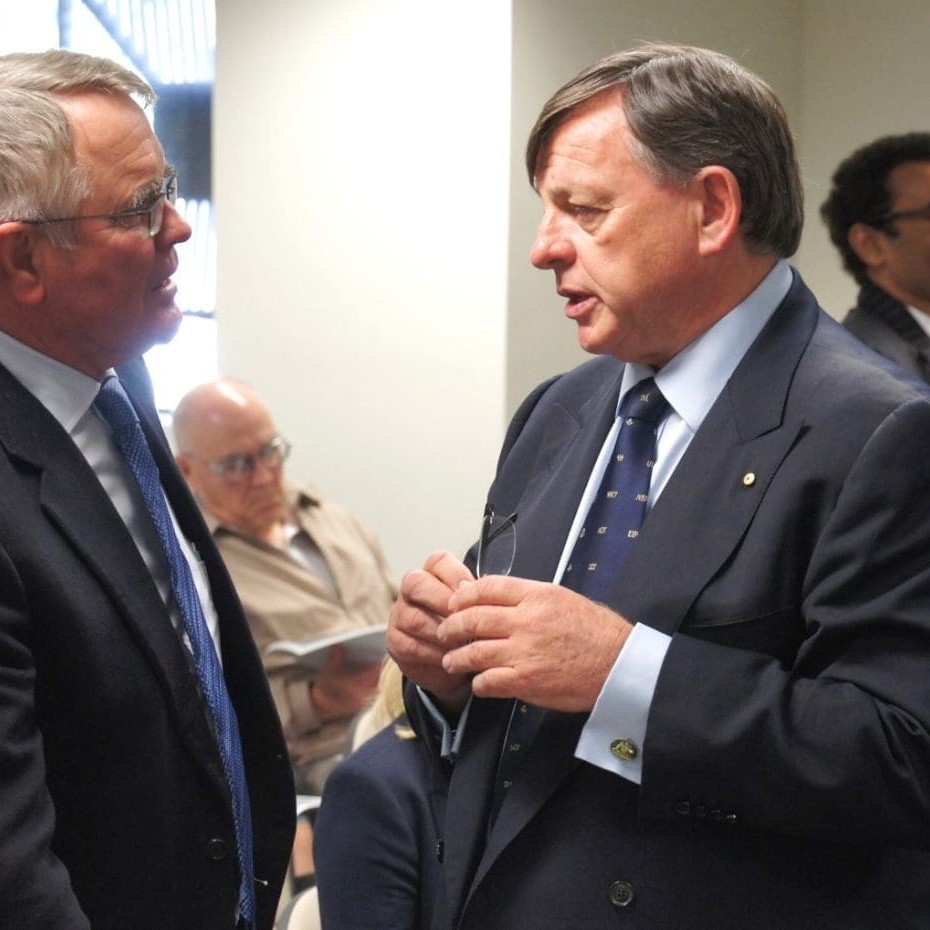 Former AA Co boardmember, Peter Hughes, himself a beef producer from north Queensland, was more supportive of the board's vision for Darwin and taking the company's product to the world via vertical integration.
"Coming from the pastoral side, we really want to see AA Co do well – that's the important thing," Mr Hughes said.
"We don't see you as a competitor, we see you as someone leading the way. One thing that really excites me about AA Co is the meat division. They produce everything from the highest quality beef in the world down to hamburger meat. In Australia, the number of international companies in the meat industry is getting smaller and smaller, and we desperately need a company like AA Co to lead the way."
Mr McGauchie agreed, saying AA Co was fortunate to be in the position that every farmer in Australia wanted to be in.
"We're big enough to vertically integrate. I've been in agricultural production for a very long time and it's the dream of everybody. This is pretty much the only company in agriculture in Australia that can actually do that. We're the ones that can make that work, and that's why we are now moving into this strategy. It's taken us a while to get into a position where we think we can execute it, but you are now starting to see it."
Shareholder Michael Waterhouse questioned the board about the threat of takeover, given the low share price.
"I've watched Graincorp and others get taken over by big international conglomerates in the agricultural sector.
"While AA Co might have a great future, the issue I have is the big threat that hangs over it – especially with a $91 million abattoir expenditure funded out of operations – of takeover by large international (meat) conglomerates, because that's who you're intending to compete with. What you are building is exactly the sort of facility they are looking for, and they can get such assets very cheaply through depressed share price.
"How are you going to protect the shareholder over the coming two to three years, while all this is going on?" he asked.
"At the end of the day, the shares belong to the shareholders themselves, Mr McGauchie said. "They make the decision to sell or keep them, and it's the same for every listed company."
Farley departure raises little scrutiny
Surprisingly, Mr McGauchie fielded only a single shareholder question inquiring about the circumstances behind the recent sudden resignation of former chief executive, David Farley.
He dismissed it by saying the four years was in fact quite a long period of tenure for a chief executive, but added that the board had 'said all that needed to be said' in its earlier statement to the market.
"David had seen a turnaround for the company and put in place a strategy, and the board took the view that as that strategy goes forward, the company needs a different set of skills. David made the decision to leave the company fairly quickly, which we accommodated."
Earlier in his address, Mr McGauchie said the company required new skill-sets to lead it into its next phase of growth and maturity.
The company was now in the midst of a search for a new chief executive officer.
"We have so far received applications from – and identified – some very high-calibre candidates and we're confident in concluding the process soon. The candidate we are looking for will have skills in both marketing and processing, as well as experience in a larger corporate setting, running multiple divisions," he said.
"We are looking for someone who has a global mindset and an agri-business approach, not just a pure traditional agricultural approach."