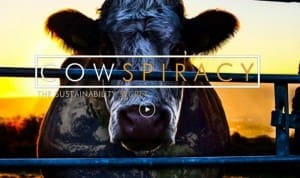 A new documentary about to screen in the United States paints beef cattle production as the "one single industry destroying the planet more than any other".
"Cowspiracy – The Sustainability Secret" has been produced by an organisation called the AUM, or the "Animals United Movement".
In a promotional trailer the film's producers insinuate that the livestock industry is so powerful and evil that they have endured significant personal risk by making the film.
They also tell viewers that the beef industry's environmental impact is a problem the world's leading environmental organisations are "too afraid to talk about".
"We need you to help us tell the truth about the absolutely devastating environmental impact large-scale factory farming has on our planet," the film makers say in appealing for donations on a crowd-funding website.
"No other industry compares to the destruction caused by industrialized animal agriculture, yet it goes on, almost entirely unchallenged.
"We as a community of conscientious people cannot allow the Earth's ecosystems to be ravaged by this industry's insatiable appetite for resources.
"We must take a stand against this massive environmental destruction, even if the large environmental organizations are too afraid to do so themselves.
"Together we aren't just creating a movie, we are creating a movement!"
They add that "this shocking yet humorous documentary" will be as eye-opening as "Blackfish" and as inspiring as "An Inconvenient Truth".
US cattle industry journalist Amanda Radke writes on the Beef Magazine website that many of the "facts" provided on Cowspiracy's documentary's website appear to be regurgitating common myths the US beef industry has been working hard to correct in recent years.
"For example, the Cowspiracy website claims it takes 660 gallons of water to make one hamburger, or the equivalent of two months' worth of showers," she writes.
"However, according to Facts About Beef, "In reality, it takes 441 gallons of water to produce one pound of boneless beef. Farmers and ranchers are committed to water conservation and have reduced the amount of water used to raise beef by 12pc compared to 30 years ago. In comparison, 441 gals. of water is a fraction of what is used to produce other everyday items. It takes over 713 gals. of water to produce one cotton t-shirt; 39,090 gals. to manufacture a new car; and 36 million gals./day is leaked from the New York City water supply system.
"So if we really care about water conservation, we should stop wearing clothes, driving cars and using water altogether in our homes and businesses."
The documentary follows similar negative claims about the environmental impact of beef production by entrepreneur and global airline owner Sir Richard Branson.
While a number of mainstream media reviews praise Cowspiracy for uncovering beef's "environmental secrets", not all have accepted its message, with the San Franciso Weekly describing the film as a "pile of self-indulgent, vegan propaganda".
For more information on the sustainability of Australia's beef cattle industry, visit Meat & Livestock Australia's Target 100 website here