LATEST data from long-running consumer research confirms most Australians still love red meat, with more than 90 percent of households consuming beef on a regular basis.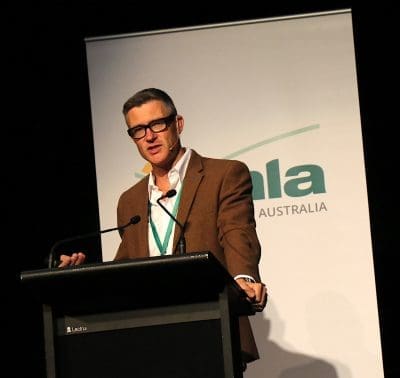 And, despite the amplification of the meatless-eating movement by the mainstream media, the number of people who describe themselves as vegetarians remains relatively stable at less than eight percent of the population.
The vegetarian label clearly encompasses a 'broad church', the research suggests, including people who may be reducing meat in their diets but still describe themselves as vegetarian. One quarter of people who self-reported as vegetarians also indicated they still eat meat.
A lot of vegetarians go back to eating meat again, and the biggest reason is often health related, such as a lack of B12 or iron in their diets, Howard Parry Husbands, head of independent consumer research firm Pollinate, told the Red Meat 2019 industry breakfast in Tamworth.
But clearly the red meat industry has some big challenges to overcome, according to the annual research conducted Pollinate on behalf of Meat & Livestock Australia.
While most Australians still eat meat, they are also confused and conflicted about the messages the hear.
The research also shows that while the vast majority of Australian households buy meat, there has been a steady decline in the extent to which people 'eat beef as often' over the past 10 years.
About 8 percent of people are eating more red meat than they did a year ago, but 29 percent are eating less than a year ago.
(These proportions have remained relatively stable over the past 10 years, Mr Parry Husbands explained – there has been no 'big spike', and the percentage of people who are reducing is not going up, but there are more reducers than there are increasers, which means the total amount of red meat being consumed is slowly reducing).
Another key point is that consumers are reducing the amount of red meat meals they have, as opposed to simply having smaller portions.
Healthy associations for beef are at an all-time low, and only half of Australians believe red meat producers care about the environment.
The main reason people consider one protein over another are price and freshness – "can I afford it, is it fresh and is it nutritious", Mr Parry Husbands said. "This is reflected in society: it is down, down, prices are down (Coles), and Woolworths are the fresh food people.
"They know this, they know consumers fundamentally buy on price and freshness."
People eating less meat are still pointing to animal welfare as the main reason for not eating or reducing meat. However the percentage citing animal welfare is decreasing slightly while the percentage citing environmental concerns is growing slightly.
People will act to resolve their anxiety
When people have anxiety, they will seek to resolve that anxiety he said.
Consumers have choice, and they don't actually need to know any more about meat or how it is produced or the food production system as a whole, they can very simply just choose something else that makes them feel better.
"That is what they are doing," he said. "They don't have to lean in and learn any more.
"So trying to tell them more about how good we are or how it is done, they don't care, they can just choose an impossible burger. The consumer can choose that and feel good.
"What people simply do is choose something else and no longer have that anxiety."
The research is showing is an increase in concern, and unless people are reassured, they will seek to resolve their anxiety, by choosing something else.
"You need to reassure people that it is okay to carry on eating that steak that they love and that delicious burger that they love and so on, this is the required change in perception that we need to have.
"People need to feel reassured."
Don't fight, tell a positive narrative
The answer was not to "fight" those opposed to the industry.
"When there is a raging bull don't get in the way. Find a way to unite with them.
"That might sound perverse and bizarre but the politics of conflict have not served us well.
"If someone is attacking us they are actually fearful or concerned."
"What we have to do is give them a new narrative of hope and show them we are part of the solution that we are doing good stuff
"You're better off having a positive narrative and giving people a new way to think about red meat as part of the solution to their anxiety."
CN2030 'genuinely genius'
He said consumers wanted to see tangible actions that demonstrated industry wide sustainability, and wanted to see proof on the ground that reinforced what they industry was telling them.
On that front he said industry's Carbon Neutral 2030 goal was "genuinely genius".
"Because it has a commitment, and I think what that does is it reframes society's perception of the red meat sector.
"The two things you need to do to achieve your trust and social license is first of all set a goal that aligns everything you do in all of your back yards with society's concerns, which you've done with CN2030.
"The second thing you need to do is … you have to prove it.
"You have got to do everything you can in your backyard all the way through the commodity chain, right the way through to the product, to demonstrate that you are going to be carbon neutral by 2030.
"You will find that by the time you get half way there, if you're demonstrating success and everybody has raised the bar, then they will carry on eating red meat and you have made it, and if you don't change your practices in your back yard then they will continue to stop eating red meat.
"So you have an extraordinary opportunity, you have done everything right for the sector, now you have to put the hard yards in.
"No one ever thanks you for that, it is like being a parent, that is just the world you live in.
"So I think you have done exactly the right thing."