A NEW coffee table book launched simultaneously this week in Queensland and the NT captures the rich tapestry of life and work in remote and often rugged rural parts of Northern Australia.
Author Helen Kent and her husband Lyle have frequently travelled across remote parts of the North over the past 30 years, taking their Kent's Saddlery leathergoods and other wares to customers across Queensland, the NT and Kimberley.
Queensland's family-owned Kent Saddlery business is the only saddlery in Australia that uses a travelling retail shop, covering huge distances across Queensland's Gulf and Channel Country, the Barkly and VRD in the Northern Territory and westward to WA's Kimberley and Pilbara regions. Their story was captured in this earlier article on Beef Central.
During her travels, Helen has recorded dozens of interviews with colourful characters across the bush, providing ample material for her new book "Stories of Australian Country People."
The book, partly financed through a crowd-funding exercise late last year, is being simultaneously launched today at the NT Cattlemans Conference in Alice Springs and in the Kent's home-town of Stanthorpe. It will also be launched locally at the upcoming Kimberley Cattlemens Association annual meeting at Broome in mid-April.
Lyle and Helen will be on the road again at the end of March, for their four-month annual trek through the north with their mobile truck shop. They will be visiting stations right throughout Queensland during April (Gulf country, early April, Central and then Western QLD mid to late April).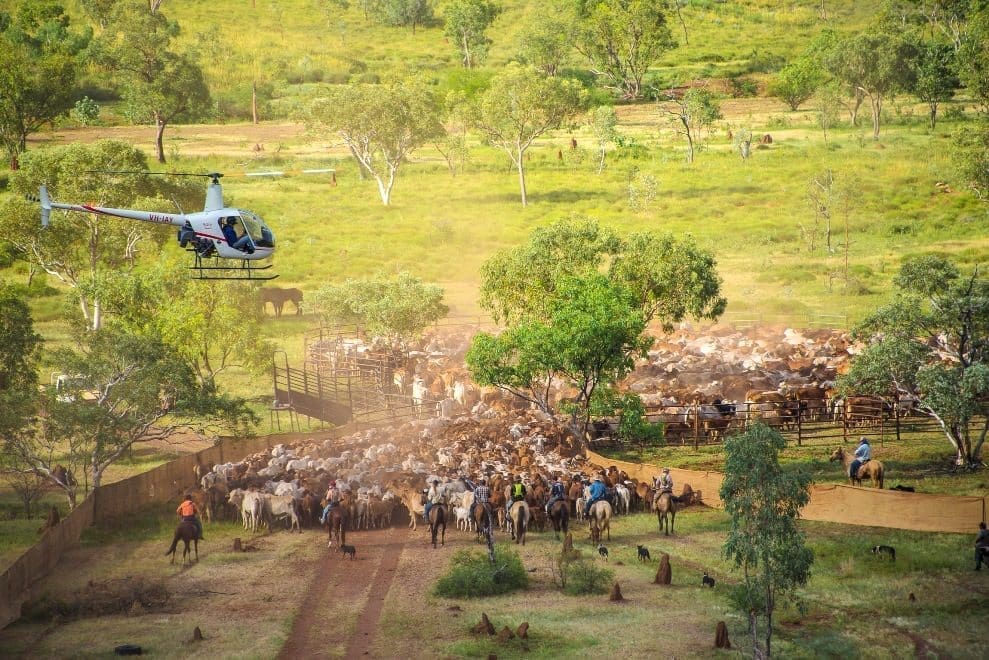 Every year since 1991, Lyle and Helen Kent have made this extensive trek, visiting up to 140 cattle stations on each journey. Their annual trip has become more than a welcome tradition at every station they visit. Lyle and Helen have established many friendships along the way with a vast number of station people right throughout Northern Australia.
It is a unique tradition they have carved out in their own way. Helen's stories have already been listed with the National Archives, due to their historical value and significance. If anyone was in the position to produce a book about station people of northern Australia,  sharing their stories and way of life, it would be Lyle and Helen Kent.
Printed and published in Australia, the beautiful, professionally designed book showcases stories and photos of everyday country people, the bush, and the spectacular landscapes of the Kimberley, and Pilbara of Western Australia and the Northern Territory and Queensland's Gulf, Channel Country, Central and North West).
All stories have been written by Helen in her quiet, respectful and observant manner, and she has brilliantly captured on paper people's personalities through an intuitive and charming writing style.
Helen started using a recorder to capture every word as she quietly interviewed and listened to station people talk about their lives. She wanted her writing to reflect the way people speak.
"Through this book, Stories of Australian Country People, we wanted it to give readers a sense of how life in the bush works. Each story is unique. We have tried to capture that uniqueness, bringing people's character to life," Helen said.
Their initial motivation to capture people's stories originated from a trip in 2006 when Helen recorded a short story. She recalls that it was a sad and tragic event through which a brave and inspirational couple coped and persevered. "We just wanted to write it down," she said.
Lyle and Helen have always had a genuine affinity for station people and the places in which they live and they admire their resilience and hardworking ways.
"People in the bush are different, unique," Lyle says. "Some who haven't been educated have such amazing memories and are great story tellers.  I always have and still today get a buzz when we drive down the station driveways."
Here are a couple of extracts that have been taken from some of the stories:
Thirty years at Sophie Downs: Neville Dahl & 'Jim' Craig, Sophie Downs Station, Halls Creek, WA
Neville Dahl and Lynette Craig, alias Jim, have spent all their working lives in the bush – 30 of those at Sophie.
Their dependence on the bush for a livelihood has shaped and at times, battered them into shape. It's a tough yet soft, a questioning yet accepting, a demanding yet loving, a dreaming yet realistic, an outwardly resistant yet, endearing kind of shape.
Neville had always wanted his own place and Sophie was within the couples' price range. "I was the sucker that came along," Neville smiles; a laconic gesture. "It was a battler's block, still is. There's not much fencing – too much fixing flood gates if it was fenced. The Fox River Range runs along the country and the cattle do alright along all the creeks coming out of the hills. There are little piss holes everywhere; the cattle are spread out. It's hard to muster."
Jim brings another occasion to light. "Michael was five and in pre-primary. They were all out fencing on Ruby Plains and I said to Neville, 'They have to come in, they've got school camp in Broome this week.' " Come Sunday night and they all came in, except Michael. I asked, "Where's Michael?" A nonchalant reply was forthcoming. "Oh, he's walking cattle from Sturt Creek to Ruby Plains with old Merv." Jim recorded yet another score for the ʻschool of the great outdoors.'
No Borders: Tom Shephard & Cameillia Armstrong, Newry Station, Victoria River District, NT
Stories and yarns abound about the cattlemen of Cape York Peninsula in Queensland, who prefer to work in bare feet and weld spurs to their stirrup irons. It's a fact that at the end of a Cape York day, Tom Shephard liked to kick off his boots and there's no denying his claim to the fame of a Cape York Peninsula heritage.
Tom has a work philosophy which he believes applies equally well to dogs, cattle, horses, and people. "It's knowing how to read the individual: when to add and release the pressure." From a lifetime of working closely with all four categories of living creatures, the principle of low-stress stock handling, regarded as a fairly recent discovery, is something that Tom learned early in his childhood out in the river country of Cape York. He's adamant, "You do it 'cos it works!" This statement is followed closely by the infamous Tom-chuckle, "And 'cos Dad told you to do it that way."
Cameillia, who has probably borne the brunt of more of Tom's antics than anyone, recalls Tom's mum making a remark when they were first going out together. Tom's Mum said, "Cameillia, Tom really likes taking you fishing." Cameillia fell for the remark ̶ hook, line and sinker and asked, "Why?" A ʻlike-mother, like son,' reply was immediate. "Because you always take the bait."
Click here to access purchase information about "Stories of Australian Country People."