QUEENSLAND family-owned and operated Kent Saddlery is the only saddlery business in Australia that travels the huge distances across Northern Australia taking their handcrafted leather goods to customers in remote corners of Queensland, the NT, and the Kimberley and Pilbara regions of WA.
Every year since 1991, Lyle and Helen Kent have taken their travelling shop into the outback, visiting up to 150 cattle stations on each journey.
Their annual trek has become more than a welcome tradition to every station that they visit – not only because there aren't any other saddlery companies or hawkers prepared to commit to travelling the huge miles, but more so, because Lyle and Helen have established so many friendships and become widely known over the years to station people right throughout Northern Australia.
In their own way, the Kents have carved out a unique bush tradition.
Along the way, Helen Kent has written a series of articles on the often colourful people she's met, and events she has seen. A number of her stories have already being listed with the National Archives, due their historical value and significance.
Based on all this, Lyle and Helen Kent are uniquely positioned to produce a book on station people and station life, sharing their stories and way of life throughout Northern Australia.
Crowd funding finance sought
Last month, Stanthorpe (southern Queensland) based Kent Saddlery launched a crowd-funding campaign via pozible.com to see Helen Kent's coffee table book concept "Stories of Australian Country People" published.
The short stories and accompanying photos have been collected and written by Helen over a number of years, during the couple's travels across the north.
Helen is hoping that the Australian community is willing to back the crowd-funding project so that the stories can be turned into a coffee table book.
Helen Kent joined the Kent Saddlery team in 1988 when she and her husband Lyle decided to make a big change from vegetable farming to saddlery. From 1991 they annually travelled as far west as the Kimberley and Pilbara Western Australia, with their four sons, Ben, Daniel, Jamie and Paul, and pet dog Jock. Helen's youngest daughter, Jessica, was born in Derby, WA during one such journey in August of 1991.
"We've launched the Pozible campaign with the dream of turning the stories, yarns and photos collected over the years into a beautiful coffee table book," Helen said.
This year alone, the Kents have visited 140 stations over a five month period with their travelling saddlery shop.
"In 2007 I began to gather life stories and yarns from people living mainly in the Outback, and these accounts were included in the back of the annual Kent Saddlery catalogues," Helen said.
"A sizable collection has accumulated and it has been suggested "you should write a book", so here we are, taking the opportunity to ask Australians if it is something they would also like to see happen."
The campaign aims to raise sufficient funds to allow the printing of 1000 books in Australia, through Stanthorpe printers and graphic designers, A Betterway to Print. Just 12 days after the launch of the campaign, the project is 32 percent funded, but there is still a way to go to reach the target.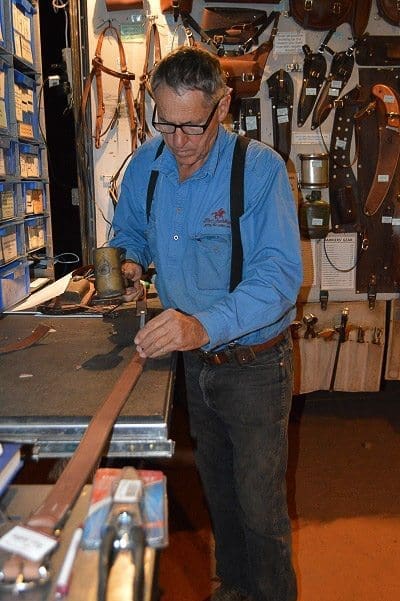 Lyle putting the finishing touches on a belt, with the hole punch