IN WHAT may prove to be an awkward coincidence for regulators, the beef import risk assessment report released yesterday (see today's separate story) has been filed the same week that the fisheries industry battles an outbreak of disease in wild-caught and farmed prawns in Queensland.
The white spot disease, previously unseen in Australia, is widely suspected to have been introduced via imported seafood from Asia.
Successive Australian governments have maintained a conservative, but not a 'zero' risk approach to the management of such biosecurity risks. This approach is expressed in terms of Australia's ALOP (Appropriate Level of Protection), which the department says "reflects community expectations through government policy and is currently described as providing a high level of protection aimed at reducing risk to a very low level, but not to zero."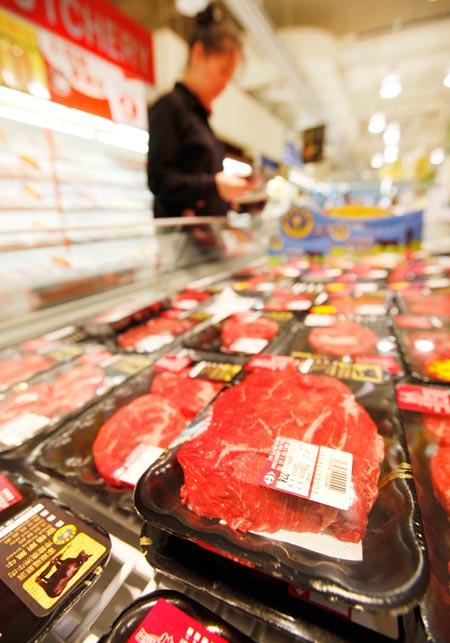 Prior to 2001, US beef was eligible to enter Australia, but rarely did due to its lack of price competitiveness.
US chilled beef exports to Australia never exceeded 100 tonnes a year, mostly making 'opportunistic' appearances on Australian retail shelves during the 1980s and 90s. Trade was typically restricted to short windows when unusual currency movements, and production cycles, up or down, in both countries made the trade worthwhile.
The occasional steakhouse of hotel menu offered a 'US steak' special as a novelty, and family restaurant chain Sizzler at one point ran a brief US beef special, before discontinuing it after being criticised heavily by the local beef industry.
The earlier trade was limited mostly to a handful of harder-to-shift specific cuts, like rumps, that tended to stockpile in the US, before being offloaded into the Australian market. Most tended to be sold in bulk, whole primal form, and often not identified as US in origin, apart from an 'Excel' printed cryovac bag.
Supply circumstances may heighten prospect of imports
The current world beef supply and demand circumstances, may see that change.
US cattle prices are now at ten-year lows, as the national beef herd mounts a dramatic recovery from earlier impacts caused by drought. Feedgrains are abundant and cheap.
As a consequence, US beef exports have risen dramatically over the past year.
In contrast, Australian beef is in dramatically shorter supply, with the national herd sinking this year to 20-year lows, and unlikely to grow significantly for another two or three years.
Slaughter cattle prices, while coming off mid-year record highs, remain historically high, underpinned by short supply.
All this creates an environment which may be conducive to US imports next year, Beef Central is told.
As far as other countries listed in the draft import risk assessment are concerned, prospects for import of any significant quantity appear limited.
New Zealand and Vanuatu have always had access to Australia, and occasional trade occurs in small volume, when market forces allow.
Beef trade from Japan, if it occurs at all, is likely to be extremely small, and limited to highly marbled Wagyu beef destined for the fine-dining restaurant market. Before Japan's outbreak of BSE, total Japanese beef exports to all countries stood at just 565 tonnes back in 2009.
Trade contacts suspect any proposed trade out of the Netherlands would be in traditional boxed veal, which might come under the scrutiny of animal welfare interests in Australia. Worth remembering is the fact that Australia must comply with the EU's own animal welfare standards, in addition to food safety and biosecurity standards, when trading our beef into the EU market.
While Australia, as a heavily export-dependent food producer vigorously endorses the principles of free trade – provided scientifically-based biosecurity and food safety standards are met – the steady progress towards re-admission of US beef to Australia will inevitably arouse some stakeholder opposition in this country.
The question of 'equivalency' is also likely to emerge, especially in areas like individual property traceback and animal identification systems, where some will argue that the US beef industry is nowhere near equivalent to Australia's National Livestock Identification Scheme.
The US is likely to continue to press for trade access to Australia, however, regardless of its commercial viability.
That's because access to Australia – one of the world's most disease-free beef producing countries, with the highest standard of protection – is 'symbolically' important to the US, in terms of underpinning access to other export markets. Simply having the 'approval' to export to Australia, which covets one of the world's best biosecurity statuses for beef, may provide the US with a strong 'calling-card' in China and other potential beef customer countries.
"For that reason, I'd expect the US will see gaining official access to Australia as its highest trade access priorities for 2017," one well-informed trade source told Beef Central this morning.
A major Australian export beef processor approached on the development this morning said it was important that any regulatory approval process to allow US and Japanese beef into Australia was scientifically-valid.
"We essentially want the rest of the world to treat our product on its merits in terms of risk assessment, and the science behind that. So therefore we need to treat any prospect of imported product the same way," a spokesman said.
"Let the science prevail: that is Australia's obligation under the World Trade Organisation. Anything less than that is a double standard," he said.
"And there's always that weird sleeper of a prospect of the discovery of an atypical case of BSE in Australia. If that was to occur, we'd like to think that we are treated fairly and justly by our global trade partners – based on science, rather than emotion."
See this morning's separate story on the import risk assessment process