While this week's MLA marketing forums being held in Dalby, Armidale and Wagga are useful points of engagement with stakeholders on future marketing directions, the primary purpose of the current Australian visit by regional managers is to finalise next year's marketing budgets.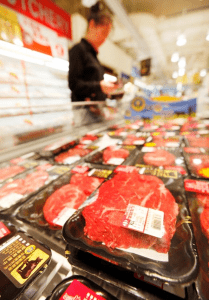 Much of the groundwork for budget allocations across the regions for 2014-15 has already taken place during December's various market taskforce meetings, but final allocations and revisions will be made in coming weeks.
Next financial year's budgets are more a matter of fine-tuning, rather than radical changes, MLA's general manager marketing, Michael Edmonds, told Beef Central.
The trend towards devoting proportionally more funds in emerging markets, as opposed to mature ones will continue, but with only minor tweaks this year.
New frontier markets like China, which leapt from nowhere to absorb 150,000 tonnes of Australian beef last calendar year, received a considerably larger allocation in the current financial year budget, meaning the changes in 2014-15 will not be so extreme.
Asked whether the current financial year's record beef kill had provided a bigger 'war-chest' to spend on domestic and international marketing, Mr Edmonds said that was a logical assumption, but was not entirely correct.
"The big kill has increased revenue through transaction levies, but in fact there has tended to be less transfer of cattle through their life – more direct slaughter from breeding property, as a result of the drought, and less staged transfer through backgrounders, for example," he said.
Each time a beast changes ownership, it attracts an additional $5 transaction levy, some of which is allocated to marketing.
"Where some animals may have attracted two or more transactions at other times, last year that may have been only one," Mr Edmonds said.
"The net result in revenue terms is up – just because of the sheer volume of cattle slaughtered, but not as much as people might think."
More recently, now that there had been some rain, that trend might slow for the final March quarter of the current financial year, meaning the net revenue (or reserves) result might be slightly higher than forecast, but not significantly.
"Our reserves in grassfed are slightly below the levels we'd like, meaning our overall marketing budget is going to be slightly down on the current financial year," Mr Edmonds said.
Understandably, increased expenditure will be directed after June 30 into the beef industry's marketing effort in China, with other developing markets largely unchanged. Established, mature markets including Australia, Japan and Korea have had a slight haircut to compensate.
Additionally, the launch of the True Aussie program (see this morning's separate story) will also impact on regional marketing budgets next year.
"We will be pulling some money out of the regional allocations into a central budget for the development, launch and brand awareness of True Aussie, but much of that will in fact be spent in the regions themselves," Mr Edmonds said.
"The reason we are doing that is because we believe that will be a more efficient use of resources. Stakeholders said to us, as good as they are at a regional level, you have all these different logos and programs operating. There has to be an opportunity to create greater synergies, building more consistent messaging from country to country."
"That can potentially save money," he said.
"Safety will always be a key element of Australia's messaging to international and domestic customers, backed-up by industry systems, but beyond that are the great stories about Australian beef's provenance, and other attributes. Let's play that up, and True Aussie will help deliver on that."
MLA regional managers will have further discussions wityh stakeholders at Armidale and Wagga this week, in addition to Monday's Dalby lotfeeder-focussed meeting.