Israeli-based tech company MeaTech last month became the first cell-based meat producer to be publicly traded on the New York Nasdaq exchange, raising an additional US$28 million in its initial offering.
MeaTech has released its year-end financial results for 2020 and has announced a variety of milestones made over the last six months, including a strategic acquisition. The company earlier raised US$15 million in several preliminary funding rounds.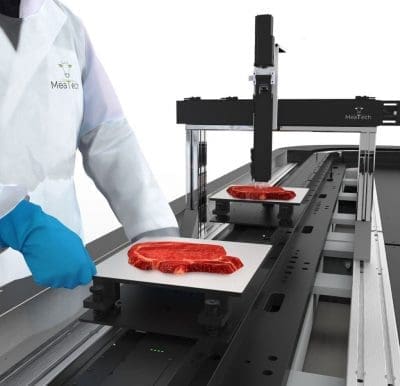 MeaTech's goal is producing the systems that will generate meat from bovine umbilical cord cells. Using its three-dimensional printing technology, the company claims the end product will replicate the taste, texture and quality of steak.
The company started trading on the Tel Aviv Stock Exchange in January, and New York's Nasdaq in March, claiming to be the first publicly-traded cultured meat company developing sustainable and ethical food technologies.
In November last year, MeaTech successfully bio-printed an edible cultured beef fat structure grown and developed from stem cells. The company has also completed its acquisition of Peace of Meat BV, a pioneering Belgian developer of cultured chicken meat technologies.
MeaTech said it was dedicated to developing cultured meats that "looks, feels, tastes and smells like farm-raised meat, yet does not require animals to be slaughtered to produce them."
Instead, MeaTech is developing a biotechnical process in which stem cells from living animals such as cows and chickens are harvested and cultivated in bioreactors, to be transformed into advanced products like steaks and other real meat products, using proprietary 3D bioprinting technology.
"MeaTech is committed to the production of cultured meat because it can offer business and supply chain advantages to producers, as well as offer the potential to produce fewer greenhouse gases, use fewer natural resources, while being cleaner and potentially healthier than traditional meat products – without harming animals," the company said in a statement.
In delivering its 2020 financial results, the company said the recent capital raising meant the company has a current cash position of US$33.5 million.
MeaTech's chief executive officer Sharon Fima said the world was looking for more sustainable agriculture practices, and his company believed cultured meats – created without slaughtering livestock – can be a significant advancement towards that goal.
"With the technology we are creating, we expect to see real meat grown in clean, controlled conditions in just months, instead of the years it takes to produce farm-raised meat," he said.
"In addition to having the potential to be a more sustainable production process, cultured meat can be produced anywhere on the planet, changing supply chains."
"The past few months have seen great momentum for MeaTech, and we are excited about the strategic initiatives we have in place. We look forward to further building MeaTech, establishing ourselves as global leaders and a hub for innovation in the cultured meat industry."
As an early-stage company, MeaTech does not currently generate revenues and does not expect to generate any revenue from operations in the near-term while it develops its products.
R&D expenses for 2020 totalled US$2.5 million, compared to US$0.2 million in 2019, reflecting a rapid expansion of the scope of MeaTech's research and development abilities.
Total operating expenses in 2020 reached $18.5 million, compared to $0.4m in 2019. Net loss for 2020 net was $18.5 million, or $0.30 per ordinary share, compared to $0.4 million, or $0.02 per ordinary share, in 2019. The increase was mainly the result of the public listing expenses and increased operating expenses incurred as MeaTech expanded its cultured meat technology development.
Here is the company's website.