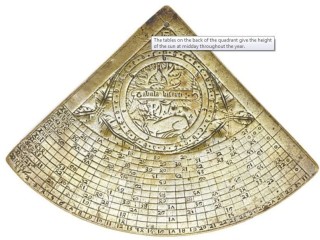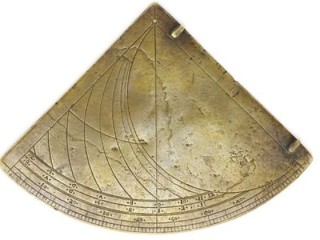 An extremely rare 14th-century English time-keeping device found in a bag of old spare parts in a shed on a Central Queensland cattle property could fetch up to $300,000 at auction in London next month.
Christopher Becker and his brother were playing in the shed of their family's cattle station near Baralaba, southwest of Rockhampton in the mid-1970s when they came across the brass quadrant marked with the badge of King Richard II.
"My brother and I were playing in this shed… playing in the dirt with our cars and we were looking for something to help create the topography for that, and we found this piece of brass in a bag of pipe fittings which we found very useful," he told ABC News Online.
"My dad found us playing in the dirt with this particular piece and he wasn't too happy about that.
"I think that was largely based on the fact that brass is quite a soft metal and also it's quite an expensive metal to buy as pieces, so he… thought it was better than something that should be played with in the dirt."
Unbeknown to the Beckers, their car game prop was in fact the second earliest dated British scientific instrument in existence, an equal hour horary quadrant dating from 1396, ABC News Online reported yesterday.
The time-telling mathematical instrument will be auctioned in London on December 13. Auction house Bonhams has given it a pre-sale estimate of between 150,000 and 200,000 pounds (A$233,000-$311,000).
Chris Becker now lives in Sydney, where he sells antiques. He is the son of Ray Becker, who was one of the early pioneers of the Cattlemens Union of Australia.
Mr Becker told ABC News Online that the quadrant was sent to his family in a box with "all sorts of things" by a deceased line of relatives from New Zealand who took it with them when they emigrated from England in the 1860s. The quadrant is believed to have been discovered by one of Mr Becker's ancestors in the mid -1800s in northern England.
"It was memorable because it has two funny little lugs on the side which you would use to sight the sun through, however they looked like the lugs for hinges and so everybody thought it was really odd that somebody had sent a lid without the box," he said.
Stumped by what it was, Mr Becker's father, Ray, took it to the Queensland Museum in the late 1970s. They identified it as an astrolabe but could offer little further information.
Since then Mr Becker had kept it on a shelf as a memento of his childhood, he told ABC News.
It was not until the start of this year that he decided to delve into the mysterious object's past and found an online scientific journal describing other similar quadrants which have some relationship to Richard II.
He then contacted the British Museum who confirmed the quadrant's significance. Specialists from Bonhams in London helped with identifying the quadrant, which Australian operations chief James Hendy describes as an "incredibly rare" find.
"It's one of only five known in the world. It dates from a particular period – in fact it's dated 1396 so from the reign of Richard II – and it's just very rare that these things come onto the market. It's going to be keenly sought," he said.
Mr Hendy is tipping the quadrant to reach the upper-end of the pre-sale estimate and thinks it is likely to be snapped up by an institution like the British Museum, which already has two in its collection.
"But then there are some very significant private collectors of early astrological instruments, who would certainly be very keen to own an item as rare as this," he said.
"So I would imagine it will be fought for between an institution and a very serious private collector or collectors."
Mr Becker told ABC News Online he would be sad to see the quadrant sold because of the sentimental value it held for him.
"To me, the fact that it may have belonged to Richard II is curious and interesting, but it isn't something that makes me more attached to the piece. The fact that my brother and I found it in a bag of pipe fittings in the shed is probably the most important part for me," he said.
"So yes, there will be a little of sadness with that, but at the same time because of its significance it's something that I feel deserves to be somewhere where it is appreciated and where people will be able to study it and enjoy it more than just sitting on my desk."
Source: ABC News Online