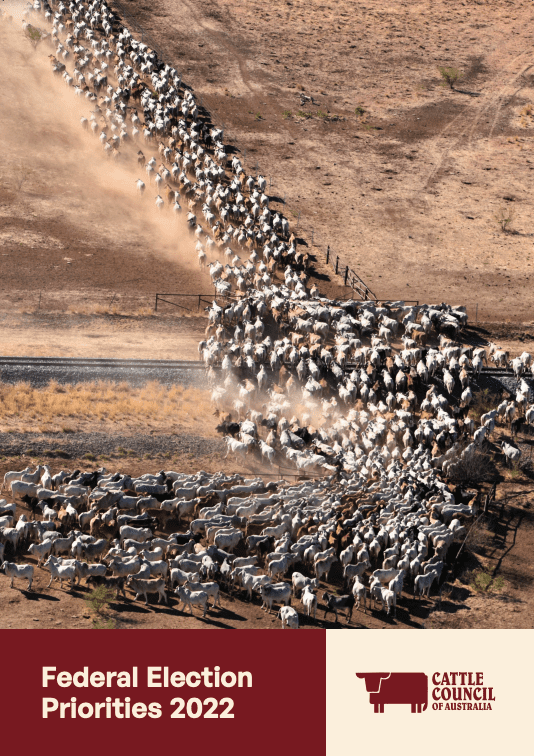 WITH a federal election imminent, Cattle Council of Australia has listed seven election policy priorities for the $21.3 billion beef cattle sector.
Under the Commonwealth Electoral Act 1918 and the Australian Constitution, the next Federal election must be held on or before 21 May 2022.
With a firm date set to be announced, the peak industry council representing Australian cattle producers has highlighted seven "top priorities" for the sector.
Summarised, they are:
Traceability A whole of industry integrity system, including investment in a national mandated digital/electronic identification traceability and data management system across all livestock species, with a sustainable funding mechanism, along the supply chain that guarantees food safety and global consumer confidence.
Biosecurity With the recent emergence and spread of several significant exotic animal diseases in the region, CCA says a well-resourced, nationally consistent biosecurity system with sustainable funding for on-farm and border protection activities is critical
Meat labelling Urgent reform of labelling policy to ensure accurate labelling claims for alternative proteins, including the emerging field of lab-cultured meats, to ensure clear differentiation from naturally grown meat products, in line with Senate Inquiry recommendations. This includes prohibiting alternative proteins from using descriptors or names that could mislead consumers.
Environment Ongoing funding to develop environmental stewardship schemes, financial incentives to assist producers with cost of transitioning to lower carbon practices and technologies, and creation of a red meat-specific greenhouse gas inventory reported both GWP 100 and GWP Star metrics to give a more accurate picture of the beef industry's climate impact.
Democratising the cattle transaction levy Stating that the levy system needs more flexibility to better respond to changing circumstances, CCA believes redirection of levies must be made possible through a system that requires "less than legislative change".
Telecommunications To overcome the current divide in telecommunication services between metropolitan and rural Australia, CCA advocates long-term funding for open access mobile network expansion in regional areas, assistance for businesses requiring mobile phone repeated devices, and support for the NFF initiative of establishing a $5 billion Rural Telecommunications Fund.
Fuel tax credits for aviation fuels Expand agricultural production fuel tax credit eligibility to include aviation fuel, a key input for production in northern Australia.
"As custodians of nearly 80 percent of agricultural land, the beef industry is in a unique position to help Australia achieve its climate targets," CCA president Markus Rathsmann said.
"We are looking to build partnerships with government to help offset carbon emissions, while rewarding producers who take on the task.
"This is just part of how we are looking to gear our industry for the future and ensure its success.
"The red meat business is a crucial component of the Australian economy, directly employing nearly 200,000 people.
"The beef industry alone is worth more than $20 billion annually at the farm gate and underpins the economies of regional communities right across Australia.
"These should be priorities for all sides of politics – they will help provide opportunities for all Australians, while providing them with healthy, nutritious and sustainable red meat."
To view more details on CCA's election wish list click here