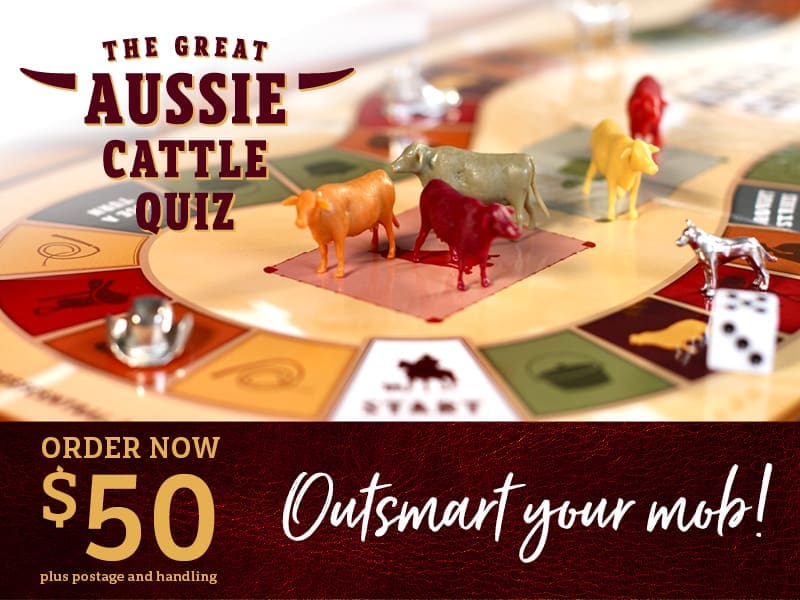 WITH Christmas fast approaching, time is rapidly running out for postal delivery of Beef Central's popular industry board games, 'The Great Aussie Cattle Quiz' and 'Cattle Baron' for Christmas.
Both are proving to be enormously popular gifts for anybody with an interest in the Australian cattle and beef industry.
Our original game Cattle Baron was released during Beef 2018 in the nation's beef capital, Rockhampton three years ago, while The Great Aussie Cattle Quiz was launched at Beef 2021 in May.
Both sold out quickly, but we've now received new consignments of games from our printers overseas, in plenty of time for Christmas orders.
However Australia Post is warning about potential delays in parcel deliveries in the peak period leading up to Christmas this year, so we are strongly advising readers – especially those in more remote areas – to complete Christmas orders this week.  See link for orders at base of page.
Cattle Baron – A game of High Steaks
'Cattle Baron' puts up to four players in charge of their own Australian cattle station, developing their property's pastures, watering points and fences, and investing in top bulls to improve and expand their herd.
But beware – just like the real cattle industry, potential setbacks like droughts, bushfires or cattle market swings could be waiting around every corner!
Along the way, learn how Australian cattle producers work in an environment of unpredictable seasons and volatile markets to sustainably improve their land and their cattle to produce premium quality, clean-and-green Australian beef for customers around the world.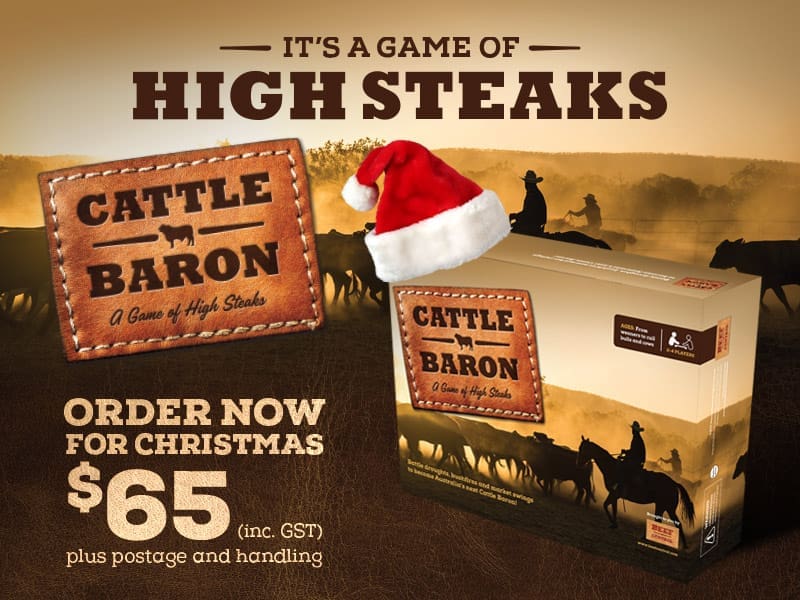 The Great Aussie Cattle Quiz
Think you know cattle?
What's the purpose of the hump on a Brahman?
How many tyres are on a six-deck road train?
What is the Long Paddock?
The Great Aussie Cattle Quiz is a game for two to four players with hundreds of questions about the beef cattle industry, covering everything from history to geography and animal science relevant to the beef industry, from the farm gate all the way through to the consumer plate.
Players are asked a question on every square on which they land as they take turns at rolling the dice and moving around a cattle stock route. Answer a question of each colour correctly, and players earn a cow of that colour for their own herd. The winner is the first player to achieve a fully stocked paddock.
Some questions are multiple choice, others are based on photos or images.
Whether you're a beef brainiac or someone with little or no experience in the industry, the Great Aussie Cattle Quiz encourages people of all ages to test their knowledge and learn more about our great industry, while having some fun with family and friends at the same time!
The Great Aussie Cattle Quiz is a fun and educational game for ages 10 and up.
Cattle Baron – A game of High Steaks is on sale for $65 plus postage and handling
CLICK HERE for Cattle Baron Order Form
The Great Aussie Cattle Quiz is on sale for $50 plus postage and handling.
CLICK HERE for The Great Aussie Cattle Quiz Order Form
Here's a link to a short Youtube video clip about the Cattle Baron board game: