After a long-running industry restructure process which culimated late last year, a national board of directly-elected cattle producer representatives is now charged with providing leadership and direction for the Australian grassfed beef cattle industry.

The inaugural Cattle Australia board is made up of seven representatives elected by its members, with a further two skills-based directors yet to be appointed by the board.
In an ongoing series of profiles, Beef Central is asking each Cattle Australia director why they stood for the national board, what they see as key issues confronting Australian cattle producers and their throughts on how the future of the Australian beef cattle industry currently stands.
This week we profile Cattle Australia deputy chair Garry Edwards.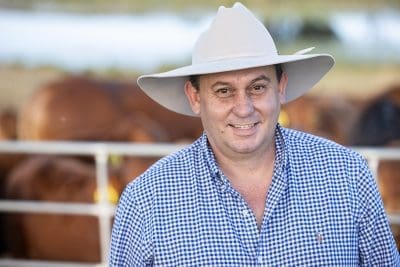 Name: Garry Edwards
Region: South Australia Livestock Research Council
What is your background in the Australian beef industry?
I grew up on a commercial beef cattle property near Stroud, south of Gloucester, in New South Wales where my parents and family still live and continue to operate a beef cattle enterprise.
I was fortunate many years ago to win a number of livestock assessment competitions in beef cattle, sheep and pigs at the Sydney Royal Show and the National Angus judging competition which led to an incredible scholarship opportunity at the University of Illinois, an incredible program that is still run by the Angus society.
This led to me completing a degree in Applied Science in Systems Agriculture at Hawkesbury where is was fortunate to compete in the ICMJ meat judging competition and was selected on the Australian team to compete in the USA and undertake an industry study tour of the beef industries in Japan and Korea in 1997.
Today, I am the owner of two additional cattle properties in this same region of NSW focused on breeding and backgrounding of grassfed cattle and I am also the Managing Director and CEO of AAM Investment Group (AAM), a company that runs over 120,000 cattle across multiple properties in Central West NSW, near Forbes and Bective Station near Tamworth, NSW, an aggregation of five organic properties including Terrick Terrick in Blackall and seven cattle stations in the Northern Territory that includes Legune, Maryfield, Manbulloo and Limbunya.
I founded the company that today is AAM back in 2007 and I remain the major shareholder of the company today. AAM uniquely focuses on the economic sustainability and stability that is generated from owning and operating a geographically and commodity-diverse portfolio that incorporates beef cattle production, organic lamb production, mixed farming and cropping, large-scale softwood timber processing and poultry production for Ingham's in South Australia.
I have more than 25 years' experience in large-scale livestock production management within the Australian agribusiness sector. My experience spans across a vast array of areas of the agricultural supply chains and includes managing businesses involved in livestock breeding, growing and finishing, financing of agricultural projects, implementation of precision agriculture practices, investigation and implementation of sustainability and innovation initiatives and developing and operating integrated agricultural businesses.
Why did you stand for the board of Cattle Australia?
I am a strong advocate for the Australian cattle industry and Australian agriculture as a whole, and my background and industry experience has provided me with a unique and deep understanding of the challenges and opportunities facing both family and company-run cattle enterprises.
I have successfully worked on projects with many of our peak industry bodies and understand their importance in delivering outcomes for their members, levy payers and the industry as a whole. The role of a proactive, future-facing peak industry body, is critical to the success of the beef cattle industry and I am deeply passionate about achieving effective consultation with cattle producers nationally on how their levy funds are invested, improving policy outcomes and delivering meaningful advocacy for Australia's largest agricultural sector which is our $30bn beef industry.
Unfortunately, many producers believe that their existing levy funds that are directed to Meat and Livestock Australia deliver this outcome. This could not be further from the truth as our levy monies are fundamentally utilised for R&D and marketing and none of it is used to represent the interests of, and to protect, our cattle producers and industry.
I have worked with many peak industry bodies and understand their importance in delivering outcomes for their members and industry. The role of proactive, future-facing peak industry bodies is critical to the success of the grassfed industry with many new challenges being presented every year.
Essentially I stood for election as I felt that I offered the Board of Cattle Australia a unique skill set across multiple facets of the beef cattle production supply chain, from production through to finishing and processing unique perspective of the beef industry supply chain.
My professional career has provided the opportunity for me to intimately understand the challenges and opportunities in both family and company-run beef cattle enterprises throughout Australia.
What are three key issues you see confronting the Australian Cattle Industry at the moment?
Education and Training: it is critically important that as an industry we invest in the training and upskilling of our people and that we don't wait for someone else or government to do it for us as we know that in many cases this strategy has failed.
Our staff members and managers face many new challenges in operating our cattle enterprises today and we must equip them with the necessary skills, resources and support structures to face these challenges so they can take the opportunities available and prosper.
We also have to get better, fact-based, education programs about our industry into the schools, particularly in urban Australia as our nation's children are being misinformed by minority alternate and activist groups that are more active and well-funded and as a consequence, well-resourced.
Meaningful and Strong Representation: the majority of cattle producers and levy payers do not understand that their levy payments to our industry RDC (MLA) do not deliver any level of advocacy and protection of interests. Our industry is the largest agricultural sector representing some $30bn of value and the only body that can fight for the interests of levy payers and protect our industry from activist groups and harmful, misinformed legislation is Cattle Australia.
The cattle industry levy payers and associated suppliers and businesses linked to beef cattle production enterprises must ensure that Cattle Australia is well funded so that it can be well-resourced to develop policy and advocate on our industry's behalf. CA must focus on critical issues like ensuring effective consultation exists on how our levy funds are spent on marketing programs and R&D activities, achieving great market access, stronger biosecurity programs and refocusing the climate change debate to understanding the relationship of carbon and the agricultural sector. They are critically linked, carbon and methane operate in a cyclical nature in agricultural enterprises and our focus has to be on championing the focus on climate neutrality, natural carbon cycles and economic and environmental sustainability for all cattle producers nationally.
Market Access and Social License: Our industry relies on export markets to take the majority – around 70% – of product that we produce yet our largest single customer is our domestic market. We must have credibility in the eyes of our consumers and that comes from communicating better with the 97% of people that don't live in rural and regional Australia. CA must facilitate programs that make it into the hearts, minds and homes of our urban-based consumers where they understand the positive efforts of beef cattle producers as responsible carers of our livestock and sustainable custodians of our lands and natural resources.
Our international price competitiveness is limited greatly by anti-competitive tariffs, supply quota limitations and non-tariff trade barriers. Despite all of these challenges, we have products that global consumers have a preference to purchase whether it be for their incredible quality attributes or Australia's clean, safe image as a country with secure natural production systems that supplies a safe nutritional food source.
Our industry deserves meaningful, quality and tough representation at every levy to achieve fair market access under practical free trade agreements.
How do you see the future of the Australian beef cattle industry?
I have a strong belief that the future is bright for the beef industry which is why I am continuing to invest in it at both a personal and company level.
The Australian beef industry produces a diverse range of quality products that consumers, both domestically and internationally, are prepared to pay a premium price for over alternate animal proteins.
Our environmental and sustainability credentials are fundamentally very strong and yet they can be improved. We have to fight for our social license by being better communicators and changing the language that we use amongst ourselves to be promoting our countless positive stories in a manner that is understandable and relatable to our customers.
Everyone in our industry needs to get involved and understand the importance of advocacy and stop waiting for someone else to do it. Complacency amongst our industry participants is our greatest risk and if we want future generations to have a future on our lands and in our industry we have to be prepared to fight for it!
Earlier Cattle Australia director profiles:
For more information on Cattle Australia click here