After a long-running industry restructure process which culimated late last year, a national board of directly-elected cattle producer representatives is now charged with providing leadership and direction for the Australian grassfed beef cattle industry.


The inaugural Cattle Australia board is made up of seven representatives elected by its members, with a further two skills-based directors yet to be appointed by the board.
In the first in a series of profiles, Beef Central is asking each Cattle Australia director about why they stood for the national board, what they see as key issues confronting Australian cattle producers and their throughts on how the future of the Australian beef cattle industry currently stands.
This week we profile NSW producer Elke Cleverdon.
Name: Elke Cleverdon
Region: Southern Australia Livestock Research Council
What is your background in the Australian beef industry?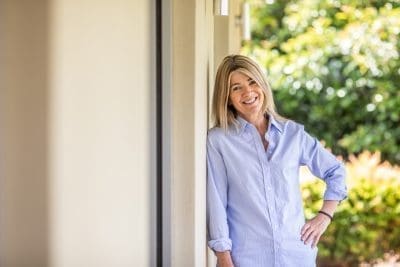 I am an owner and director of Cleverdon Agriculture – Grassfed Black Angus Cattle in Harden, NSW. I have been a partner in the family farm business for 30 years. We manage the business relatively conservatively with strong financial and strategic planning, sound risk management, and sustainability of land management front of mind. My family has farmed on this land for around 160 years. Together with my husband, Charlie and his brother John, we run a
1500-hectare beef cattle operation with a self-replacing EU-certified black Angus herd of
1000 breeders. Within the family, we all bring different skills to the table and complement each other. Strong family ties, work ethic and genuine commitment of the two brothers to each other have been a large part of the success.
Outside of the farm, I have an extensive background in finance and am an experienced non-executive director. Additionally, for the last 7 years, I have been a rural financial specialist across regional NSW assisting producers with bank reviews / refinance, financial budgeting, accessing Government loans/grants and progressing succession planning. I love the farming community and feel lucky to work with so many producers in the Riverina and the Hilltops.
Why did you stand for the board of Cattle Australia?
My drive to stand for the board was to have input on a national level. I bring the family farm perspective and relate well to many operators, with around half of the 40,000 beef producers spread all over Australia in a mixed farm setting. I want to contribute to the industry's long-term sustainability and success. Moreover, as a female on the board, I hope to bring another perspective to the conversation, considering that women are central to many beef production businesses and I am keen to help balance the conversation.
Importantly as a passionate beef producer, I also bring strong financial & corporate governance skills to the board focusing on risk, finance and audit. I am a Fellow CPA accountant with 25 years of executive experience in customer-owned banking; hold a Master in Business Administration and am a graduate of the Australian Institute of Company Directors (GAICD).
In 2022, I was selected as one of ten women nationally to participate in the National Farmers Federation (NFF) 'Diversity in Ag Leadership Program'.
What are three key issues you see confronting the Australian Cattle Industry at the moment?
Biosecurity threats such as food and mouth disease (FMD) and lumpy skin disease (LSD). Although Australia is free of these there is a significant risk. Both diseases and their implications for market access would be extremely disruptive to Australia's cattle industry.
Market access and competition: Australia exports the majority of its beef production, so access to key markets and competition from other beef-producing countries are critical issues for the industry. Trading with existing markets (China, Japan, USA, South Korea, Indonesia) and taking advantage of possible new trade opportunities with pending Free Trade agreements.
Climate change and the resulting sustainability issue are crucial for the longevity of the cattle industry. The ambitious target for the Australian red meat and livestock industry to achieve net zero greenhouse gas (GHG) emissions by 2030 together with community expectations around farming practices commonly referred to as 'social licence' will impact the industry. Going forward advocacy around the carbon accounting method for cattle (pointing out the difference between biogenic methane and fossil methane) and the circularity of the role ruminants play, will be pivotal. Developing & refining the Australian Beef Sustainability Framework (ABSF) will be key.
Other domestic issues such as the ongoing labour shortages, increasing costs and changing consumer preferences are also front of mind.
How do you see the future of the Australian beef cattle industry?
The Australian beef cattle industry has a bright future, but it will face some challenges along the way. I believe that the industry will continue to evolve and become more sustainable, with a focus on animal welfare, environmental stewardship, and adapted production practices. Australia has a reputation for producing high-quality beef, and there is a growing demand in international markets. However, the industry will need to adapt to changing consumer preferences and market conditions.
Overall, I am optimistic about the future of the Australian beef cattle industry, and I believe that with the right investments and strategies, it can continue to be a vital part of the Australian economy and a global leader in sustainable beef production.
For more information on Cattle Australia click here to visit its website.