SEVERAL large Australian beef processors are inducting overseas labourers from Papua New Guinea and the Philippines for the first time this season, as the industry continues to seek solutions for its severe labour deficit.
And while no government-to-government labour access agreement currently exists, Indonesia is increasingly being seen as a very large and capable potential offshore labour resource.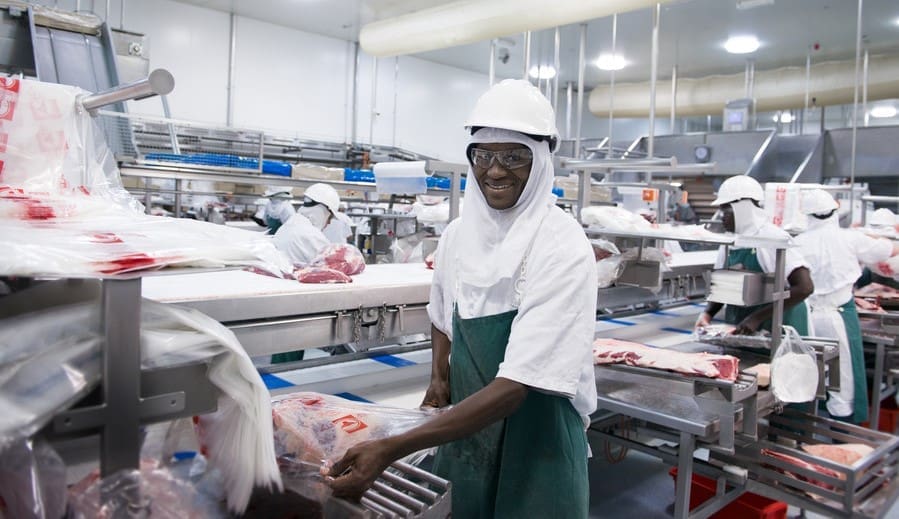 While the actual head-count of recruits from novel sources is only a 'drop in the ocean' compared with the actual size of the processing labour void, it's a start, one large export processor told Beef Central this morning.
As today's regular weekly kill report discusses, there's a view that the beef industry will hit a natural processing limit this year of about 115,000-120,000 head per week, based solely on available labour.
While recruitment from Pacific nations like Samoa and the Solomon Islands continues to underpin the Pacific Labour Scheme, other Asian nations are coming into focus.
The Philippines is a population of 114 million people, almost all English-speaking. Indonesia is more than almost twice that size at 273 million, but has a much smaller proportion of fluent English speakers. But importantly, it is seen as having people with experience in cattle husbandry and processing, being beef consumers.
Papua New Guinea has a much smaller population, and little animal processing experience.
One large multi-site processor said there had no real progress in overseas labour access, but his company was currently inducting a team of 15 from the Philippines for the first time.
"The Philippines is attractive, because there is not the same language issues," he said. "They all speak good English, which is part of the visa entry requirement."
Another large processor is currently negotiating a workforce team out of Papua New Guinea. PNG is not included under the PALM Pacific labour scheme, meaning the workers are recruited under separate working visas. All require prerequisite levels of English language skills.
COVID relaxations and border openings was one reason for the recent changes, the processor suspected.
Chinese temporary labour numbers working in Australian processing had declined significantly since COVID, but were now looking like rising again as borders re-opened.
The processor said Indonesia was another obvious target, but after researching it, his company had decided it was "very, very difficult."
Indonesia does not sit under the current PALM Pacific Labour scheme, but would have to come under one of the other available labour schemes, Beef Central was told.
"Special dispensation is needed from both the Indonesian and Australian governments on an individual by individual basis, making it nigh-on impossible under current conditions," the processor said.
Adding to the challenges, processors were increasingly having to invest in accommodation 'villages' to house imported labour – especially in more remote regional plants.
"All this adds extra cost, while not really adding to the bottom line," he said.
Indonesia market expert Troy Setter from Consolidated Pastoral Co said at this point, a labour agreement with Indonesia had not yet really come through as industry had earlier hoped.
"But dialogue continues between Indonesian and Australian Governments, and we remain optimistic," Mr Setter said.
"It's a very large population, and as red meat eaters, there's a lot of skilled and semi-skilled labour in Indonesia in meat processing, livestock handling and lotfeeding that would be a natural fit for Australia."
There is an abundant source of Indonesian labour with ag skills who would like to come to Australia, and would fit well with our regional ag businesses and communities," he said.
"But its currently very difficult to bring in workers from southeast Asia, unfortunately."
Mr Setter said the same as with young Australians, if they did not speak and understand English or did not understand the work practices, or needed workforce training, it was the responsibility of each employer bringing people into their team to ensure they were trained and safe.
"It's the responsibility of the employer to solve that – not the Australian government," he said.
Mr Setter said an Indonesian work agreement was one of the industry's priorities for 2023.
"It should be a strong focus – Indonesia is our closest neighbour – and we share a lot of trade and geopolitical alliances. It makes sense to work together to strengthen our ties and relationships to improve the opportunities for both countries."
"Industry is working closely with Ag minister Murray Watt through the labour taskforce, that includes a wide cross section from the NFF, unions and employers. The new government is working to get something over the line, which the industry would applaud," he said.