IS the Australian beef industry now approaching peak output, based on current limitations around labour?
The most recent NLRS national weekly slaughter report shows a kill of 108,724 head for the week ended 3 February. That's the largest tally seen since December 2020 – 26 months ago.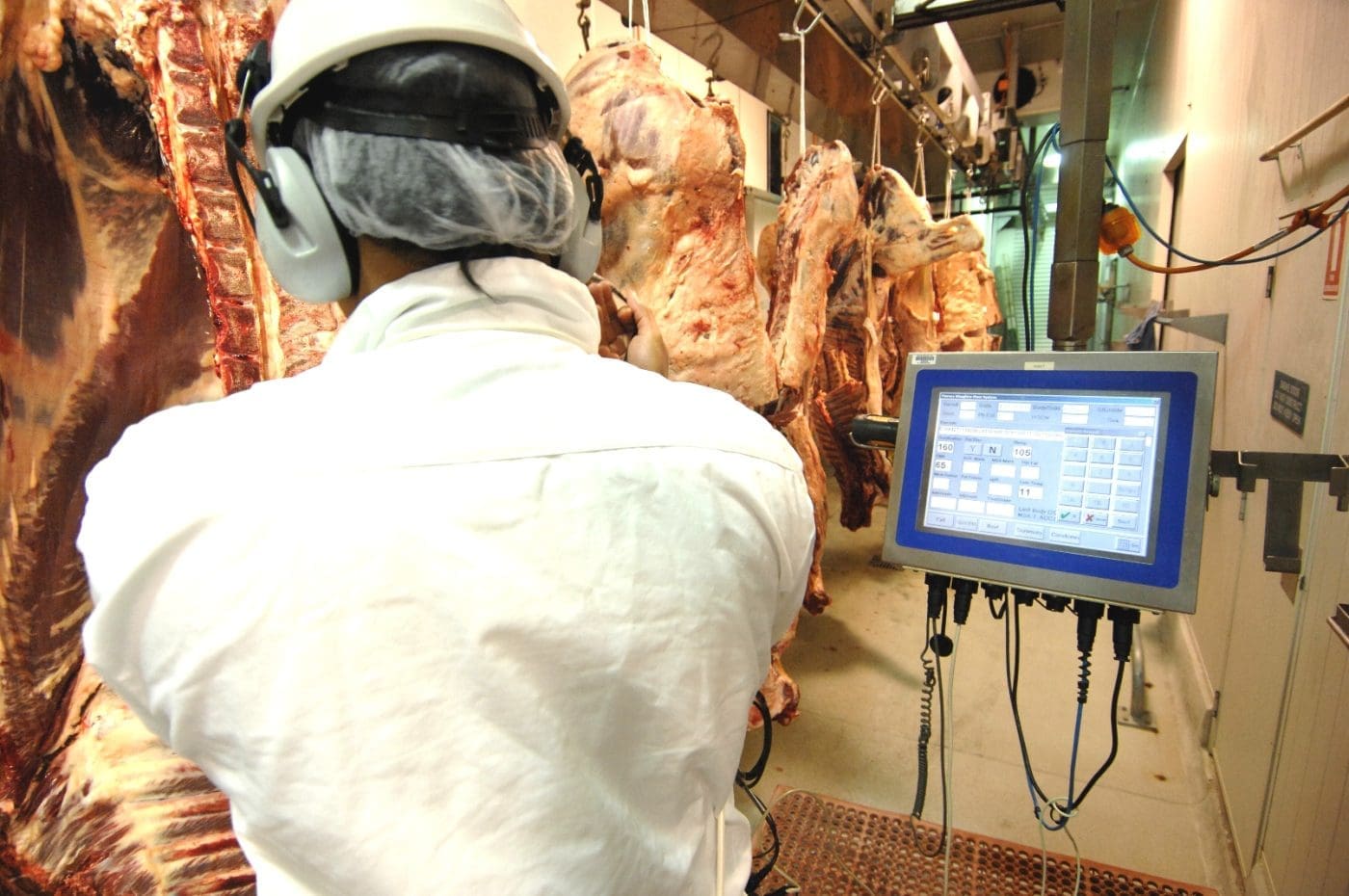 It is a clear sign that the impact of the herd re-build is now being seen, although at the same time, female slaughter has remained below 39pc of overall kill numbers since the start of the year. Forty seven percent is the magic female slaughter number between herd contraction and expansion, and that hasn't been seen regularly since early 2021.
With several large Central and North Queensland export processors anticipating getting back to full five-day rosters next week after earlier rain, it begs the question: Does the industry have capacity to kill a significantly larger number of cattle?
At its peak during 2020 drought liquidation and again back in 2014 for the same reason, the beef industry was frequently killing 170,000+ cattle each week. Double shifts and Saturday shifts became quite common.
We first started asking questions about the current industry capacity to process cattle this year back in 2022. There's a reasonably common view across the processing industry at present that currently labour availability means there is a natural production limit of around 115,000 head of cattle a week across Australia. That's based on the weekly NLRS slaughter report, which, due to lack of participation by some processors, is estimated to be about 15,000 head short of actual numbers recorded later by ABS (with some lag attached).
Add another 5000-6000 Central/North Queensland cattle to last week's NLRS tally, and it gets close to the labour threshold – and that's before the expected surge in eastern states slaughter cattle supply during March April.
How the industry digests this challenge will be interesting to observe. One part of the solution may be creative ways with imported labour, as discussed in a separate item today.
Processors continue to labour under margin pressure
Meanwhile, there's clear evidence that processors continue to labour (excuse the pun) under challenging operating and trading conditions, despite recent falls in slaughter cattle prices.
Analyst Matt Dalgleish from Episode 3 has produced a report this week on processor margins.
As regular readers will know, Matt loves embracing lame puns around popular music culture in his report headlines, and his latest effort on processor margins called "Ch ch ch changes" supports this.
For some years Ep3 (and its predecessor Thomas Elder Markets) has calculated a theoretical beef processor margin, based on input and output costs and prices.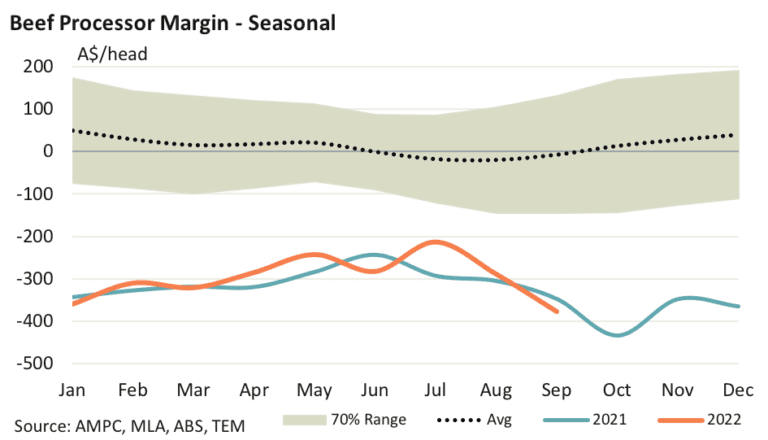 This earlier Ep3 graph (September 2022, when the margin performance was still being presented in dollar terms, rather than as an index), shows Australian beef processors were consistently registering losses of $200 to $400 a head over the preceding 21 months, averaging well below $300 loss per beast slaughtered.
In fact the current sequence of processor losses is the longest and deepest seen since at least 2000 – a period of 23 years of records.
However this year Ep3 has changed its report from actual $ figures for profit or losses, to an index model. Why, readers might ask?
"We've been a little reticent to publish the dollar figure regularly as we often got a swag of queries from people hung up on the absolute dollar per head figure, rather than focusing on the trend in profitability (which we think is more important)," was Matt Dalgleish's explanation.
Beef Central got identical feedback from readers on the same topic, whenever we publish numbers on processor or lotfeeder profitability in $/head.
Ep3's solution has been to shift from reporting estimated $ losses, to an index model, above or below a fixed point, depending on the state of play in the industry.
The new Index model, published below, transitions to calculate beef processor profitability as an index rather than an average dollar per head figure. Data has been calculated retrospectively, back to 2000.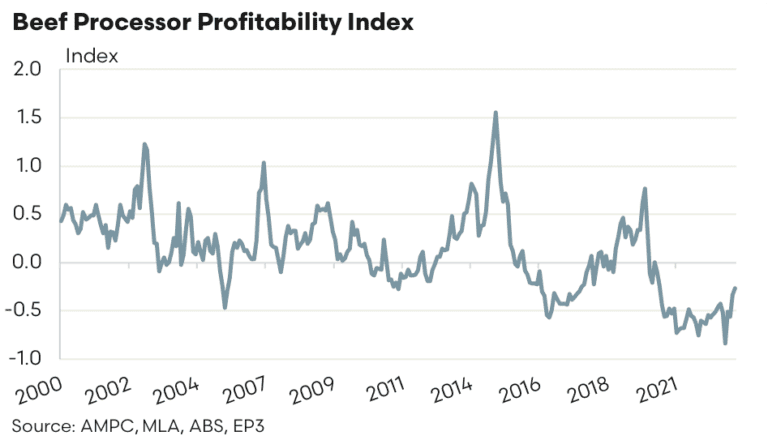 The monthly trend in the Beef Processor Profitability Index (BPPI) since 2000 demonstrates that the final quarter of 2022 saw an improved trading environment for Australian beef processors as domestic cattle prices eased, while beef export values managed to hold ground.
Readers will note the figure still remains stubbornly below zero, however, reflecting losses to a typical processor on every beast slaughtered.
Worth noting, the processor index is based on a theoretical processor margin model, not any single business in particular. A BPPI in negative territory does not suggest that all processors are losing money, similarly a BPPI in positive territory doesn't suggest that all processors are making money. A more useful reading of the BPPI would be that a negative index suggests a tougher processor trading environment, versus a positive BPPI which is reflective of a more beneficial processor trading environment.
"As a rough rule of thumb the BPPI has spent 70pc of the time over the last two decades trading between -0.3 to 0.5, which could be considered the 'normal state of affairs' for beef processors," Mr Dalgleish said.
From September 2022 to December 2022 the BPPI lifted from -0.84 to -0.33, so the final quarter of 2022 saw the profitability of beef processors heading back towards normal, he said.
The seasonality chart shows that January 2023 has the BPPI opening the season at -0.26, and while still negative, this represents the best position beef processors have been in since June 2020.
"Analysis of the annual average BPPI versus annual Australian cattle slaughter volumes demonstrates that there is a fairly strong correlation between slaughter volumes and processing profitability, with an R-squared measure of 0.7165," Ep3 reported.
"Generally speaking, annual slaughter levels nearer to 7.5 million head seems to be the threshold between a positive or negative BPPI."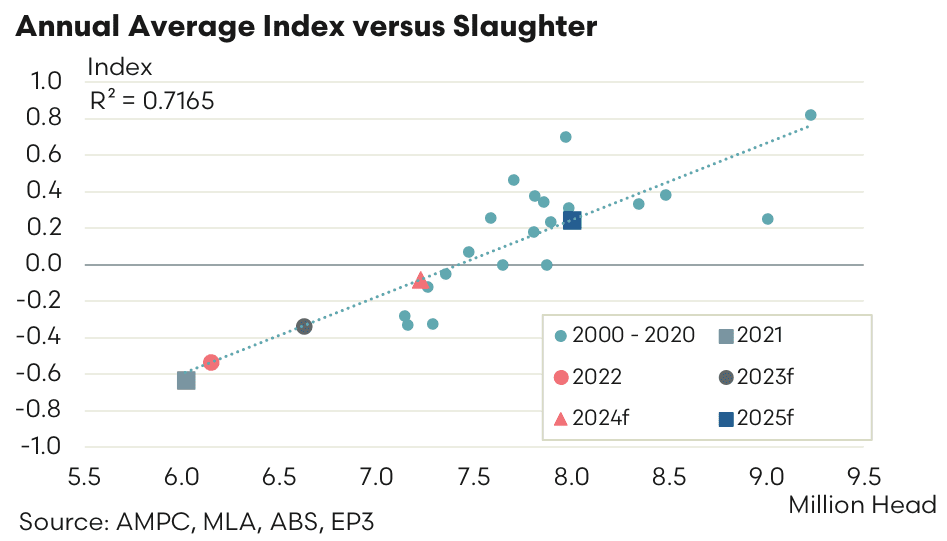 According to its most recent Beef Industry Projections, Meat & Livestock Australia is not forecasting annual cattle slaughter to get above 7.5 million head until 2025. Annual slaughter of 6.625 million head in 2023 suggests an annual BPPI of -0.34, based upon the line of best-fit on the scatter plot below. Increased slaughter volumes into 2024 has the BPPI close to breakeven, while annual slaughter of eight million head into 2025 puts domestic beef processors well and truly back in the black.
Grid prices steady
There's been no real change in direct consignment slaughter cattle offers over the past seven days.
Best offers from competitive processors in southern Queensland this morning have heavy cows at 570-580c/kg and four-tooth grass bullocks with HGP 635-650c. Central Queensland plants are mostly 10c/kg behind those rates. To put that into context, final offers in 2022 saw Queensland cows ranging from 600-640c/kg, and four-tooth steer 670-705c.
Over the hooks quotes for two large southern processors seen this morning have heavy cows 560c/kg and four-tooth grass steer 665c, unchanged from last week.
Particularly hot, dry, windy conditions across some parts of eastern Australia over the past week have stimulated some producers to pick up the phone to processors, as pasture continues to hay-off.
In contrast, further north in areas of Central Queensland, a lot of paddocks are still too wet to harvest cattle from, pushing some earlier postponed bookings back ever further in the calendar. A number of plants in the central and northern parts of the state are skipping days again this week as a result, but hope to return to full shifts next week.
There was no NLRS slaughter report for last week available by the time this item was posted. Results will be added here later.