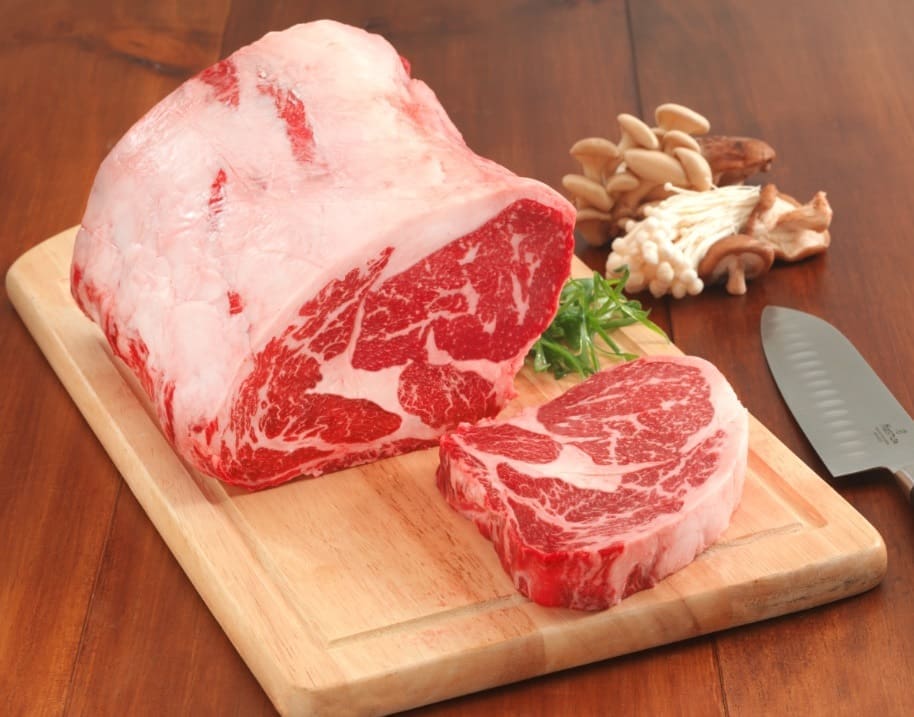 THE strategy behind luxury Wagyu beef brand programs, the need to address methane mitigation and international beef trade access were among wide-ranging questions fired at the Australian Agricultural Co board during yesterday's annual general meeting in Brisbane.
As reported yesterday, while several shareholder questions did focus on the recent closure of the Livingstone Beef processing plant near Darwin, the topic did not become a dominant feature during question time.
Here's a snapshot of topics occupying investor minds, raised during yesterday's AGM:
Brand diversity and targeting
A shareholder asked whether a narrow focus only on Wagyu brands left AA Co unnecessarily exposed to market changes, and whether a more diverse branded product range might be more prudent.
"It's quite the opposite," chairman Don McGauchie said. "By aiming at that very tiny, high-value niche at the top of the pyramid, we are talking about customers of considerable wealth and capacity in the markets in which we focus," he said. "All the evidence we see is that the 'commoditised' product is most likely to be hit hardest in any downturns, and the people with real wealth are the ones who manage to keep themselves in a position to enjoy the good things in life."
A second brand question focussed on whether the company's luxury beef products were appropriately branded for the regions in which they are targeted, and how well the names translated into Asian languages, for example.
"I can't tell you how much effort, time and money has gone into developing the current brand programs," Mr McGauchie said.
One of the 'greatest' brand marketing companies in the world, Ideo, based in Chicago, had developed and tested the brands in all of the markets targeted by AA Co, he said.
"There will be other brands added to Wylarah and Westholme as we move along the current path, but certainly those two brands have been extensively tested in the markets we're going into."
"Every market that we move into, there is extensive work done with customers and partners with whom we are working in how to present that product. It's been interesting how the differences – even between (apparently similar) markets like Singapore and Taiwan – affect how we promote the products in those markets."
Global trade impacts
A shareholder asked what AA Co's branded beef plan was for North America, given the emerging trade wars over tariffs. "What is the contingency plan for the risk attached to that marketplace?" he asked.
"The contingency plan, overwhelmingly, is that we are in the luxury end of the market, not the commodity end," Mr  McGauchie said.
"I don't know what possible trade disruption we might see. But our markets into the US are very well established, and Australia has a trade deficient with the US, meaning we are not a target for what's going on in other parts of the world. We've been selling into the US market for a considerable time, and we see the opportunities there to be very significant, almost regardless of world trade issues."
Mr McGauchie said there were 'some things' that would 'keep any of us awake'.
"If a trade war on a 1930s scale breaks out, everybody is going to be in trouble, so that's a major risk in the world market. But mounting debt in China is the next biggest risk to trade, in my opinion. The amount of money that China is investing around the world, and the amount of debt contained within the state-owned enterprises in China is massive. Debt around the world is a problem, but debt in China particularly so."
"These are things that could disrupt the international trade patterns very rapidly, but AA Co's strategy of where we are aiming -here and overseas – are very targeted markets with a particular product, which is likely to be better-protected than most."
Livingstone plant closure
A shareholder asked whether the now-shuttered Livingstone beef plant near Darwin was 'gone forever,' and if it did start again, whether it would have all the requisite market access and regulatory licenses.
"The reason we have mothballed, rather than permanently closed Livingstone, is that it allows us to keep it in a turn-key position," Mr McGauchie said.
"It means that once we are able to establish what opportunities are there for it – if indeed the circumstances that led to our decision to close the plant change – then the capacity to turn it back on is there, and the process could be quite quick," he said.
"That would cost us a little more money than if we shut it down completely. But in the meat industry, there are many examples of processing plants being shut for a period of time because of supply and other issues. So keeping it in a state where we can re-activate it quickly, if required – or indeed if we chose to sell it to somebody else – they would be able to do the same. We think that keeps it in the best position to take advantage of any opportunities that might arise."
Another shareholder asked whether the Livingstone closure would lead to more AA Co cattle heading into live export trade.
"We take a very strong position on live exports," Mr McGauchie said.
"We do sell some young cattle into live export, but we have made it very clear that we will not sell cattle to anyone that cannot guarantee that those cattle will be treated properly, under ESCAS.
"From our perspective, we are not going to make any changes now that Livingstone is not operating. Clearly some older cows will now have to be relocated into other (slaughter) markets, but we will accept that."
Another shareholder asked about the decision to report Livingstone's financial details separately for the first time, suggesting that it was made subsequent to the decision to close the plant.
"The decision to disclose financials separately was in fact made well ahead of the decision to close the facility," Mr McGauchie said.
Methane mitigation
A proxy holder for shareholder Ross Knowles asked whether the board believed that AA Co was exposed to a high level of climate risk, and whether it recognised the need for methane mitigation. He pointed out that the annual report made no mention of carbon or methane abatement. "Customers for your luxury brands are particularly interested in the story behind the product, and methane is an issue that is going to resonate around the world in a significant manner in future, I would suggest."

"I couldn't agree more," Mr McGauchie said. "The reality is that the (high-end) customers we are dealing with are particularly interested in the way we run our business, how we manage our cattle and the way we run our land. Methane is one of a range of issues that relate to climate change."
"Within the company, there is a great deal of work being done in this area. We are going to be giving more information to our customers on these matters over time, because they are very interested in these topics."
Mr McGauchie said he had recently spent time with the chairman of CSIRO, during which they had a long discussion on the methane/livestock issue, and the work CSIRO was doing in this space.
"First of all, that includes measuring methane, because frankly we don't know what emissions an animal grazing dry pasture on the Barkly Tableland produces, compared with a dairy cow in the south of Australia. There's a huge difference in emissions in cattle run under different circumstances, and therefore there are a range of ways that those emissions may be mitigated. We certainly do things within the feedlot environment in the way we formulate the feed in order to reduce methane emissions."
"There's a lot of work happening within rangelands management in a methane/carbon sense – right down to the way we generate electricity on the properties. Certainly in the NT properties it is all done with diesel, but there may be opportunity to change that to a combination of solar cells, batteries, and diesel backup.
"These are just part of a whole raft of things we are doing, and which we will be doing a whole lot more of, but you are right, in that high-end beef customers are very interested in these matters."
Mr McGauchie said he was Attica restaurant last week – Australia's only restaurant named as one of the 50 best in the world, and supplied with beef by AA Co – where the executive chef talked extensively about these very questions, based on feedback from his customer base.
"Clearly they are matters that these high-end customers are particularly interested in. AA Co is proud of its history in all this, but we will certainly be doing more in reporting to these customers, and therefor that information will also be available to shareholders and others."
Remuneration for senior executives
A shareholder asked why, according to the annual report, remuneration for senior executives had risen by around $1 million in the 2017-18 year, in a year when AA Co had returned such poor financial performance.
While Mr McGauchie said he it could reflect the absence of a chief financial officer, and staff had been 'coming and going,' including some retirement benefits. It's a significant difference, and we will give you a more comprehensive answer after we have reviewed it in detail. But there certainly has not been any significant increase in salaries."
He said sometimes statutory reports of this nature threw up some 'odd' figures, but he assured shareholders that the cost to run the business (senior executives' salaries) had not gone up by nearly double.
Effective management of drought
Asked how well the company was managing drought, Mr McGauchie pointed to geographic diversity across the portfolio of properties in Queensland and the NT as a major asset. South of Mt Isa, for example, areas like Headingly were in severe drought, and stock numbers had been reduced significantly, taken to other parts of the business.
"But if you go north of Mt Isa, the gulf group of properties effectively had a flood last year. So the positioning of the portfolio we have gives us some significant opportunity for mitigation. The simple answer this year is the further north you go, the better the conditions, while the first south you go, the worse it gets."
Mr McGauchie said one of the strategies tested a couple of years ago when the gulf country was under stress was weaning calves very early, and moving them to a location where they could be well managed.
"We call it our Tender Loving Care (TLC) program. The little fellas' travel pretty well, and we have moved a lot of them this year to the Emerald group of properties (where Goonoo feedlot is located), where they are kept and grown out in larger pens, fed a similar ration as feedlot cattle.
"They recover their strength very quickly, and then, if seasonal circumstances allow, they are moved away, back onto grass. The impact of that is that the breeding cows that remain on the dry properties get the feed, are not lactating, and are quicker to return to breeding condition next season."
"It's a matter of managing the portfolio in its totality to deal with the sort of droughts this country will dish up."
Monthly operational updates
One shareholder expressed frustration at not being kept informed on a more frequent basis about operational matters such as seasonal conditions and the impact it was having on the business – suggesting the introduction of  a monthly shareholder newsletter.
Mr McGauchie said the company was focusing more effort on communications with shareholders and other stakeholders this year, and he pledged to consider it at board level.
Tomorrow: AA Co's growing emphasis on Wagyu and luxury brands as foundation for long-term growth