A DOZEN talented young people were recognised in Canberra last night as recipients of the 2016 Science and Innovation Awards for Young People in Agriculture, as part of the ABARES Outlook 2016 conference dinner.
The Science Awards recognise big ideas from young rural innovators that contribute to the success of Australia's agriculture sector. This year's winners covered fields as diverse as meat colour research, remote livestock monitoring, novel biosecurity strategies, and the use of drones in livestock management.
The awards, recognising innovative scientific projects that will contribute to the ongoing success and sustainability of Australia's agricultural industries, are coordinated by ABARES on behalf of the Department of Agriculture and Water Resources.
The awards attract applications from young Australians 18 to 35 years – scientists, researchers, innovators – whose projects demonstrate a fresh way of thinking about, and resolving issues for, agriculture.
Recipients have each been granted funding to undertake a project on an emerging scientific issue or innovative activity over the next twelve months.
The awards aim to assist primary producers to develop more competitive, productive and self-reliant industries through attracting innovative R&D proposals that will lead to longer term innovation in the sector; advance the careers of young scientists, researchers and innovators through national recognition and funding of their ideas;  and encourage the uptake of science, innovation and technology in rural industries.
Here's a snapshot of some of this year's winners and their projects, of greatest relevance to the meat and livestock industries:
Jock Graham – Meat & Livestock Australia Award
Jock Graham's project is setting the blueprint for connected farms for decades to come, by testing real-time livestock tracking and remote sensors to maximise the benefit of high speed broadband in rural areas.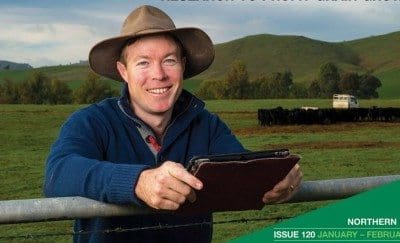 Working from his family's Eulonga Pastoral Co in south-west NSW, Jock will investigate a range of new technologies with the property's 1000 head of Angus cattle and 5000 Merino ewes.
He said live monitoring could only improve farming knowledge of livestock and would allow livestock managers to take early preventative action for pest and diseases.
"The holy grail in farms of the future is to be tracking every animal, where they are and the health of them on the farm," fourth-generation farmer Jock said.
To go with that you're getting water systems that are monitored with real-time monitoring, soil moisture sensors around the farm and soil health monitors looking at pH and other things." "There's plenty of ways you can monitor a farm and it's just about having those monitors accessible to a designed communication system… and make the system something that's low cost and very efficient, so it can be taken up by farmers."
Benefits could also extend to less labour and time to muster animals, improved data on cattle grazing patterns and responding to paddock maintenance issues.
"There's definitely a lot of opportunity to implement a sensing system so you've got the ability to know what's going on all the time from any location," he says.
Jock has a degree in ag economics and worked in Sydney banks for several years before returning to the family farm. There, his passion for combining technology and agriculture meant he was never going to do things the way they'd always been done. Jock has already developed an app with a mate to record everything a farmer would usually write in their stock notebook and set up communication towers that relay WiFi signals from animal tags and sensors.
"There is huge potential with this technology to make farming more connected, informed and efficient" he said.
Joanne Hughes – Australian Meat Processor Corporation Award
When you're picking up a steak to throw on the barbeque, what do you look for in your meat? A thick cut steak with a nice red colour?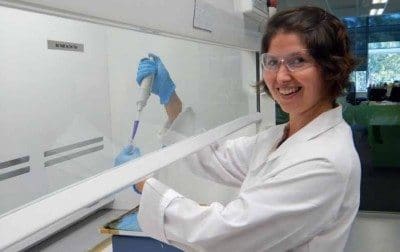 Joanne Hughes's project could help bring brighter, redder meat to supermarket shelves while saving the beef industry up to $100 million each year. The CSIRO projects officer and PhD student is targeting dark meat with a new high-pressure processing technique she hopes will be able to lighten beef cuts without altering the meat in any other way.
"Consumers tend to prefer lighter red meat colour, so dark meat is often associated with consumer rejection," Joanne said. "Dark meat can have a poorer shelf life or more variable eating quality, so there can be issues with consumer acceptability and return purchase. "One of the key factors for the beef processing industry is the economic impact—we've found that within Australia there's a 12pc incidence of dark meat and it's costing the industry up to $500 million a year."
Joanne grew up on a sheep farm in Scotland, bottle-feeding lambs as a child, but it was her love of proteins and biochemistry that sparked her interest in how the natural processes in muscle can be used to improve the food we eat. Her project aims to develop a set of conditions for high pressure processing (HPP) to reduce dark meat colour, which could potentially bring about a yearly saving of up to $100 million for the industry over the next five years.
Beef Central has written extensively about the HPP process previously, including this article, "Putting the pressure on E.coli".
"It's like a cold pasteurisation process where processors could pressure treat the raw dark muscle in order to lighten its appearance to a brighter red colour that is more acceptable to the consumers," Joanne said. "If we use HPP at a lower pressure we don't believe it would have any detrimental affect on flavour, and we could potentially get some improvement in eating quality."
Dr Edward Narayan – Meat & Livestock Australia Award
Agricultural research might seem like a sideways choice for a man who has spent much of his career in wildlife conservation studying amphibians, koalas, bilbies, bears and tigers. But for comparative physiologist Edward Narayan, the non-invasive techniques he perfected to measure stress in wildlife are also ideal for use on-farm.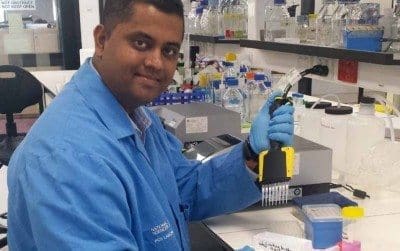 As part of his Science and Innovation Award project, Edward is set to develop non-invasive tests to detect stress in Australian lambs which he hopes can improve the animals' on-farm health and welfare while increasing the value of the meat. His research will look at the warm summer period, nutritional stress and physical activity, and their management with mineral supplementation, by examining physiological and molecular measures of stress and meat quality.
"The traditional markers of stress have a lot of variation because if you are collecting blood you're stressing the animal," Edward said. "We're doing this non-invasively from faecal and saliva samples, which provide a robust snapshot of an animal's stress endocrine status."
Edward, who is a member of the Graham Centre for Agricultural Innovation at Charles Sturt University, says environmental stress in lambs can be detrimental to the quality of the meat, particularly if that stress occurs during the finishing period.
"If the animal is stressed there can be a negative impact on the juiciness of the meat itself because stress hormones can diminish glycogen reserve." He wants to one day see his non-invasive techniques applied to other livestock. "Animal health and welfare are very critical issues for Australia so we can use this in cattle, poultry, aquaculture… there's a variety of applications with the main goal of improving animal production."
Amy Lockwood – Australian Wool Innovation Award
Drones flying over sheep farms could be regular sight in lambing season if Amy Lockwood's Science and Innovation Award project proves a success. Amy is set to investigate if unmanned aerial vehicles can be used to improve lamb survival by increasing the frequency of monitoring while minimising disturbance to lambing ewes.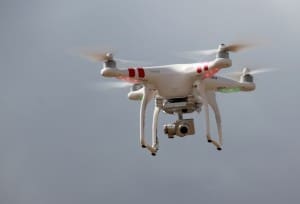 "The project is looking at ways to improve lamb survival through understanding ewe and lamb behaviour," she says. "We're also better utilising technologies that are available on the farm to potentially improve efficiency and productivity."
In Australia one in four lambs die before weaning, with survival rates particularly poor in Merino sheep and when ewes give birth to twins. This mortality rate comes at a huge economic cost, with estimates that improving the survival of single lambs by 15pc and twins by 30pc would deliver returns to the industry of $285m and $515m respectively. Amy, who is a PhD student at Murdoch University, says current methods of assessing lambing sheep are limited and often involve close human observers. This can result in disturbances to natural ewe and lamb behaviour and can potentially cause impacts on lamb mortality.
On the other hand smart technology such as drones could cover 30 hectares or more, checking food, water and fences as well as the behaviour between ewes and lambs after birth. This is particularly important in the first three days following delivery, when 80pc of lamb mortalities occur.
Dr Cindy Hauser – CSIRO Health and Biosecurity Award
Travellers are used to seeing detection dogs at Australian airports sniffing out illicit drugs, explosives, biosecurity hazards or even large amounts of cash. But what if the same dogs could be trained to hunt for invasive weeds in bushland or pests and diseases in crops?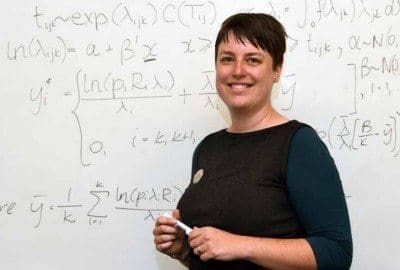 University of Melbourne research fellow Cindy Hauser is looking at whether detection dogs can be harnessed to find pests in the field. "I want to develop guidelines to help work out how we can make the best of them in agricultural environments," she says. "I'm excited in the potential of detection dogs, but I think we need to be smart about how we use them."
Cindy's project builds on previous research into noxious hawkweed that found human searchers were only able to detect non-flowering hawkweed plants 20pc of the time, even when dedicating 25 hours of search time per hectare of land.
This preliminary study found that Missy the dog could be trained to distinguish three species of hawkweed from other plants in backyard conditions, and had the potential to be better than human search teams at detecting non-flowering plants. But using dogs to detect pest animals, plants and pathogens in the field is a far cry from the controlled environment of an airport and poses unique challenges.
"When you get into the outdoors there are all sorts of other distractions that the dog is faced with… the smells of other plants and animals, changing terrain and shifting winds that carry the weed scent," she says. "When we're trying to cover huge areas of agricultural land or national park, we also need protocols to make sure a dog covers that area thoroughly. "We need to understand what they can do well and what they too might be missing."