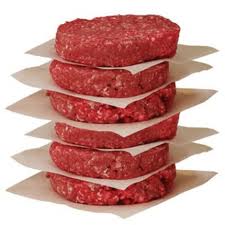 Novel approaches to managing e.coli bacteria and other pathogens are starting to emerge in fresh red meat products around the world.
During March, major US beef processor Cargill Inc launched a new fresh hamburger line – the first to use a new form of bacterial decontamination called High Pressure Processing (HPP).
The use of irradiation for microbial control in higher-risk red meat items like patties has been practised in the US for ten years or more, but has gained little consumer support because of perceived health risks associated with bombarding food with nuclear radiation.
But the new HPP process looks like overcoming many of the perception problems and production drawbacks posed by irradiation, in bacterially decontaminated fresh foods.
Here's how the process works. Food products (typically packed in vacuum-packaged bags, with nil air content) are placed in a cylindrical pressure vessel. Water is added to the cylinder and the contents are pressurised at levels up to 600 MPa (600 times the atmospheric pressure found at sea level). The process does not crush the product because the pressure applied is hydrostatic, applied equally in all directions. However foodborne pathogens and other organisms causing spoilage like salmonella, e.coli and listeria are destroyed.
Cargill says the HPP process will add further value to manufacturing beef, by increasing shelf-life and convenience.

The company said it had adapted and perfected the HPP technology, already in use in some other areas of food manufacturing, to create its new Fressure™ fresh ground beef patties for the US food service market. The result is a product carrying double the shelf-life of traditional fresh patties – extending from 21 to 42 days in Modified Atmosphere Packaged (MAP) form. The process also provides optimal flavour and a consistent high-quality eating experience for consumers.
The adoption of HPP is significant because Cargill is by far the largest producer of ground beef in the US and one of its largest producers of hamburger patties. Cargill says its efforts were inspired by the need to find an improved premium ground beef patty solution for customers.
"Ground beef customers said they wanted a product with a longer shelf-life that did not sacrifice the quality, flavour, texture and eating experience consumers pay for when they want a good hamburger," the company said.
"One of HPP's attractions is that it is an entirely natural process that does not use high temperatures, chemicals or irradiation, while retaining the nutrient value and freshness of the ground beef."
In Australia, CSIRO's Food and Nutritional Sciences division is working with commercial partners in developing HPP-based food products. The first red meat application is likely to be a line of fresh gourmet sausages.
Research is also continuing into an important secondary outcome from the application of the HPP to vacuum-packaged red meat primals: a significant improvement in tenderness. This could have major implications in value-adding for the red meat industry, particularly in elevating the eating performance and consistency of beef from sub-premium animals.