EMERGING opportunities seen in the beef industry is one of the reasons behind a diversification play mounted by a Moree grain farming partnership which has just spent around $23 million buying large-scale showcase NSW northern slopes property, Macintyre Station.
One of the largest holdings in the New England district, 8000ha Macintyre Station has historically been used for mixed large-scale farming and grazing operations, but its new owners have their sights set squarely on beef.
As revealed in a separate property story on Beef Central this morning (click here to view), Moree grain farmers Ian and Anthony Bailey, Peter Weal and Peter Birch, operating under their partnership, Carossa Farming, have purchased Macintyre Station in one of the larger grazing transactions in the region in recent times.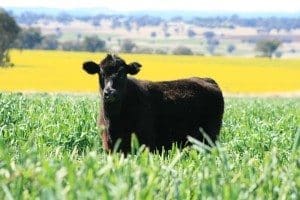 Despite their love for 'burning diesel' as grain farmers, Ian Bailey told Beef Central the group's plans were to forego the property's farming option – currently 1500 to 2000ha – instead focussing entirely on a backgrounding-based beef operation.
Carossa Farming has been active as a cropping partnership around Moree for the past 30 years, and the group has been looking at investment options for some time.
"There's obviously lots of positives out there at the moment for the beef industry, with high international demand," Mr Bailey said.  "We've been looking for investment opportunities, and felt with the increase in demand and price for beef that's clearly evident at present, it was time to have a look," he said.
Carossa Farming had been looking for dryland broadacre farming country, but had not been able to find exactly what it was looking for in another cropping district. It first looked at Macintyre station a year or so ago, but while recognising its potential as genuine quality country on a large scale, it had been the more recent momentum seen in the global demand for Australian beef that had driven the group to make a strategic purchase.
Currently the Carossa partnership is 100 percent farming focussed – wheat, barley chickpeas, sorghum and other crops – with no exposure whatsoever to beef. It sold its cotton interests two years ago.
The plan at this stage is to turn Macintyre Station into a dedicated, large-scale cattle backgrounding operation, taking cropping and cattle breeding out of the equation.
Preliminary discussions have already been held with a number of parties that are 'interested in getting a backgrounding function provided', as well as potential feedlot and processor customers, but no specific formulas or long-term supply chain relationships have yet been struck.
"But there is certainly demand in the beef supply chain for this sort of model," Mr Bailey said.
"We're positioning ourselves to try to fill some of that, whether that be from us to a feedlot, or us to a processor."
At this stage, Carossa does not plan to buy backgrounder-type cattle itself, but simply to provide a contract backgrounding service to others, most likely on a cents/kg liveweight gain basis, to long-term customers.
"We want to be seen as a partner in the supply chain," Mr Bailey said.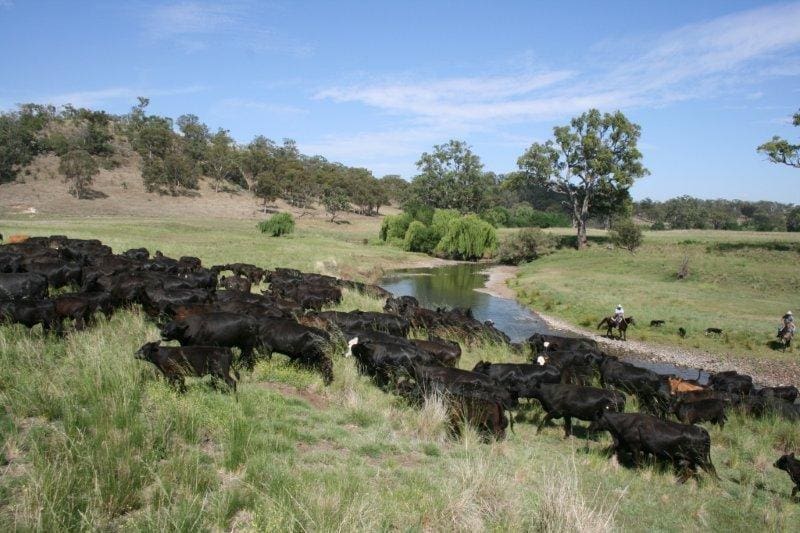 He said the basic backgrounding model seemed to be based on young cattle arriving at 260kg-plus, exiting at 420-450kg, depending on the application.
An independent assessment of the potential for Macintyre Station as a straight beef enterprise, removing current farming operations, suggested it could run 10,000 head as a straight backgrounder operation with some water and fencing adjustments.
"We'd like to think that might be right, but it will take some time to convert the farming country back into grazing. Our aim is to try to get to that 8000-10,000 head number within 12 months," Mr Bailey said.
"We felt that going out and purchasing 5000-8000 head of feeder cattle at today's prices would be a considerable exposure, whereas there are a lot of cow/calf operators out there who need somewhere to grow their calf out to the next stage. This being a high-rainfall, secure area, we saw this as a good location to provide such a service."
"That's where we'd like to position ourselves. We're going to put our expertise and energy over the next 12 months into sown pasture establishment, plus reconfiguring fencing and watering points for this style of operation. For the first 12 months that will keep us busy enough, without having to think about buying and selling feeder cattle ourselves."
"But having stated our intention to push the property towards the cattle side, 50 percent of it has traditionally been farmed, so we could always go back the other way if the cattle market falls away," he said.
While final settlement is not due until later this month, Carossa Farming has had 'agricultural possession' of the property's former winter cropping country for several months, and has already planted areas of lucerne, fescue, phalaris and chicory. Oats will also come into the mix as part of annual production, but silage will not be a consideration at this stage.
"Finding and establishing these partnerships with the right people who will supply a consistent quality of grower cattle on a significant scale will be our next focus, so we can value-add to the supply chain," Mr Bailey said.
While pasture is growing over winter months, work will also focus also on subdivisional fencing and laneways, making rotational grazing and regular shifting cattle easier and more labour-efficient. Additional watering points will follow as that program unfolds. Solar pumping, troughs and poly will be used, more so than dams.
"The property is already very well laid out and developed, but it's just some of the bigger farming paddocks which will need some development for cattle work. Typically we'll want paddocks down to around 50-60ha in size, rotating mobs of 200-250 steers or heifers in each, using a network of laneways," Mr Bailey said.
Click here to access this morning's second report on the sale of Macintyre Station and Myall Creek.