Plant-based imitation meat manufacturer Beyond Meat is being sued by investors who are alleging they were misled by statements from the publicly traded company about its manufacturing capacity and growth outlook.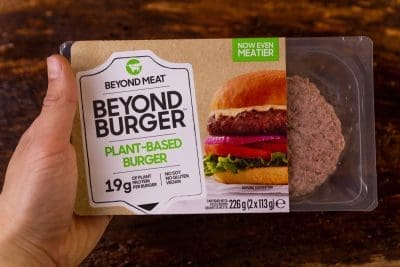 A class action lawsuit has filed on behalf of The Retail Wholesale Department Store Union Local 338 Retirement Fund alleges the publicly traded company, its CEO Ethan Brown and others who have served in executive roles "made numerous materially false and misleading statements and omissions concerning the Company's ability to produce plant-based meats at scale.
The lawsuit alleges misleading statements and omissions made by the company and defendants artificially inflated the price of Beyond Meat stock and deceived investors.
A law firm involved in the class action says the action can be joined by investors who had holdings in the company between May 5, 2020 — when the share price was $100.50 — and October 12, 2022 — when it was $14.11.
The complaint alleges that throughout the listed period Beyond Meat repeatedly assured investors that it conducted "extensive testing" to "ensure manufacturability" of its plant-based meat products at commercial scale, and touted the success of the Company's product tests with its large-scale partnerships as "very positive."
Further, defendants blamed any delays in launching these large-scale partnerships on Covid-19.
But the lawsuit alleges the "the truth began to emerge" on October 22, 2021, when the company reduced its net revenue outlook by up to $34 million, or 25 percent.
Beyond Meat is already facing a separate class action launched last year by a group of consumers who also claim to have been misled by the company, in this case about the protein and nutritional content of its products.
That lawsuit alleges the company misled consumers into believing its products provided equivalent nutritional benefits to traditional meat.
On top of the class action, one of the company's main competitors Don Lee Farms, which produces meat and plant-based protein, also filed a lawsuit against the company for its protein claims – alleging it overestimated protein content by 30 percent.
The California-based company was reportedly the previous supplier of Beyond Meat's Beyond Burger, before its contract was cancelled in 2017, with Don Lee suing.
The past year has been a tough one for Beyond Meat, with its stocks plummeting in value and becoming shorted companies on the US Stock Market.
In its most recent earnings report last week, CEO Ethan Brown told analysts Beyond Meat was "turning a corner," with less operating losses during the quarter — though it also sold fewer products.