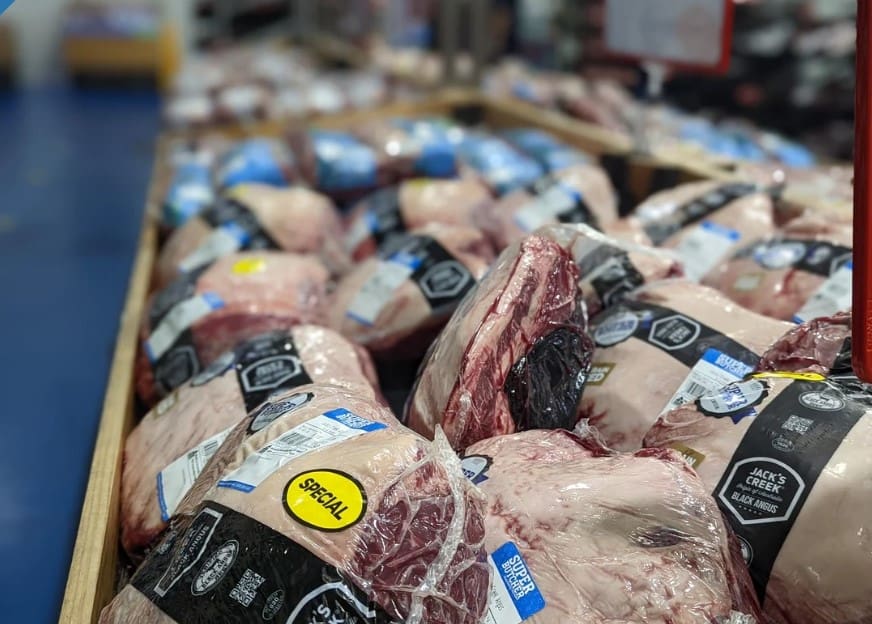 THERE are clear signs that the warehouse retail channel is having an extraordinary run at present across Eastern Australia, providing an ideal platform to move large volumes of extremely well-priced beef being held in cold storage.
Warehouse retail refers to large-scale 'no-frills' sites – often only cement floors and stainless steel benches – selling low-margin, high-volume whole primals and bulk meats to the public at very attractive prices. The businesses are often found in 'low-rent', isolated industrial locations. Some sites are kept at 3 degrees C, with customers issued freezer coats at entry.
Current meat market trading conditions, with large volumes of quality export meat building up in cold storage in Australia and other parts of the world due to cautious consumer spending, are providing a 'perfect storm' for the warehouse retail model.
As described in Friday's Beef Central article about domestic market prices and trading conditions, Australian consumers are showing an acute level of price sensitivity in red meat purchasing at present – an ideal environment for the warehouse retail channel.
An excellent example in Brisbane is Morningside Meats, located in the meat industry precinct along Lytton Road, not far from Cannon Hill. Opened a couple of years ago by independent meat wholesaler Gary Stone's Melrina, the site is doing brisk trade at present, especially in export-type quality meat, including Angus and high-end Wagyu, that is falling out of export shipments due to lack of demand.
Shop manager Terry told Beef Central that another big factor was customers electing to eat out at restaurants less, and saving money by entertaining at home – albeit still with a quality piece of meat.
In the recent past, the Morningside Meats site has literally sold pallet-loads of specials like 100-day grainfed Angus rumps within a few days, as more Brisbane residents look for beef bargains.
Sydney's SM Marketplace
Stephen Kelly's Sutcliffe Meats retail butchery business in Sydney, expanded into its own wholesale/retail (warehouse retail) outlet in a Sydney industrial site at Girraween near Paramatta late last year, called SM Marketplace.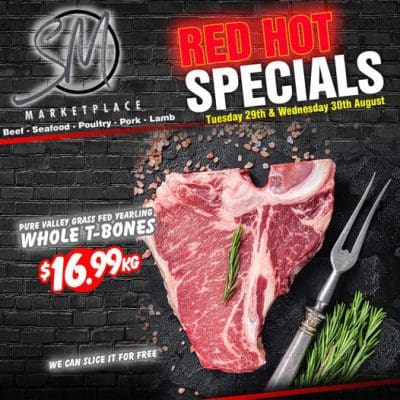 The business is an extension of Sutcliffe Meats network of eight (soon to be nine) conventional retail butcheries, located in large Sydney and regional NSW shopping centres.
The SM Marketplace site has recently sold MSA-graded grassfed yearling porterhouse for $17/kg, and YG T-bones for $17/kg (see image at left), beef mince at $10/kg and YG grassfed OP ribs for $20/kg. Those prices are both whole primals, as well as sliced from the window. None of it has any pack-date issues, all being 30 days or less on arrival.
"Those prices are half what they were only six to eight months ago," Mr Kelly said.
"We're not isolated in this – there are other warehouse retail players in Sydney that have become quite aggressive in regard to their wholesale/retail operations," he said.
"Our wholesale/retail outlet has gone from zero to becoming our company's biggest turnover outlet, by a large margin, in less than eight months," Mr Kelly said.
Average spend in Sutcliffe Meats' conventional butcheries in shopping centres is $25-$30, while the new wholesale/retail site is in the $100 to $150 per customer range.
Other examples of warehouse retailing include Sydney's Australian Meat Emporium, Super Butcher (nine outlets in Brisbane and the Gold Coast), and Australian Butchers Store in Melbourne (four outlets).