Quiz question of the week: What are the names and locations of Australia's only two active volcanoes? Answer at the bottom of this article.
BBC TV looks at the importance of meat processing to rural Australia
Tamworth field day for JBS's new "Thousand Guineas" Shorthorn brand
Southland farmer wins 2016 Zanda McDonald Award
World Halal Conference 2016
Suspected case of BSE in France would be first since 2004
Forums to address cattle crate safety
Tasmanian Government support for service kill meat processing
US feedlot losses should decline, analysts say
China moves on grey channel trade again
Trade Deal with Indonesia looking a little closer
Vegetarian minds are weaker, survey shows
BBC TV looks at the importance of meat processing sector to rural Australia
BBC World News recently travelled to Queensland to produce a TV news segment on the growth in demand for Australian beef in Asia and the stability of the Australian meat processing sector as an employer in rural Australia relative to the mining sector. BBC Asia Business correspondent Karishma Vaswani and her crew visited the NH Foods processing and export facility near Oakey in southern Queensland as well as the company's Whyalla feedlot near Texas.
The segment also looked at how agricultural businesses in the area were beginning to target products to China. The BBC World News is seen weekly by millions of viewers around the world. Click this link to view the short segment: http://www.bbc.com/news/business-35610061
Tamworth field day for JBS's new "Thousand Guineas" Shorthorn brand
Shorthorn Beef, JBS Australia and Coopers Animal Health will host a producer field day in Tamworth early next month designed to drive momentum behind JBS's new "Thousand Guineas" Shorthorn beef brand.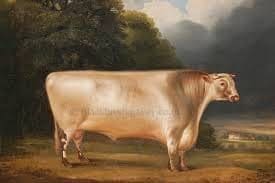 Beef Central profiled the new Thousand Guineas program in this article a fortnight ago. We've since learned a little more about the origins of the catchy 'Thousand Guineas' name.  It is apparently a salute to one of the breed's cornerstone sires, 'Comet' (pictured left) sold for that figure in the UK in 1810. In today's terms, it values him at A$1 million.
As was the custom in illustrations of livestock 200 or more years ago, there was a bit of artistic license involved. Comet appears to have a brisket on him the size of an elephant, but legs that look like they've come off a deer.
The free producer field day in Tamworth will be held from 11am on 6 April, at the Cattlemens Steakhouse and Function Centre, Sundance Park Motel, next to the Australian Equine & Livestock Events Centre. Details and registration can be accessed here, or from Graham Winnell on 0498 637 696 or email gwinnell@shorthornbeef.com.au
Southland farmer wins 2016 Zanda McDonald Award
Thirty-year-old NZ sheep, beef and dairy farmer Dean Rabbidge has received the prestigious 2016 Zanda McDonald Award, presented at the annual Australasian Platinum Primary Producers conference which concluded just before Easter.
The award was presented in Wellington at PPP's 'Capital Connections; Winds of Change' conference by NZ primary industries minister Nathan Guy.
The prize, valued at over $30,000, includes an expenses-paid, tailored mentoring package allowing Mr Rabbidge to spend time with a selection of relevant PPP members in Australia and/or NZ; a seat on the 2017 Rabobank Farm Manager's Program; $1000 cash; the use of a Pilatus aircraft for the winner to visit mentors; and access to the 130 of Australia and NZ's finest producers and agri-business people who make up the PPP Group.
Mr Rabbidge, who farms near Wyndham in NZ's Southland, is the vice chairman of the NZ National Young Farmers Contest. He competed with fellow finalists – NZ's Erica van Reenen, an environmental and agricultural consultant with AgFirst and Western Australia's Wesley Lefroy, a soil scientist.
Shane McManaway, chair of the PPP Group, said Dean was an exceptional young man. "His intelligence, his enormous sense of responsibility and his natural people skills will take him far. And I believe he will relish the mentoring opportunities that winning the Zanda McDonald Award will provide," Mr McManaway said. Mr Rabbidge and Mr McManaway have been invited to have lunch with NZ's Prime Minister and Ag Minister Guy.
The Zanda McDonald award is a PPP initiative which aims to preserve the legacy of the late Zanda McDonald, a strong leader in the Australian cattle industry – as well as assist young agri-business people on their chosen career path. The PPP Group is a trans-Tasman networking collective that represents some 12 million hectares and 20 million livestock units across Australia and NZ.
World Halal Conference 2016
The World Halal Conference for 2016 gets underway in Kuala Lumpur in Malaysia tomorrow, March 30, running concurrently with the Malaysia International Halal Showcase (MIHAS), a trade exhibition of halal products and services.
Representing the Australian Meat Industry Council at the event will be AMIC boardmember Jon Hayes from Wodonga abattoir, an acknowledged expert in the field of Halal compliance. This important conference draws close to 1000 participants from across the halal world.
Suspected case of BSE in France would be first since 2004
French officials found a suspected case of bovine spongiform encephalopathy in the northern Ardennes region, raising concerns that Europe's biggest producer could lose access to export markets. Testing of a carcase before it entered to foodchain produced a positive preliminary result, now being further investigated according to France's agriculture ministry. The cow was from the Salers breed and the testing took place on March 17, Bloomberg reported. Confirmed results are not expected til later this week.
If confirmed, a classic case of BSE would be France's first since April 2004. Confirmation could lead to France losing its status as a country with negligible risk, potentially resulting in the closure of some export markets, a ministry spokesman said.
Forums to address cattle crate safety
Workplace Health and Safety Queensland is inviting livestock transport stakeholders including transport operators, crate manufacturers and retro-fitters, and beef producers to attend a series of upcoming industry safety forums. The gatherings in regional centres are designed to provide updates on the review of the design and use of cattle crates to load, unload and cross-load cattle in Queensland; discuss ideas to improve the safe design and use of cattle crates for these activities; and discuss ways to progress these improvements.
Sessions will be held in the following centres:
Its important to RSVP to have a voice at one of the forums. For more information contact Donna Lee at donna.lee@justice.qld.gov.au or phone 07 3404 8170.
Tasmanian Government support for service kill meat processing
The Tasmanian government has announced a $783,200 grant to processor JBS Australia from the Regional Revival Fund in Tasmania to upgrade and maintain the state's largest service processing facility at Devonport. Deputy Premier and the Primary Industries Minister Jeremy Rockliff said the government had taken action to secure Tasmanian jobs and support potential industry expansion. The grant, he said, secured up to 90 jobs in the Devonport region and ensures the continuation of the facility. Funds will assist JBS to invest in critical infrastructure with a new gas boiler. Without the investment, the government said that JBS could not justify this infrastructure investment on commercial grounds and the risk would have been that they would close the doors on the Devonport abattoir for good. The abattoir currently processes as a service kill approximately 250 head of beef, 3000 sheep and 650 pigs a week.
US feedlot losses should decline, analysts say
Cheaper feed and more cattle should help stem losses for US feedlots this year, keeping beef supplies flowing just as demand starts to pick up. Livestock analysts say that should translate into lower prices for hamburgers and steaks for US consumers, as it could help keep feedlots in operation and avoid costly bottlenecks in beef production.
US feedlots have suffered through 15 straight months of red ink, with soaring prices for the 600-900 pound feeder and declining slaughter cattle prices from packers, coupled with tough price competition from pork and chicken. But now there are faint signs of a turnaround in margins, Reuters reported. In February, US feedlots on average reduced losses to $218 per head – a sharp improvement from the $500 losses in December, as estimated by Colorado's Livestock Marketing Information Centre.
How much longer US feedyards can withstand prolonged losses depends on an operation's size and focus, along with the ability to be flexible about using different sources of feed, experts said. Other strategies for coping include using futures and options for hedging, or dipping into profit from earlier times to survive the rough patches. Some US feedlots have been forced to close, as reflected in the USDA's revised figures that showed the number of yards in the US in 2015 feedlot totals at 27,200, down from 29,000 two  years earlier.
During February, the number of cattle placed on feed was the highest for that month in eight years, according to US government figures, as post-drought US herd recovery continues.
China moves on illegal grey channel trade again
Wide media coverage in China before Easter focused on the seizure of 530 tonnes of meat smuggled from Brazil and the US at the port of Zhangzhou in Fujian province. Authorities said the confiscated product was destroyed. It followed the February seizure by security agents of 2200t of smuggled beef, chicken wings and pork worth an estimated US$31m from a foreign cargo ship. The size of the grey trade into China is substantial, and increasingly authorities are publicising constraints on its activities, especially through Hong Kong and the Port of Haiphong in Vietnam, two of the major entry points.
Trade deal with Indonesia looking a little closer
Indonesian Trade Minister Tom Lembong visited Sydney, Canberra and Melbourne recently to advance a formal trading partnership with Australia. Mr Lembong told Australian reporters in Jakarta that he would work with the Australian government on a scoping study aimed at laying the groundwork for a full-scale Free Trade Agreement including meat. The Indonesian Trade Minister said both countries acknowledged two-way trade and investment was disappointing and had resolved to address a surprisingly sparse business partnership given the geographical proximity. Mr Lembong conceded issues of overregulation and corruption in Indonesia made it difficult for foreign investors but he said the Jokowi government was committed to simplifying regulatory frameworks at the Federal and Provincial level.
In 2014/15 two-way trade reached A$1 billion, accounting for just 2.1pc of Australia's merchandise trade. Indonesia is Australia's 12th largest trading partner. Australia exported 43,600t of meat products to Indonesia last year including 39,134t of beef and 1641t of beef offal, the latter despite most offal items being on the banned list.
At the same time media reports in Indonesia suggest that the government has signed new regulations that will allow the import of meat and livestock products from FMD-free zones in countries rather than the country being fully free of FMD. If implemented this would mean that countries such as India and Brazil could become official suppliers to the Indonesian market, although Indian buffalo meat is already part of the grey trade. The process still has a number of hurdles to cross, including a Constitutional Court judicial review that is considering the validity of a zone-based market access system.
Weaker vegetarian minds
What meat eaters hoped might be true has been the principle outcome in a 2015 study – that is, that vegetarians appear to be more prone to depression and other mental disorders than meat eaters. The study was highlighted in an article in Women's Health magazine recently where it reported that vegetarians were less optimistic about the future than meat eaters. They also were 18pc more likely to report depression and 28pc more likely to suffer panic attacks.
Quiz answer: Heard Island and McDonald Island, in Australian Antarctic Territory, 4100 km south-west of Perth both feature active volcanoes. One, known as 'Big Ben', has produced at least three eruptions in the last 15 years, including lava flows.