THE kindness of strangers is well known to rural families in times such as drought, flood and fire.
But when the tables turn and good times return to agriculture it is through organisations like Beef Bank that farming businesses are able to return the generosity.
Over the past 15 years "Beef Bank" has become a key pathway for the Australian beef industry to "give back" through either cash contributions or donating entire animals.
The quiet cattle paddocks of inland Australia may be far from the busy inner city streets where disadvantaged people seek shelter but the support provided through Beef Bank can make a world of difference where it is needed.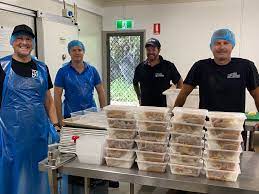 Food provided by Beef Bank goes directly to feeding homeless people, providing breakfast before school to disadvantaged children and hot meals to women in crisis accomodation.
A single donated cow or steer can provide as many as 4000 meals for people in need.
Few people understand this better than Andrew Rodgers.
Mr Rodgers spent a full week at Beef 2021 taking a break from his position as managing director of his family's chain of eight Bolts and Industrial Supplies stores around eastern Australia to volunteer his time manning Beef Bank's trade site at the beef industry showcase event in Rockhampton.
It was through his involvement in the Brisbane Centenary Rotary Club in Brisbane that he began doing charity work and was introduced to the need that exists to support disadvantaged people.
He has spent the past 15 years as a volunteer director of Beef Bank.
In that role he coordinates cash contributions or donations of live animals across Australia. The latter can take the form of a producer donating one or more head of livestock from a consignment sent to a saleyard or meatworks.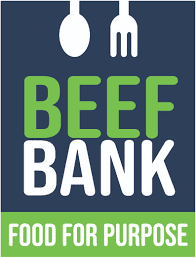 Beef Bank can also accommodate animals that need to be picked up from a property, where the team uses money raised from cash contributions to help pay for a local transport company and butcher or abattoir to process the animal/s and deliver the meat to a nearby homeless or women's shelter.
"There are some amazing people in the industry, Frasers Transport have been brilliant, we will get a transport bill for zero dollars, and Terry Nolan at Nolan's Meat does the same thing," Mr Rodgers said.
Mr Rodgers said people can make a big difference with a small donation.
"With some charities 20 cents of every $1 donated might get through to the end person and 80 cents pays for admin.
"With Beef Bank 100 percent of it is a donation and it goes exactly to where it has to go at no additional cost to the farmer, we pay everything else and fund raise it in other ways.
"The best value for money is to donate a live animal, because we get 2500 to 4000 meals out of one cow.
'they will sleep well that night knowing they have helped 4000 other human beings'
"People who donate animals get a certificate to say they have fed 4000 people, and they will sleep well that night knowing they have helped 4000 other human beings, it is really good."
While he is Brisbane-based, Mr Rodgers has a rural background and has a farm between Warwick and Stanthorpe which he tries to visit as regularly as possible.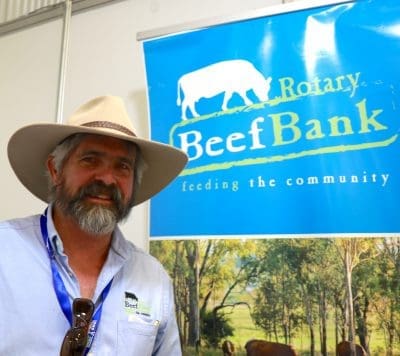 He said that unfortunately the need for food to help disadvantaged people is only increasing.
"The three that we support strongly are homeless people, school feeding programs abused women's shelters.
"It is on the news a lot at the moment, but it has always been the case that at 2am in the morning a lady has to run away from the house with two kids because the husband is going to kill her, and it is really sad but it happens all the time.
"The meat that we give goes into a meal so that when they turn up at 2am in the morning they at least they get a hot feed.
"It is essential and that need has always been there."
He said lines for meal assistance had also increased four to five fold last year as lockdowns forced by Covid wreaked havoc on the economy and in particular people who relied on the hospitality industry for employment.
People able to donate money or animals to Beef Bank can contact Andrew – more details at the Beef Bank home page here
At Beef 2021 Beef Bank also teamed up with AgForce to announce the launch of the National Charity Herd as a means to sustain the supply of beef cattle for charitable purposes – see our earlier article here.