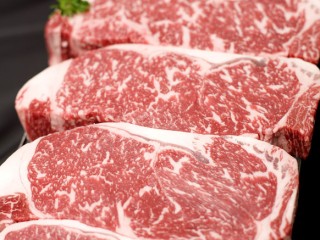 It's not hard these days to find samples of Wagyu beef in better quality independent retail butcheries across Australia. Most often this is found in the form of a small selection of portioned, Multi-vac pre-packaged grilling cuts like rib fillet or striploins, sitting in a self-serve chilled cabinet.
What sets Brisbane's Kobe's Gourmet Butchery apart is the sheer depth of product it identifies, markets and sells as Wagyu beef.
In fact Wagyu represents more than 30 percent of all red and white meat protein turnover by volume through the shop, and even higher by value – easily the highest percentage of any retail site in the country that Beef Central is aware of.
Established only two-and-a-half years ago by prominent Wagyu beef marketer and exporter, Peter Cabassi, Kobe's Gourmet Butchery at White's Hill in Brisbane's inner east earned this year's RNA Red Meat Retail Innovation Award.
The business is exploring the possibilities for taking a much greater range of Wagyu cuts to the domestic retail market, while still retaining the Wagyu identity and extracting a premium for them.
Mr Cabassi describes it as a 'tongue to tail' approach in terms of utilisation, and Kobe's in fact stocks both Wagyu tongue and tail meat, at prices significantly higher than the same cuts from conventional breed.
In between, there are close to 25 product lines carrying Wagyu identity, including items corned silverside ($17.99/kg), beef patties, sausages, thin-sliced secondary cuts for Japanese-style dishes, and value-added lines like marinated skewers and pre-cooked heat-and-serve Wagyu premium beef pies.
That comes on top of a selection of fresh-cut (not vacuum packed) Wagyu steak lines, displayed across a wide range of marbling levels and price points from marbling score 2 to 9.
At the extreme apex of the pyramid, the MS9 Wagyu sirloins are equal to the best steaks in any restaurant in Australia, offered at $149.99/kg (a little cheaper for larger pieces). Most popular MS 5-6 sirloins sell for $69.99/kg.
Even Wagyu tongue meat, which often displays heavy levels of marbling, can make a very substantial premium over conventional tongue prices. In an item like tongue, price points are basically international prices, minus freight.
While prices like these might look expensive on a per-kilo basis, Mr Cabassi argues that when broken down into a per serve basis (and Wagyu beef is typically sold in somewhat smaller serves, because of the richness provided by the marbling) it is within many household budgets.
"In some marbling categories, a 250 gram Wagyu steak is priced less than a 350g Angus steak," Mr Cabassi said.
The sales of higher-end marbling scores are much higher than what might be expected, and represent considerably more than 'novelty value' for the shop.
For the four month period July-October this year, the Kobe's business sold 5.5 tonnes of Wagyu beef of various descriptions. Of that, 2.5t was prime loin cuts – more than 45pc of the total volume. Of those loin cut sales, one-third was lower marbling scores 2-4 (average price of $35/kg), and the balance, surprisingly, was scores 5-6 and up (average price $60/kg). About 10pc of trade, by value, is the 'famous' marbling score 8-9 end, with an average price of more than $100/kg.
Of the 2.5t of loins sold since July, 40pc came from MS2-4 crossbred cattle, 35% MS 5-6 crossbreds and a surprisingly high 25pc MS7+ from 100pc Purebred Wagyu cattle.
One of the questions that the shop provides some answers to is just how deeply the Wagyu 'brand' can be taken through the carcase, while still extracting a premium. In earlier times, the common view was that there was little value in the term 'Wagyu' beyond the popular grilling cuts, but as time goes by, that appears to be broadening into secondary meats for roasting, braising, grinding and other purposes.
Ultimately the Kobe's business model is about establishing a blueprint for creating a larger 'pie' for Australian red meat sales, through greater utilisation of Wagyu beef. The introduction and promotion of Japanese-style techniques such as fine-slicing is also helping extend the Wagyu identity.
One of the attractions seen in a retail site that vigorously engages in Wagyu beef is that it provides strong complementarity with export markets. Mr Cabassi's allied business is the Cabassi & Rea Wagyu beef brand, a joint-venture with large scale Central Queensland Wagyu breeders Ralph and Bev Rea.
The Cabassi & Rea brand won this year's Royal Sydney Show branded beef competition open division during September, repeating its success from two previous occasions in this competition.
The Kobe's butchery is supported by, and has synergies with the Cabassi & Rea wholesale business.
While Cabassi & Rea also has a presence in the domestic wholesale food service and retail market, the biggest proportion of its trade is into export, where forequarter Wagyu cuts are highly prized. In a small way, a retail presence in Australia like Kobe's helps better utilise the hindquarter cuts that can be harder to market into export markets for the same price.
Mr Cabassi agreed that the linkages between the Wagyu export beef business and the retail shop made it easier to apply a model like Kobe's, than it would be for a retailer simply buying Wagyu beef out of the wholesale market.
"It certainly lends itself to a vertically-integrated model," he said.
However it took 'considerable effort' to sell more expensive Wagyu meat at a margin that a shop like Kobe's needed to, to remain viable.
"We certainly did not start the business in 2009 with such a wide Wagyu offer. It has been a gradual process, bringing the customers with us, but we have yet to find the boundaries of how far we can extend the Wagyu presence in domestic," he said.
"We now offer a range extending from the special-occasion, more highly-priced meal item right back to everyday slow-cook items where the difference in price might be only be 50c per portion over conventional beef."
So has the current economic downturn and consumer sensitivity to price exposed Kobe's to greater risk that other butchers, given its higher price points?
"We were certainly concerned about that prospect, when the economy started to suffer. But we have in fact tapped into the consumer sentiment in favour of entertaining more at home, using a nice piece of beef, rather than dining out. It has been a strong trend."
"We have customers who when dining out now, will choose an option other than a steak restaurant, because they know they can get a steak here that eats as well, if not better, and cook it at home."
Mr Cabassi said the crux of the promotions for Wagyu at Kobe's had been to demonstrate that there was a cut and marbling grade to suit every customer's dining occasion and budget.
While Wagyu is clearly positioned as the shop's 'hero' product, providing an important point of differentiation, Kobe's also carries conventional breed beef lines, for those customers seeking variety. The use of a high quality grassfed Tasmanian MSA product supplied by Greenham's provides a strong visual display cabinet contrast against the more densely marbled Wagyu offering, as well as providing smaller cut size in steaks.
Strong online presence
While the strong emphasis on a Wagyu offer sets Kobe's Gourmet butchery apart from many others, the business also has a number of other distinctive and on some cases unique features. That particularly applies in areas like marketing and awareness.
Kobe's has built a strong online presence, through Mr Cabassi's associated, standalone venture, www.bestwagyu.com, a reference site and directory of retailers and restaurants selling Wagyu beef in Australia.
The site also supports an online retail store, dedicated solely to Wagyu. Customers have come from as far north as Townsville, and south to Melbourne.
"The online presence is really designed more for future development, but it is already providing a strong platform for driving new customers to the butcher shop," Mr Cabassi said.
One of the ways it is being used is in supporting key events and celebrations during the year, such as Fathers' Day, football grand finals, racing carnivals, and public holidays like Easter, ANZAC day and Australia Day.
Those events provide a call to action via a database of website customers, and through Google Ad Words connectivity to develop Wagyu promotions, offering both excitement and customer value.
Other options include events like Chinese New Year, and Christmas when gift-giving of food items like beef is a feature in many Asian cultures. Japanese style Wagyu gift sample boxes, like the beautifully-packaged example pictured here, designed for home delivery, can provide significant new business, and often provide a trickle-down effect in repeat business.
At peak times, the connection between Kobe's Gourmet Butchery and the bestwagyu.com website has provided the equivalent of one extra week's trade per month – a 20pc boost in turnover which any retailer under current economic conditions would give their eye-teeth for.
While the bestwagyu.com site is providing great marketing leverage for the Kobe's outlet, it is designed for, and is open for use by any Australian retail butcher stocking Wagyu product.