AUSTRALIA'S cattle herd is still a way off from being anywhere near "a full paddock", Tuesday's 2022 RNA Paddock to Palate weight gain awards field day in Toowoomba heard.
But a high turn off year could have been diabolical for the industry, given the chronic labour shortage currently being experienced across the entire economy.
Recent industry estimates place the size of Australia's national beef cattle herd in 2022 at 27.6 million head, with projections of further growth to 28.8 million by 2024.
Addressing a crowd of 100 cattle producers at yesterday's Paddock to Palate field day, JBS Australia commercial manager northern Brendan Tatt said in his view Australia's herd is still a way off from being anywhere near "a full paddock".
"I think there are a few reasons for that – we have had a pretty ordinary season in the north for quite a few years, even the wet that came this year was pretty late.
"So whilst the south is starting to rebuild properly, we're a bit off that full production Australia has been used to."
Industry was on track for its lowest throughput in 35 years in 2022, he said.
A chronic shortage of labour affecting the entire economy.
"If we had a big turnoff this year it would have been diabolical, because we just physically can't get enough bodies through the sheds, we don't have enough people," he said.
"It doesn't matter whether you running an establishment like this hotel, running trucks, trying to man a coffee shop in the middle of the capital city, there is just not enough people to go around and that problem is not going to get fixed any time soon."
JBS was investing a lot of money trying to recruit people, both within Australia and from overseas, but at the moment it was very hard to work, he said.
"As I say we have been challenged by cattle numbers, but the bigger issue for us as a business going forward, and it is an industry problem, is what do we do when the rain tap gets turned off, and you want your cattle to come to market?"
Inflationary pressure throughout the economy has led to a tipping point in demand, he said, and people were starting to make "very different decisions on what they want to buy".
Australian beef has been proudly positioned as a premium product at the top end of the menu, arguably trading for more money globally than other production country, which it has needed to do given its high production and labour costs.
But as rising living costs impact household budgets and people start to tighten their belts, premium products can be impacted as consumers opt for lower cost alternatives. A convergence of issues with rising power and petrol prices, interest rates, inflation and turmoil in stock markets had dented current demand.
"That is short term, these markets will go up again, just like they go down, and I think we're set up for a good '23, '24, '25," he said.
JBS Australia is a major sponsor of the RNA Paddock to Palate competition.
Mr Tatt said he believed competitions such as the Paddock to Palate were of high importance to the industry, through the ability they provided for producers to benchmark and improve their operations.
"It is crucial for our industry to keep doing that because the competition globally has never been fiercer," he said.
Focusing on quality was important, because "you have always got a market when you have got a good product," he said.
"You might not like the price but you can still sell it.
"Believe me there are some countries and some markets where on a bad day they can't sell their meat. We're not one of them."
Mr Tatt said a strength of the Paddock to Palate competition was its commercial focus and relevance.
He said cattle in the competition are not treated any differently from any other cattle on feed at Beef City.
"That is one of things we are very forthright with. We want it to be a commercial competition, that is why we have weight limits on cattle coming in because this meat goes straight out into the retail world for our consumers."
"I actually don't care who can put in the biggest feeder steer and have it come out at 900kg, our plant guys would like to render that animal, because it just kills us in the plant and no customer wants to buy a steak that big.
"What is important for me though is finding those high performing genetics and letting you guys see where you are at.
"We need to be smarter and more efficient, we need to feed them less grain and get more kilos."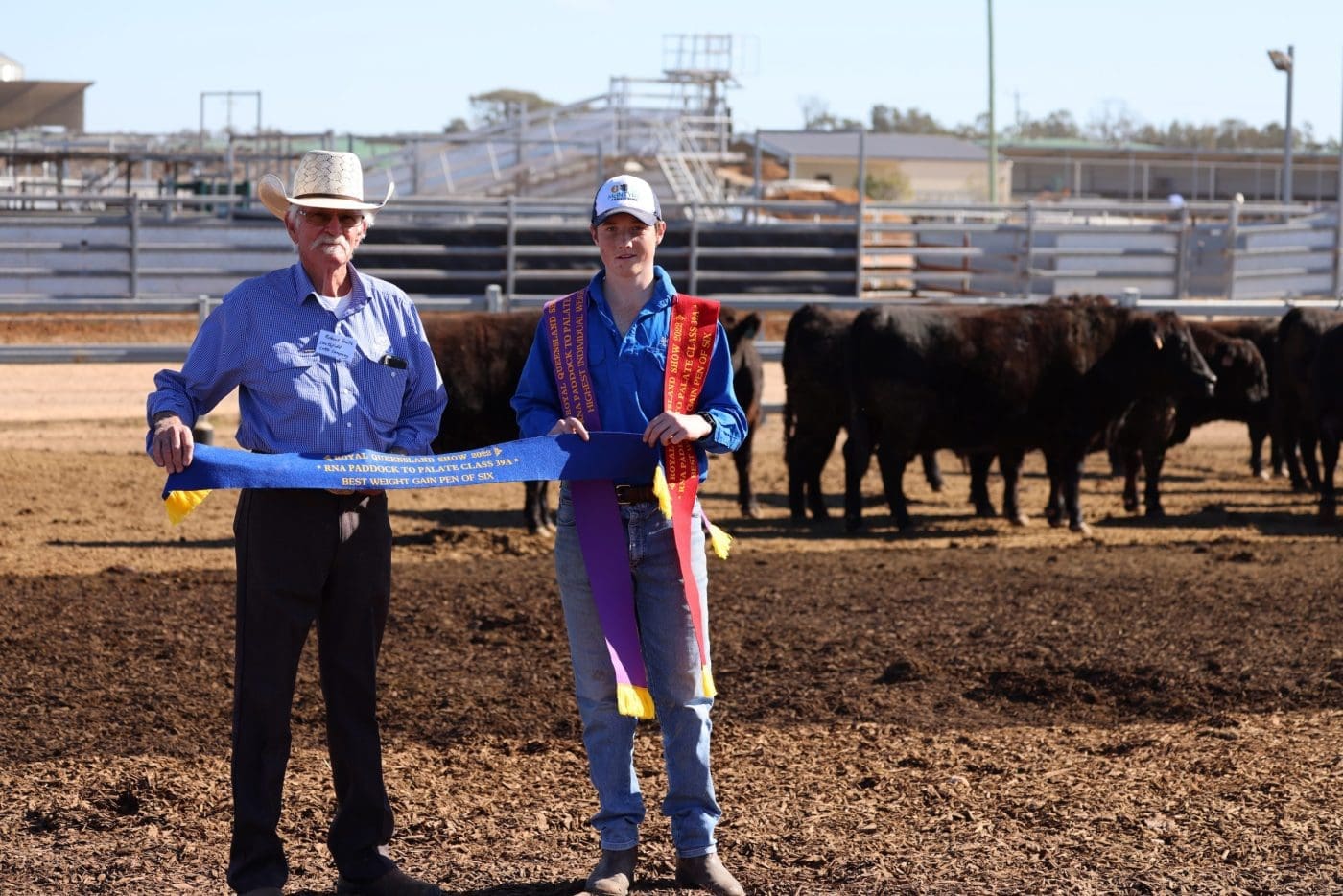 Robert Smith, Smithfield Cattle Co. and Ned Russell, McIntyre Agriculture Pty Ltd with the winning pens of McIntyre Agriculture cattle in the 2022 Paddock to Palate Wagyu Challenge at Smithfield's Sapphire Feedlot. Picture: Liz Allen.  Scroll down for more pictures from this competition below article
Click here for 2022 Paddock to Palate weight gain phase results
Weight Gain Phase Competition Pics
Class 37 – 100 day trade class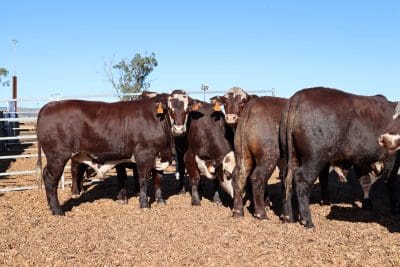 First placed pen Class 37, Yulgilbar Pastoral Company, ADG 3.262kg, Santa Hereford. Photo credit: Liz Allen
Class 38 – 70 day trade class 
Class 39 Smithfield Cattle Co Wagyu Challenge:
Class 40 – HGP free 100 day export