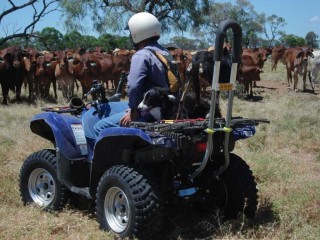 A simple device designed and developed by two Queensland farmers is saving lives and serious injuries all over the world.
Quad bike accidents are one of the most common causes of fatalities on Australian farms, and last year alone accounted for at least nine deaths and 43 serious injuries, according to the Australian Centre of Agricultural Health and Safety.
Clifton-based farmer and engineer Dave Robertson, QB Industries, believes many injuries could be prevented or lessened if more quad bikes were fitted with the unique roll bar he and his neighbour have designed and patented.
The "Quad Bar" is a hairpin-shaped hoop of aluminium tube that is mounted at the rear of the quad bike. It is designed to reduce the risk of injury in the event of roll overs by preventing the operator from being pinned beneath an overturned quad bike. It is also designed to reduce crushing and pinning injuries and fatalities when a quad bike flips.
The first Quad Bar prototype was developed by Mr Robertson's neighbour Robbie Parkinson, a former contract musterer from western Queensland. Mr Parkinson had seen "too many" serious accidents involving quad bikes, and wanted to develop a practical and effective solution.
Mr Robertson, an experienced designer and manufacturer of farming equipment, applied his mechanical engineering skills and worked with Robbie to turn the prototype into a commercially viable design.
That was six years ago and since then the design has passed extensive safety testing by the University of Southern Queensland and Ridge Solutions. Mr Robertson said the small Clifton based operation had now sold close to 2000 units all over Australia and around the world.
Many large rural organisations and Government departments now retro-fit the Quad Bar to their quad bikes as standard procedure. Mr Robertson is currently working on an order to equip a gold mining company from South America with 30 bars for its large fleet of mining quad bikes.
There was a misconception that quad bike accidents occurred only when people were sky-larking, he said, but in reality many accidents occurred when people were simply going about their business.
"Often it is farmers and graziers doing what they normally do, which is looking at the cattle or the fencing or the stock or the pasture, and not concentrating exactly on riding the quad bike, and they hit a small pot hole or stump and the vehicle goes over.
"The other situation is the back flip situation where they go up a hill and give it a little bit of a squirt to get up the rise and the thing goes over backwards.
"This is a very serious accident, and can certainly cause deaths and injuries such as loss of eye sight and broken faces and serious internal injuries."
The most common type of death stemming from quad bike accidents occurred as a result of asphyxiation, caused when they victim was trapped beneath the weight of a 200-300kg machine. Death in such instances sometimes took hours to occur.
It is a gruesome concept to behold, but a stark illustration of why a $550 investment for a safety device could be the best money a quad bike owner may ever spend.
Mr Robertson said that knowing his product was saving lives and preventing injuries was very rewarding.
"We get letters from people who say 'thank you, we have had an incident and your Quad Bar saved our lives', and that is very satisfying, because it is not something that people normally do.
"If something works, people don't normally write to you and say thank you."
The Quad Bar sells for $550 per unit, including GST and delivery costs within Australia. Each unit takes about 20 minutes to fit.