MONDAY's article about charges being laid against an employee at a southeast Queensland abattoir over the theft of gallstones (click here to view original story) has aroused considerable interest among readers.
What are they? What are they worth? What are they used for? Who owns them?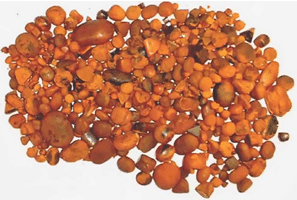 Beef Central has done some digging into the topic and found a few answers.
This reporter has distinct memories as a youngster back in the days of the Katherine meatworks in the Northern Territory in the 1970s, where a quaint little old Chinese gent would show up at the plant once or twice a year with a set of ornate jeweller's scales. He would buy gallstones collected through the year by meatworkers, mostly kept in a Log Cabin tin in their back pocket. Even then, the stones seemed to be worth a whole lot of money.
The sole purpose for gallstones is in Asian alternate medicines.
One of the responses seen on social media since Monday's gallstone theft report, which suggested gallstones can be worth up to $20,000 a kilogram, has been that processors must be making a fortune from them, at beef producers' expense.
Nothing could be further from the truth. Firstly, they are extremely rare. Think oysters: you've got to open an awful lot of oysters to find just one natural (i.e. non-cultured) pearl. It's the same with gallstones.
The Australian cattle industry's entire production of gallstones each year amounts to about 200kg, one of the country's largest dealers in the commodity says. The world leader is Brazil, which manages to produce just 1500kg each year.
Gallstones can form in the gall bladder of cattle, and are retrieved at the abattoir during the bile extraction process on the eviscera table.
They are most commonly found in older slaughter animals – cows and bulls – but their presence, frequency and quality can be influenced by a wide range of factors, such as access to bore water, for example. Plants killing young yearling type cattle, like Nolans at Gympie, find very few, and those that are found are only pea-sized examples.
One source suggested that Lakes Creek in Rockhampton – arguably representing the largest weekly cow kill in Australia – probably produces more gallstones than any other Australian plant. But even at Lakes Creek, the presence of gallstones is known to be 'very, very low' relative to the number of cattle killed.
So is there a fortune being made by meat processing plants in harvesting the objects from slaughter cattle?
Monday's article quoting prices as high as $20,000 per kilogram failed to point out that that is the 'peak cycle' retail price, in a glass jar in a Chinese medicine store somewhere in Asia.
Brokers in Australia were reluctant to share their pricing details on what the stones are worth at purchase at the plant, but said it was nothing like that. And prices vary dramatically, depending on quality, shape, size and other parameters.
"They're like diamonds. You can get a one carat diamond that can be worth $1000 or ten times as much," said broker Jenny Murtagh, from Sunshine Trading, who deals with many of Australia's larger meat processors.
Another point is that the 'stones' are surprisingly light in weight. Despite looking like river pebbles in the photo published here, they weigh more like a feather.
"They are 75 percent water when first retrieved, and lose a lot of that weight when they dry out," Mrs Murtagh said.
Despite all that, most, if not all substantial Australian abattoirs collected gall stones, because they did have a value.
"But it would only make up a tiny fraction of the revenue generated from each animal," she said. "And the price paid in Asia fluctuates quite dramatically."
Mrs Murtagh agreed with Beef Central's suggestion that the question of 'ownership' of gall stones harvested at meatworks appeared to have changed over the years.
"Thirty years ago they used to be kept mostly by the 'fronter' on the kill floor – the guy with the toughest job on the floor," she said.
"But then the price started to rise, and the abattoirs themselves knew that they were losing money by not claiming them as part of the animal by-product stream. But some abattoirs still take the money from the gallstone salvage and divide it among the workers, perhaps towards the Christmas party," she said. "Historically, there has been a tradition of sharing that value with the kill floor staff."
"But processors certainly are not making any significant amount of money from gallstones, in my opinion, despite what people might have thought. These days, the processor is intent on making money out of every last item on that beast, whether it be foetal blood, bile, or gall stones. They'd be crazy if they didn't."