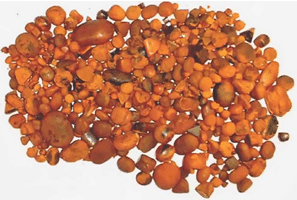 A 38 year old man will appear in Toowoomba Magistrates Court next month in relation to the theft of cattle gallstones from a nearby abattoir.
Police from Queensland's Stock and Rural Crime Investigation Squad in Toowoomba said the man was issued with a notice to appear in Court on June 23 after they executed a search warrant at an address in Cranley and recovered the stones.
Investigations revealed the stones were stolen over a period of at least six months and believed to be of considerable value.
Gallstones are occasionally found in the gall bladders of cattle during the harvesting process. The can appear n a variety of shapes and sizes, but are surprisingly light in weight, given their pebble-like appearance. They may be round, egg shaped, square or pyramid shaped or as a tube.
The value of individual stones is determined by dryness, colour, texture, size and whole and broken pieces.
Whole, smooth, lustrous, golden specimens attract the highest price. Dark and pitted stones as well as stones with calcium inclusions (white) are of reduced value. It is understood that quality stones may reach values of around $20,000 per kilogram.
Contrary to popular belief, gallstones are not an aphrodisiac. They are used extensively in oriental medicine, particularly in the treatment of hepatitis and other liver and gallbladder related ailments.
Source: SARCIS