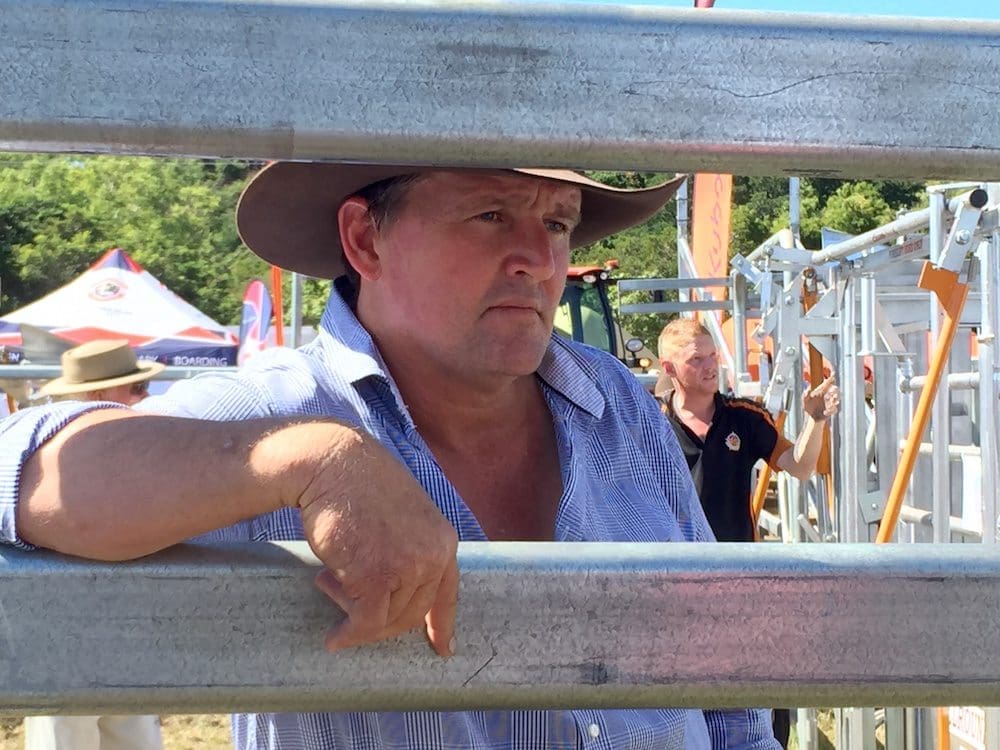 In his days as a hard-running forward with the Roma Echidnas rugby union team, Grant Maudsley knew the importance of getting on the front foot to make an impact.
His rugby boots have long been gathering dust, but now as general president of Queensland's peak broadacre farming group AgForce, he believes a more proactive approach is needed for the organisation to play a stronger policy leadership role.
Speaking at an AgForce field day at the Hughes family's Heatherlea property at Dulacca last week, Mr Maudsley said AgForce will be investing more heavily in consumer research in future to shape its policy discussions with Government.
"Organisations like AgForce aren't naturally relevant, we could just disappear overnight if people chose," he said.
"A challenge we face is how do we maintain a policy leadership role.
"One of the ways we can do that is being quite proactive and on the front foot, and doing better market research in the consumer space about where our issues are aligned (with the voting public and the State Government) is where the organisation is concentrating at the moment.
"The green movement is doing the same market research, and they are doing the same thing with Government, so it is about time we stepped up in our space and reinvigorated the way we do that."
Effective consumer research can be expensive but Mr Maudsley said AgForce would work hard to find the resources as it was so essential.
Grazing BMP a valuable tool
The Grazing Best Management Practice program offered an important tool to demonstrate the proactive role producers were taking in responsibly managing natural resources to the wider public and the State Government.
The hosts of the field day, the Hughes family, are accredited under the Grazing BMP program which helps them to demonstrate their commitment to managing biodiversity to customers of their retail meat brand, Rangeland Quality Meats.
The number of Queensland producers adopting Grazing BMP has now reached nearly 1700 across the state.
Mr Maudsley's own cattle operation near Mungalalla in western Queensland will officially become Grazing BMP accredited in a few weeks time.
"This is a very important tool that we can use when we go to Government to show as an industry that we are doing a good job," Mr Maudsley said.
"The program has been going for a while but we think it is now time to go hard on it and demonstrate to the public that a lot of our landholders are above industry best practice."
More proactive role in energy debate
Mr Maudsley said he believed AgForce could also play a more pro-active role in energy policy.
He rejected suggestions however that AgForce had been "muzzled" on speaking out about landholder concerns with impacts from coal seam gas extraction (CSG) because it also received State Government funding to conduct CSG workshops.
"It is certainly true that for a long time we have got funding to help people with the ins and outs of the policy framework, that is there so we are able to help people through that mess.
"But of course it doesn't stop us from speaking out.
"We negotiate regularly on behalf of all landholders on issues around water security and impacts on their business."
He said that while there was a lot of talk around a carbon constrained future, rural landholders were leading the way in the use of solar and renewable energy.
Bucking the trend of declining membership of rural representative organisations, AgForce membership has achieved 106 percent and 120pc on budgeted membership levels for the past two years.
"We have got to work even harder to keep that momentum going," he said.