SENIOR Agriculture Department officials have assured livestock exporters that new Australian Standards for Export of Livestock 3.0 (ASEL 3.0) will be in place by November 1, amid concerns the Government is still not yet fully prepared to implement the new rules 18 months after their initially planned introduction.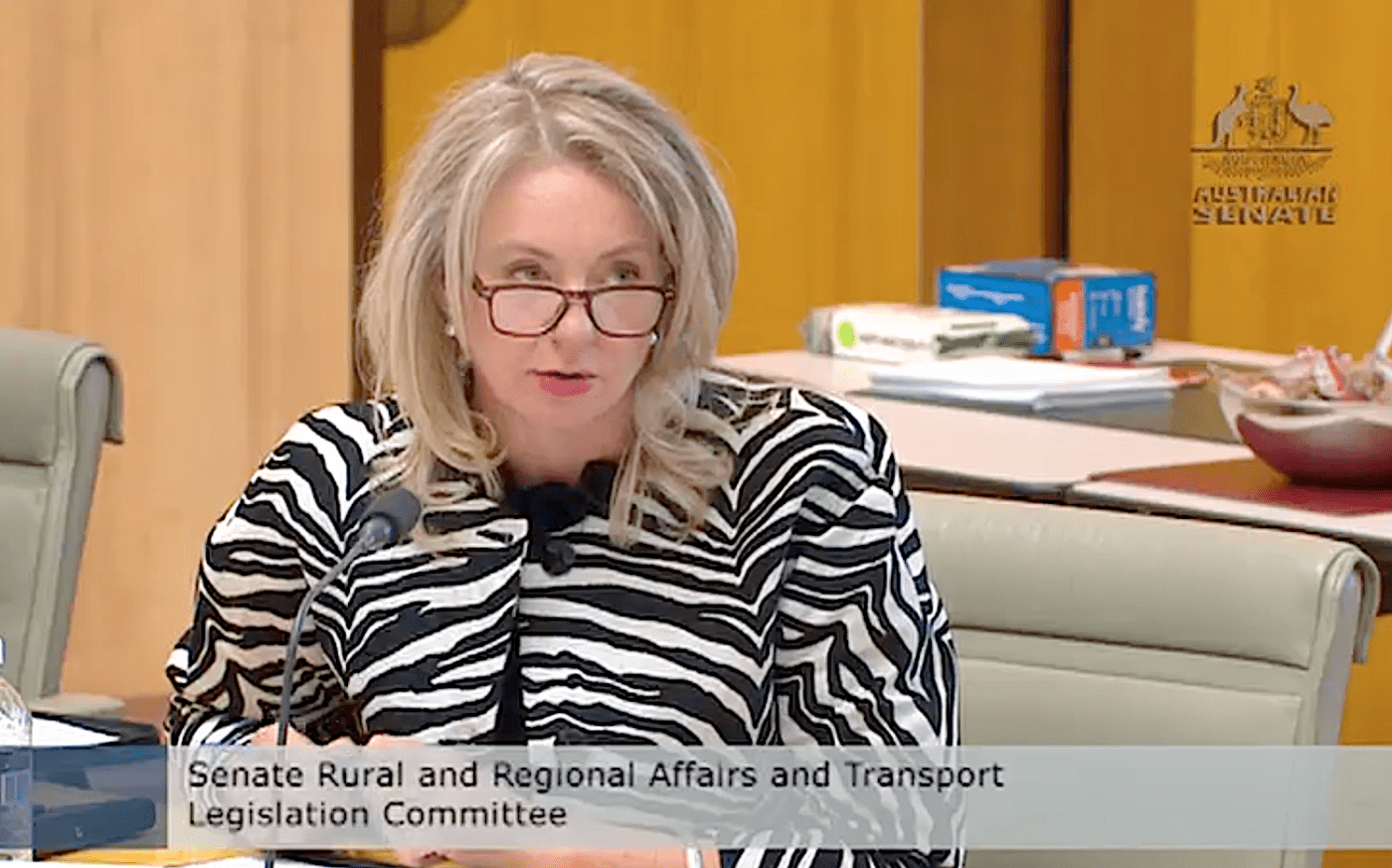 Senate estimates hearings of the Rural and Regional Affairs and Transport Legislation committee on Wednesday saw Nationals Senate Leader Bridget McKenzie (left) and Country Liberal Party (NT) Senator Dr Sam McMahon question Federal Department of Agriculture officials on the progress of the long-planned transition from ASEL 2.0 to ASEL 3.0.
ASEL 3.0 incorporates a raft of new operating standards for the industry, including reduced stocking density limits that will cut the number of cattle exporters can load onto vessels by an estimated 5 to 14 percent.
The Federal Government initially planned to introduce the new rules on May 1, 2019.
However, that was pushed back by the Department to mid-May 2019 and then June 1 2019, before being pushed back indefinitely again on May 31 last year. In May this year a notice appeared on the Department of Agriculture website confirming November 1, 2020 as the new commencement date.
The five-member ASEL review technical advisory committee recommended stocking density reductions for all cattle export journeys.
This was despite acknowledging in its report there was "little scientific evidence" to indicate that existing stocking densities were a significant risk factor on short haul voyages, such as from Australia to South East Asia.
"Mortality rates for lighter cattle on shorter voyages are very low," the report noted.
Exporters have argued that the introduction of ASEL 3.0 will add unnecessary costs to supply chains and endanger the industry and Australia's relationship with its major trading partners while providing no scientifically discernible benefit to animal welfare.
In the lead up to the latest implementation deadline, concerns have been rising that the Department is still not ready to launch ASEL 3.0, with individual exporters privately reporting they are experiencing a range of delays in gaining departmental approvals to book ships and buy cattle due to sail after November 1, and are being asked by the Department to 'prioritise their markets' from November 1.
In response to questions from Senator Bridget McKenzie yesterday, DAWE First Assistant Secretary, Plant and Live Animal Exports, Dr Melissa McEwen said the new standards will be place on November 1.
She conceded the process has taken "a little bit longer than we had hoped", but said exporters could be sure they would be able to export from November 1, provided they have all of their documentation in place.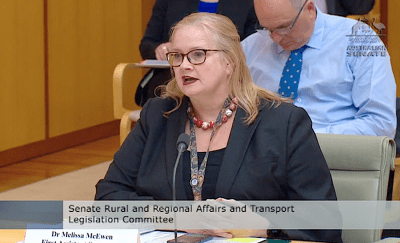 "There will be some work that we do after November 1 but we have been doing that on a prioritisation basis," she said.
Could the Department "guarantee all approvals will be in place for all livestock exporters?", the former Federal Agriculture Minister asked.
"Not for all livestock exporters and all documents for all livestock exporters," Dr McEwen replied.
"Some exporters have 70 or 80 pieces of documentation that need to be approved for each market that they are going to, so each species to each market, so what we can guarantee is that no exporter will not be able to export from the first of November because approvals haven't been undertaken."
Pressed on what being asked to "prioritise their markets" meant, Dr McEwen said the Department wanted to know from exporters which markets they were planning to export to in November, "so we can make sure those are the first things we look at, rather than the last."
"In other words no one will be held up," David Hazlehurst, deputy Secretary agricultural trade, added. "No exporter will suffer a delay".
'No exporter will suffer a delay'
Senator McKenzie said she had been told by some exporters that they won't have the necessary approvals in place for all of their markets by November 1, despite having sent the required documentation to the Department back in August.
In response Dr McEwen said the Department has had "some form of the documentation since August", but in many cases that documentation was incomplete, inaccurate and did not address all of the standards and in some cases the importing country requirements that needed to be addressed.
She said that while the Department "could have just refused that documentation", it has instead tried to take a process of working with exporters and supporting them to be compliant.
"As I said, unfortunately it has taken longer than we expected so what we have done is make sure we can prioritise, we've encouraged exporters and the exporter body ALEC to let us know if there are exporters who have specific consignments early or specific markets they need to go."
Lack of scientific basis for short haul voyage restrictions
The focus then shifted to the scientific basis underpinning the Technical Advisory Committee's (TAC) ASEL review recommendations relating to stocking density for cattle voyages to South East Asia.
Senator McKenzie said the Australian Livestock Exporters' Council had noted that ASEL 3.0 could result in between 61,000 to 130,000 less cattle being delivered to South East Asian markets.
"What scientific animal welfare basis was this reduction based on?", she asked, adding that it appeared to be "loose at best" and was "definitely not fit for our (the Australian livestock export) market".
Dr McEwen said there had not been a lot of research conducted on voyages specifically, and a lot of the research the technical advisory committee relied on "was work that has been done internationally on stocking densities in situations such as short haul voyages, cattle transportation where animals do and don't need access to feed and water, work that is also looking at stocking densities also in feedlots and so forth".
She said the broad scientific consensus was that a stocking density of .03 was reasonable for longer haul voyages.
"When you say reasonable, I am not technically a scientist but I have studied it, when you say that is reasonable, how is that number derived?", Senator McKenzie asked. "Wasn't it in the middle between a range, so there is actually no science to this, 'here is the top, here is the bottom, we'll just whack it right in the middle and we'll be right'?"
Dr McEwen said the decision was "based around looking at all of the science and evidence that was available on stocking densities in different situations".
"So, and I think we're both probably agreed on this, that there isn't a robust body of science available to us right now to be making these decisions?" Senator McKenzie asked.
"We're using the best science available," Dr McEwen replied.
"The reality is it is not good enough and it is not fit for purpose for our industry, our place in the world, our markets," Senator McKenzie said.
Were economic impacts considered?
Questions from Senator McKenzie then shifted to whether the Department had calculated the income that would be lost for the entire industry from the implementation of the new standards.
Dr McEwen said Department did not have a calculation for lost income as that was not part of what it was required to do through the Regulatory Impact Statement (RIS) process or for the Office of Best Practice Regulation, which had asked the Department "to calculate the costs of complying positively with the legislation as opposed to the opportunity costs lost".
In later questioning NT Senator Dr Sam McMahon asked Department of Agriculture officials to further clarify their comments that there was "general scientific agreement" on what stocking densities should be.
"Could you tell me which particular scientist or scientific organisations have agreed to that?," she asked.
Senator McMahon added that the committee report referred to only one scientific paper on stocking densities, and it was not actually a scientific study but a review of available literature, "none of which was relevant of live export of cattle on ships".
In response Dr McEwen said the TAC, in the absence of specific studies on livestock export vessels, used "analogous situations" to make a decision on what would be the best approach.
"So we operate within the best science that is available, there isn't necessarily, hasn't actually been specific studies on the stocking density impacts on ships," she said.
David Hazlehurst, deputy Secretary agricultural trade, added that the studies relied on by the TAC "related to the same sort of considerations – the ability of the animals to get to food and water and the ability of them to lie down and sleep. The same factors are taken into account in those studies even if they're in relation to a different context, not on ships".
"But would you not understand that they're not transferrable, you cannot compare cattle on a ship to cattle in a feedlot to cattle in a paddock – they're not the same situation," Senator McMahon said.
"The technical advice in the committee, the panel of experts was asked to provide advice on that, and as you know because you have read the report, that is the advice they provided," Mr Hazlehurst replied.
McKenzie grills ABC over Fight for Planet A
In Senate Estimates hearings overnight Senate McKenzie challenged the ABC over the accuracy of its program Fight for Planet A, which she said misrepresented aspects of Australian agriculture, in particular the beef industry, for its contribution to carbon emissions.
Senator McKenzie said the beef industry was one of only two major Australian sectors to have lowered emissions since 1990.
 "I'm a huge champion of the ABC, but for the broadcaster to air a program that denigrates our industries, misinforms children, and impacts our rural economies and towns – without fact checking thoroughly – is just incredible," Senator McKenzie said.
 "Beef producers were offended by the program. While the ABC executive may not have thought the program was misleading, the conversation was biased and skewed towards climate.
"The program is published as factual entertainment, but this is misleading and the fact a response from the Cattle Council of Australia is posted on ABC iView with the program is evidence of this," Senator McKenzie said.
During the senate estimates hearing, Senator McKenzie asked the ABC to provide information on whether organisations including Meat and Livestock Australia, the CSIRO and the Regenerative Agriculture Alliance were consulted by the program's producers to produce a balanced, factual documentary.
 The ABC revealed it would soon be meeting with the National Farmers' Federation regarding the peak farming body's concerns with the program. It also revealed it had been investigating a formal complaint that was received.
However, while the complaint is being investigated, further information was not able to be provided.