YOUNG cattle producer Matt Dunne earned an appreciative round of applause from the crowd at last Thursday's AgForce 'What's your beef' event, after he grabbed the mic and shared some practical tips with producers on communicating on social media.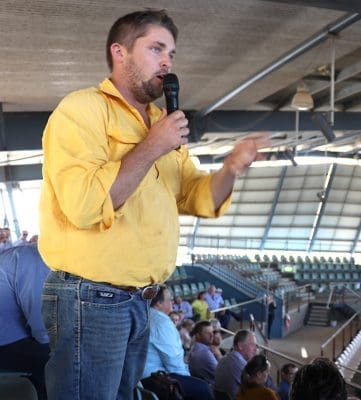 Many producer comments at the forum revolved around the view that the cattle industry needs to increase the effectiveness of its engagement with the public, amid active efforts by anti-beef groups to turn opinion against the industry.
Less abundant were clear views on how to do that.
Matt, who has used his income from a mining job to buy his own cattle property, is a young cattle producer who feels strongly about the industry and who has worked hard get a foot in the door – or more precisely a 'boot in the gate' – of his own farming enterprise.
"We have all got a phone in our back pocket, does everyone know what a hashtag is or a handle? Do we know how to use them? Do we know how they work?" he asked the crowd.
"If you don't, go and ask your son or your grandson, and they might give you a bit of help."
Younger producers can sometimes feel reluctant to jump up and express their views at industry forums where most participants are from older generations, but Matt said he felt it was important that young people contribute to the debate, and share their understanding of areas such as technology and communicating with younger generations.
Matt was able to buy his property under finance after several years of saving income from his mining job and a house investment, and leasing country and gradually building up his own herd.
He still works in the mining sector in a flexible job-share arrangement that allows him to spend three to four days each week working on his property.
In his comments to the audience Matt agreed with LNP Senator Susan McDonald's point that the agricultural sector can take a leaf out of the book of unions in terms of their active approach to advocacy and consistent messaging to win "hearts and minds" and public support.
"If you get on Instagram and type in #QldVotes you have to scroll through two pages before you see someone associated with the LNP, there are unions and there are a lot of Labor faces, so there is a good example," he said.
"If you are going to be on social media, whether it is Instagram, tik tok and you're going to make a post and you're not putting a hashtag on it, as agricultural people you're letting everybody down."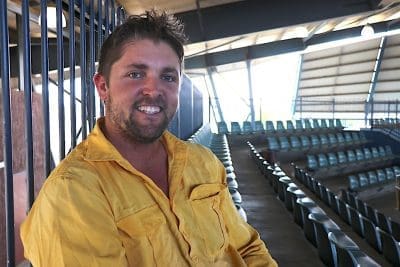 Handing out how-to-vote cards for a local LNP candidate during the recent the State election, Matt said he was struck by how few voters his age appeared to be taking the printed voting cards.
"Where are they getting their information? It is all on their phones," he said.
"Forget your research on how good your bull EBVs are, think about how we can get the key EBVs on agriculture out there."
He also added that the agricultural sector needs to focus its public engagement efforts at school level.
At his own school he said he was encouraged by teachers to go to uni and not go home to the bush, because 'you'll make no money'.
"It is a fabulous time to be in agriculture but no one it would seem who is my age would know about it," he said.
"Except there is a bit of a murmur around you need to be getting into ag because that is where it is all going to be happening in the next 20 years."
Advice to other young producers seeking a start:
Asked if he had any words for other young people seeking their own start in agriculture, he offered the following advice:
– Get experience: "If you have had nothing to do with agriculture and you're green, go and get a job in the industry, look around at all the sectors of the agricultural industry and find an area that you think suits you where you can learn the process from paddock to plate."
– Don't expect a free ride: "No one in any industry will give you a free ride. Be prepared to do your own research and ask your own questions. Doing this for yourself you'll quickly seek out carer paths or business opportunities (such as leases or agistment)."
– Find your own path: "Don't try and compete with what other people are doing, worry about what you're doing and that you are doing it well, otherwise you won't get to where you want to go".
– Work hard and save money: "Like it or lump it, love it or hate it, eventually if you are to get into a ownership position of a farm or any business this will be underpinned by you having a good income and savings, in my instance it was mining that allowed this."
He also encouraged other young people not to be afraid to stand up and have their say.
"I think as a young person if you can't make a comment in the realm of what you know about, even if it is as simple as the technology space for example, then you're not really trying."